James Lam and Natasha Wodak crowned BC 8K Champions
---
January 13, 2020
---
(Victoria, BC – January 13, 2020) Wintry conditions greeted 546 participants in the first race of the Island Race Series on Sunday – the Harriers Pioneer 8K. Langley's James Lam and Vancouver's Natasha Wodak won the race which was also the BC 8K Championships. The 41st annual event was hosted by the Prairie Inn Harriers and was also the first race in the BC Super Series.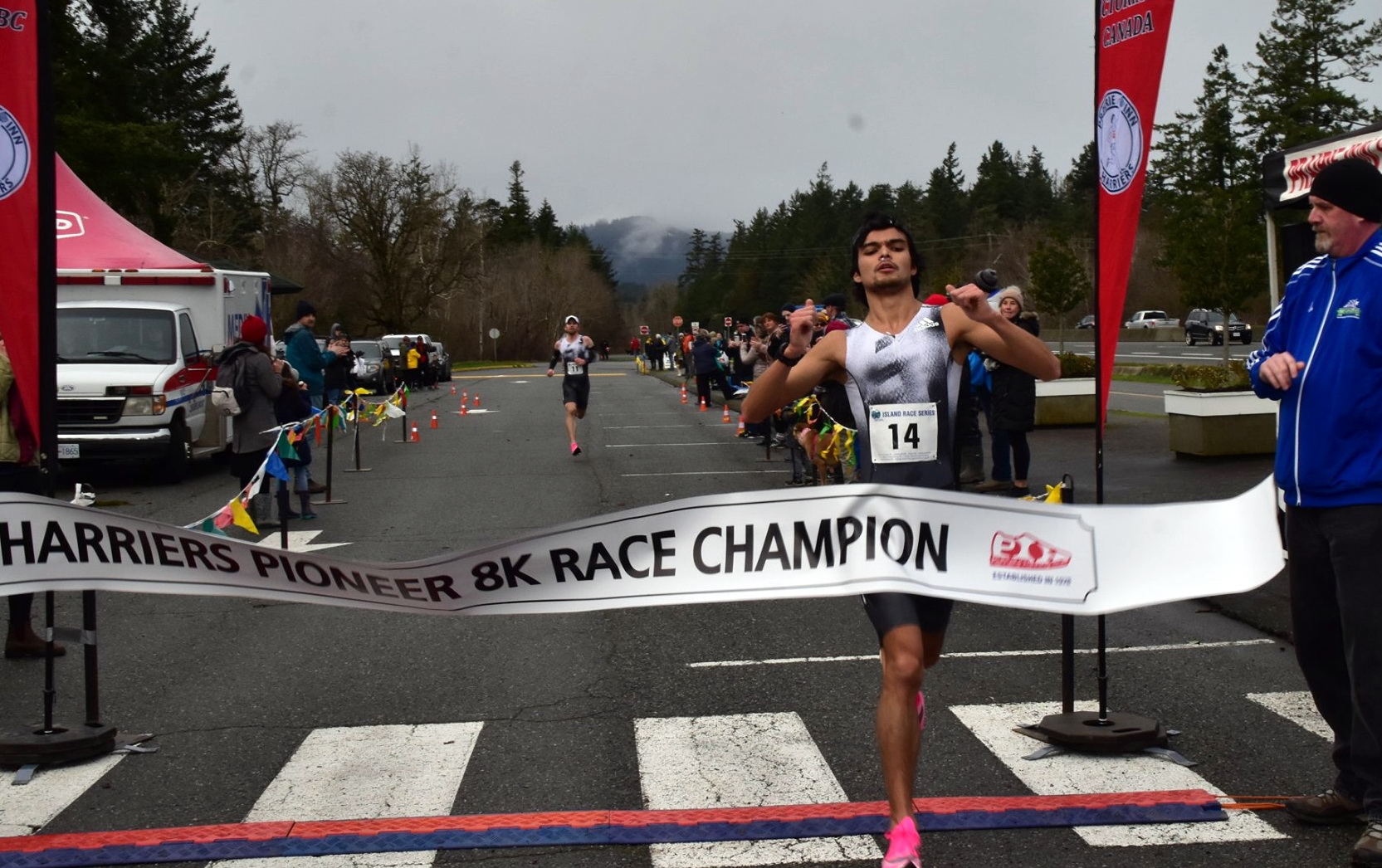 It was a close finish with Lam, running for Langley Mustangs, hitting the tape in 24:23 followed by team mate Blair Johnston in 24:26. Fellow Mustangs athlete Joel De Schiffart was third in 24:38. "I was looking for a top-three placing and around that time, maybe a bit faster," Lam said. "But I am happy with the race, considering the wind."
Top master and seventh overall was Jim Finlayson, running for the Prairie Inn Harriers, who finished in 25:32. Both Lam and Finlayson set new age group records; Lam in the M20-24 division and Finlayson broke a 27-year-old record in M45-49, originally set in 1993 by Mike Creery (25:39).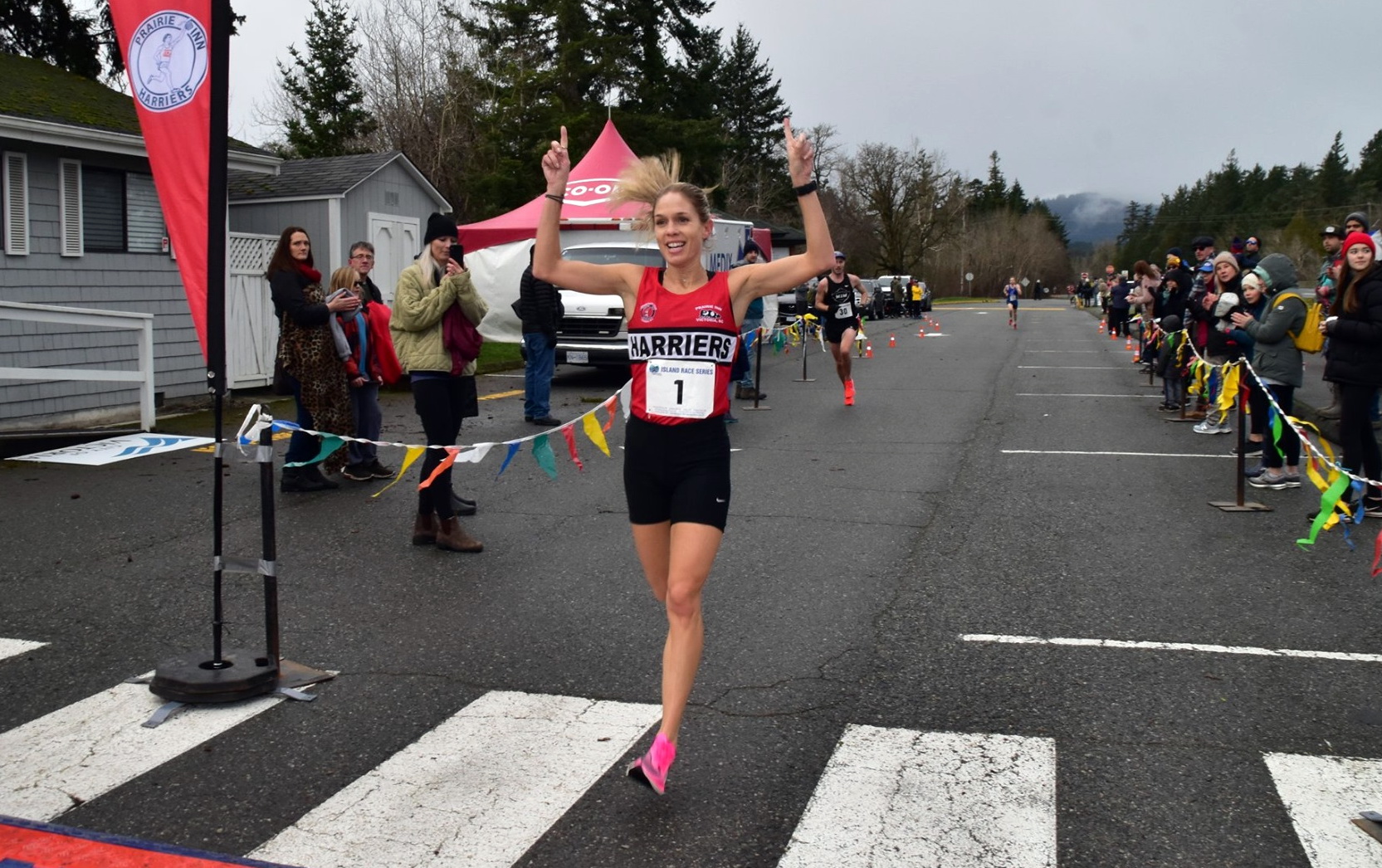 Pioneer and Canadian 8K record holder Wodak was the clear favourite, crossing the finish line in 25:55. This is her seventh win at Pioneer, one short of tying Ulla Marquette's record of eight wins. She also set a F35-39 age group record. Natalia Hawthorn from the Vancouver Thunderbirds was second in 26:49 and Julia Howley (Vancouver) third in 28:34. Victoria's Jen Millar was top female master finishing in 29:09.
Wodak has a busy schedule ahead with the Houston Half Marathon next Sunday, the Pan Am Cross-County Championships next month in Victoria and the New York Half Marathon. "I want to go sub-70-minutes in New York and take the Canadian record. I would also like to run fast enough to qualify for the World Half Marathon Championships," she said.
Lam and Wodak were crowned BC 8K Champions with Wodak also winning the masters title (BC Masters eligibility is from age 35). Nick Walker won the men's BC Masters title. He was ninth overall with a time of 25:48.
The Island Series unveiled a new age category: M90. Legendary runner and inductee of the Greater Victoria Sports Hall of Fame, Maurice Tarrant completed the course with his daughter and training partner Claire in 1:13:09.
Bob Reid, High Performance Director of the Harriers Pioneer 8k, was pleased with the performances. "Twenty-five athletes from the Lower Mainland came across the water today to participate in the 41st annual Harriers Pioneer 8K and they didn't disappoint," he said. "On top of that Tarrant also set his incredible 76th Canadian Age Class record."
At the awards ceremony after the race Reid presented Bruce Hawkes from the Sooke Trail and Road Running Club with a plaque commemorating his 200th consecutive Island Series race.
Full results can be viewed on: https://racedaytiming.ca/results/2020Pioneer8K
The Harriers Pioneer 8K will be followed by Cobble Hill 10K on January 26, Cedar 12K on February 9, Hatley Castle 8K on February 23, Port Alberni Paper Chase 15K on March 8, Comox Valley RV Half Marathon on March 22, TriStars Sooke 10K on April 5 and the Synergy Health Management Bazan Bay 5K and Series Awards on April 19.
To register online for Cobble Hill 10K go to: www.islandseries.org
- 30 -
For more information contact:
Louise Hodgson-Jones
General Manager, VIRA
info@islandseries.org