Junior Development and U16 - The Lower Mainland Cross Country season and YOU are welcome to take part!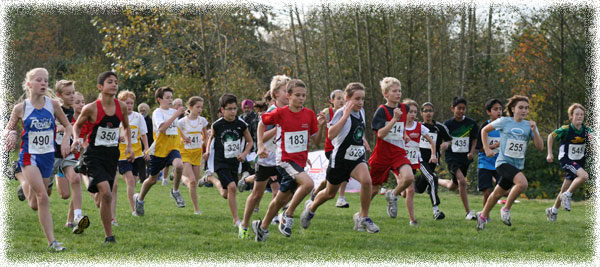 The 2020 Lower Mainland Series has been cancelled. Please check out the individual events that are going forward below and in person below.
When entering races, please be sure to use the same name and club name each time, otherwise the rankings software will view you as two different people. i.e. Don't enter as Mike in one race and Michael in another.
Reasons to run Cross Country
Real distance runners run XC... mud, hills, etc., running up (and over) and running down (and over), gasp, remember how to breathe and save some air for the finishing sprint ... Success in cross country will lead to success on the roads ... Running cross country will help lengthen your career as a runner
Cross country runners run cross country because they just plain love it.
Join the long tradition of cross country running and enter the Lower Mainland JD & Midget Series!
Click here for the Seniors / Masters age group Lower Mainland Cross Country Series.
How the Series Works
Overview
The Lower Mainland JD & U16 Cross Country Series provides an opportunity for Junior Development and U16 athletes age 9-15 to compete in a number of cross country races throughout the fall/winter season. Use the Series to prepare for Championship races!
The Junior Development & U16 Series consists of 6 races in September and October. All races are sanctioned by BC Athletics.
Scoring
Runners will be scored on their 4 best performances. Any completed races count towards the series.
The points are assigned as follows: 1st = 30 points, 2nd = 27, 3rd = 25, 4th = 23, 5th = 21, 6th to 25th each place drops 1 point.
Any ties will be decided by position in the BC Provincial Championship event.
Runners must compete in the appropriate allocated race in order to score in their series. For example, if a junior runner elects to compete in a separate senior race then he/she cannot score in a separate age-appropriate event on the same day.
Series Categories and Awards
The series age categories are based on the year of birth: 2005, 2006, 2007, 2008, 2009, 2010 and 2011. Plaques will be awarded to the top 3 boys and girls in each age group.
2020 Series Events
Race details & fees are subject to change so please check each race website or see individual entry form.
Race directors: Click here to find out how to format your results for posting on the BCA site.
1. Pinetree Classic — 2020 CANCELLED
Mundy Park, Coquitlam
Undulating mulch/gravel trails, grass, suitable for spikes.
Contact: Paul Self
Hosted by: Coquitlam Cheetahs
2. South Fraser Cross Country — 2020 CANCELLED
Bear Creek Park, Surrey
First race 10:30 am.
Undulating gravel trails, grass.
Contact: David Moore
Hosted by South Fraser Athletics Club
3. Vancouver Spirit Run — Sunday September 25-27, 2020 - VIRTUAL
Jericho Beach Park, Vancouver
Grass fields and bark much trails.
Contact: Event Organizers
Hosted by Callaghan Valley Sport & Cultural Society
4. Festival of Cross Country at Crescent Park — 2020 CANCELLED
9:15am Open/Masters Men & Women (6km); 10:10am Track Rascals 1km; 10:20am 2010 Boys and Girls 1.5km; 10:40am 2009 Boys and Girls 2km; 10:50am 2008 Boys and Girls 2km; 11:10am 2007 Boys and Girls 3km; 11:40am U14, U16 M/F 3km; 12:10pm U18 M/F (4km)
Grass fields and hard pack trails. Some rolling hills. Past meet information package here.
Contact: Maureen de St Croix
Hosted by Ocean Athletics
5. Frank Reynolds Memorial — 2020 CANCELLED
Cates Park, North Vancouver
Walk-through 9 am, first race 9:30 am
Malcolm Lowery Trail with ocean vistas. Course is grass and gravel trails and wooden bridges. SPIKES NOT RECOMMENDED.
Contact: Dag Rastad
Hosted by NorWesters
6. BC Championships — 2020 Status TBD
Beaver Lake, Victoria
Walk-through 10 am, first JD race 11:15 am, subsequent age divisions approx. 15 min intervals. Races for 9yrs old and older.
Loops are on grass and forest trails. Rocks and roots in sections.
Hosted by Prairie Inn Harriers and BC Athletics
Previous year standings
2019
2018
2017
2016
2015
2014
2013
2012
2011
2010
2009