Christabel Nettey: 2018 Commonwealth Games Champion Looks to Defend National Title in Ottawa
June 29, 2018 12:47pm
Growing up in Surrey, BC Christabel saw early success in both the sprints and jumps winning the 100m and 100m hurdles at the BC High School Track & Field Championships and placing 14th (long jump), 8th (100m hurdles) the 2007 World Youth Track & Field Championships. Christabel went on to find great success as a student-athlete at Arizona State University where she won multiple conference championships, set a new school record of 6.75m, and finished second at the 2013 NCAA Indoor Championships.
Since graduating from University, Christabel has gone on to international success in the Long Jump. Highlights include:
2016 Olympian
Canadian National Record Holder – Long Jump – 6.99m
2018 Commonwealth Games Gold
2015 World Championships – 4th
2015 Pan American Games Gold
2014 Commonwealth Games Bronze
2013 Jeux de la Francophonie Bronze
BC Athletics: First off, congratulations on your recent performance at the 2018 Commonwealth Games in Gold Coast, Australia where you won Gold in the women's Long Jump with a leap of 6.84m. Having won bronze 4 years earlier in Glasgow what did it mean for you to go back to the Commonwealth Games and win the title?
Christabel: The 2014 Commonwealth Games were my second senior National team. I was really young and inexperienced; just being there was overwhelming. Fast forward four years, I have made multiple senior teams and felt more confident and prepared. I went there intending to win and so was happy to put the plan together and be successful.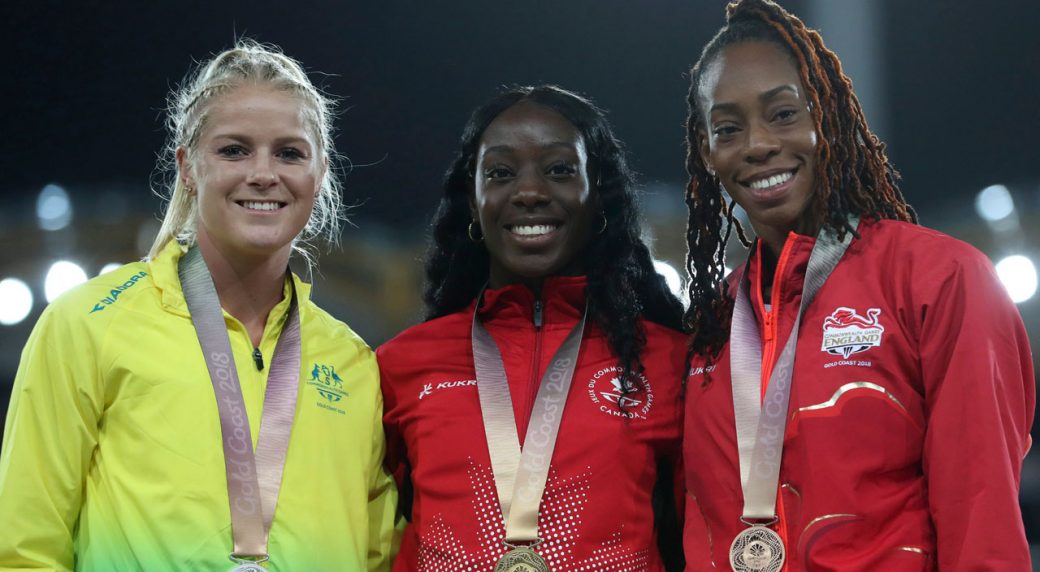 Photo: Mark Schiefelbein/AP
BC Athletics: Did this performance tell you anything about yourself that you didn't already know? (i.e. any new sense of confidence or momentum going forward into the rest of the season?)
Christabel: It was really nice to return to performing at this level after a few seasons of disappointing performances. It was quite motivating and gave me a new fire moving into the rest of the season.
BC Athletics: The Commonwealth Games were held very early in the year to coincide with the Australian Summer and, as a result, your season will be different than a normal year where major Championships are typically held in late Summer. What did you do differently to prepare for these earlier than normal Championships?
Christabel: Honestly, my prep was similar to every season. Although the Games were early in the season, it wasn't that difficult to prepare because I'd competed in a full indoor season, including my first World Indoor Championships. I'd also done some outdoor competitions, so I had multiple meets under my belt heading into the Games.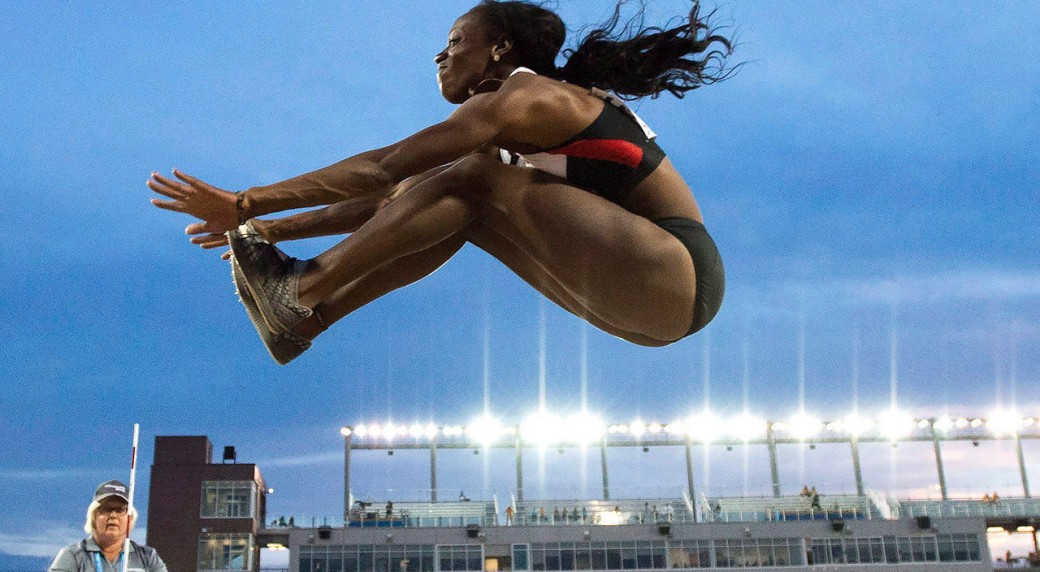 Photo: Frank Gunn/CP
BC Athletics: What does the rest of the season hold for you? Are there any specific competitions or goals you are targeting?
Christabel: My main goals for this season, apart from the Commonwealth Games, is to continue to establish myself as one of the top long jumpers in the world, by winning the Diamond League Diamond, NACACs, and the Continental Cup this season.
BC Athletics: Over the past couple of seasons you have gone through a number of coaching changes. You are now working with Stuart McMillan of Altis which appears to be working well for you. What led you to work with Stu and how do you feel the change has been working for you?
Christabel: My previous coach Dan Pfaff didn't necessarily mentor Stu but they have similar training philosophies. As I am a speed based jumper, I knew joining Stu's training group would give me the opportunity to improve my sprinting speed and mechanics. So far, I am enjoying the process of learning and my performances are indicative of the training.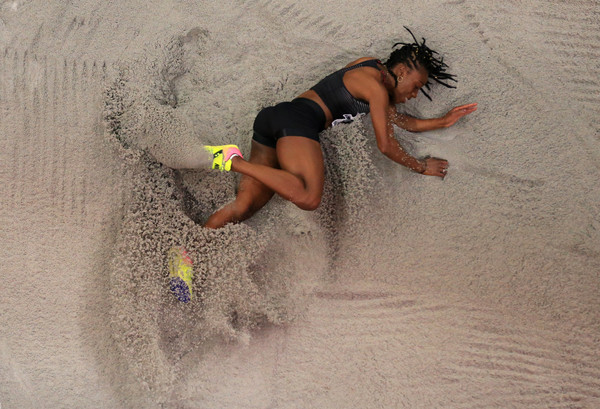 Photo: Stephen Pond/Gettey Images Europe
BC Athletics: As mentioned earlier, you have been a top performing athlete for over a decade now and many Canadians know you from your string of international successes. Along with those successes I am sure you have had your share of adversity. What sort of hardship have you had to overcome during your career?
Christabel: None, my life is perfect 😊. Seriously though, not every year has been successful. At the beginning of each season you hope for breakthroughs and certain performance goals and those don't always occur. Going through an entire season without positive results or frustrations with injuries can be discouraging.
BC Athletics: What sort of advice would you give to a young athlete coming up in the sport when it comes to dealing with success and adversity?
Christabel: Success and adversity go hand in hand so you must accept each with an attitude that will allow you to grow from them. #SoSheCan
BC Athletics: Most people on this planet will never come close to jumping almost 7 meters in the long jump. Can you describe how that feels? What do you have to tell yourself before you jump that something like that is possible?
Christabel: It's funny because I never really think about it, it's other people that remind me of it. For me, jumping far is normal.
Thank you Christabel for taking the time to speak with us and all the best next week as you look to defend your National title in Ottawa!
-Chris Winter - Technical Manager, Track & Field, BC Athletics