Register Today for Spring Break Camp
February 5, 2019 0:00am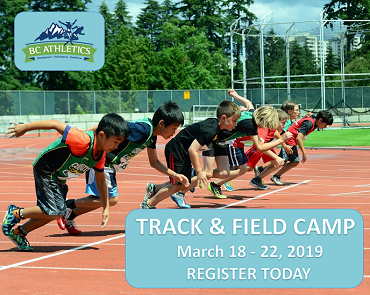 Want to have a fun & active spring break?
Then register for the BC Athletics Spring Break Track & Field Camp!
Spend 5 days playing track & field games & activites, and improving your running, jumping, and throwing skills! Try hurdles, long jump, javelin & more. With amazing NCCP trained instructors and fun to be had, this camp is not to be missed!
Details:
Date: March 18 - 22, 2019
Time: 9 - 11am
Location: Burnaby Central Secondary Track (6011 Deer Lake Parkway, Burnaby)
Age: 6 - 13 years
Cost: $50
Bonus: Each participant gets a Camp T-Shirt!
Click HERE to register today!
Contact:
Sabrina Nettey (Introductory Program Coordinator)
604.333.3554
runjumpthrowwheel@bcathletics.org