June 14, 2003 – Timex Series runners and many others welcomed the return of the Sandcastle City Classic 10k to the waterfront route ending at the White Rock promenade, as evidenced by the solid turn-out last Sunday.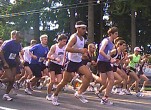 A total of 330 runners made their way from Crescent Park Elementary School to the beach, helped along by both a fair amount of downhill and a strong tailwind. Many were surprised by their times, which caused some to question the length of the course, but we have been assured by the organizers that it was measured more than once—must have been the drop in elevation combined with the wind! As noted by Vancouver's Kevin O'Connor who pointed out that there were some uphills along the way, "if anyone got a PB today, take it!"
Matthew Holton, visiting from Flagstaff, Arizona with his girlfriend to attend her friend's wedding, came very close to cracking the 30 minute mark on the fast course. The University of Oregon graduate, who is currently trying to make the US Olympic Trials for the marathon, had an enjoyable race despite partying a little hard at the wedding the night before—including his first Cuban cigar which left him somewhat queasy. Holton went out with the lead pack, pulled through the first mile in 4:46 by O'Connor who admitted it was "way too quick."
O'Connor, who remembered his racing shoes this time, paid the price for the speedy first mile, backing off the pace until somewhere around the 7 km mark when he recovered enough to get back to speed.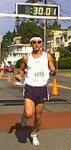 Meanwhile, the rest of the pack stayed together for the first 5k or so, then Holton moved ahead with North Vancouver's Colin Dignum on his heels. "[Dignum] was breathing down my back until about 8 or 9 km," recalled Holton, "then I picked it up a bit." He stormed down the final hill to reach the finish line in 30:01 with an 11-second margin.
Dignum, Series champion from 1999-2002, is currently trying to get back in top shape after struggling this spring to stay consistent while juggling work and family commitments. "Usually I don't use that as an excuse," he admitted, "but for some reason this year it's been really tough." After the fast downhill start his game plan was to hang on to Holton as long as possible, which eventually left everybody else behind. At about the 6k mark Dignum thought he could stick with the American right to the finish, but a gap started to open up after 8k. Still, he was very pleased with his 30:12 result, having anticipated finishing somewhere in the 31-minute range.
Another 14 seconds back, in third spot was Jorge Parra of Surrey, who is currently leading the Series, having run all 9 races so far and finishing quite consistently in the top three among BC competitors. Parra actually competed in the previous evening's Harry Jerome 10,000m, even running an extra lap, so some were surprised to see him out in White Rock.

Blazing through the course in a league of her own was women's Series leader and master Nancy Tinari of Coquitlam, who was hoping to run near 34 minutes on this course. So you could say she was somewhat surprised when she saw the clock reading in the 32 minute range as she approached the line! Her finishing time was an outstanding 33:02. She felt almost out of control sprinting down the final big hill, having lots of speed left. "I felt like I could have run another 5 km when I finished," claimed Tinari. "This was my fastest time this year by two and a half minutes!"
A couple of minutes back in an excellent 34:43 was New Westminster's Joan McGrath, also in the Masters category, with no women around her. The battle for third place was happening another two minutes back, between Helen Tremlett of Vancouver and another Master, Cindy Rhodes of Kelowna. Running strongly over the last section despite a very fast first mile, Rhodes caught up to Tremlett after running on her own much of the way. However, Tremlett was determined not to let Rhodes pass her and make it a 1-2-3 masters sweep for the women. They ended up clocking 36:46 to 36:48 in favour of Tremlett.
First male Masters finisher and 4th overall was Port Coquitlam's Richard Lee with a quick 30:42 to stay well ahead of next master Ed Booth (31:36) of Vancouver. Rounding out the masters category was Kelowna's Rory Switzer, trailing Booth in 31:47.
O'Connor, once back on track for the last 3 km, was able to chase down and surpass Booth near the finish, but it was a little too late and he finished out of the medals. Ahead of him was young Spencer Morrison in the 19&U group, with an excellent 31:06—over 4 minutes ahead of the next junior competitor.
Particularly thrilled with his finish time was 6th place Simon Driver of Vancouver. "I wanted to go out slow because I knew there's a few hills in it," he explained. "After seeing my 5k split (15:17) I got really nervous—I don't think I've ever run 5k that fast!" His previous best 10k was 32:29, so his 30:54 Sandcastle result is a huge PB. Agreeing with O'Connor's philosophy, he'll take it!
More outstanding results were produced by the more "senior" age groupers—the women's 50-59 division was won by Sandi Halgren of Bellingham in just 38:12, and North Vancouver's Lenore Montgomery cruised ahead of all other women 60 and over (and many men too!) with a 47:33 win in the 70+ category. The men's 70+ winner was over 12 minutes slower. Peter Pollhammer, also of North Van, took home a coveted sandcastle trophy for the 60-64 division with his 38:24.
Complete results are at Race Headquarters, and photos are in the Archives. For age-graded results click here (PDF).
Next Series race: Post to Post Canada Day 10k on, of course, Canada Day July 1st (a Tuesday). A great way to celebrate!