August 31, 2003, Steveston, BC – The Labour Day Weekend 8k, final race of the 2003 Timex BC Road Running Series, went off with a bang on a breezy morning in the waterfront community of Steveston.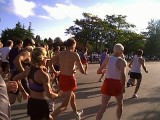 With a tailwind moving everyone along briskly for the first half of the out-and-back course, Shane Bilodeau of Vancouver was leading after the first kilometre. He soon relinquished the lead to a small pack consisting of David Njuguna of Kenya, Richard Lee of Port Coquitlam, and Neil Holm of Courtenay. For the next 5 km these three raced together, then Lee dropped off the pace leaving Njuguna and Holm to trade off the lead as they battled strong headwinds. Finally with about half a mile left the Kenyan blasted away to win in 25:28, with Holm not far behind in 25:40.
Lee hung on to maintain third place in 25:54. He was being chased by Mexico's Jaime Munoz and North Vancouver's Colin Dignum who both clocked 26:01. Dignum was using this race as a training run so had started out back in 10th place, moving his way up through the field while staying relaxed. He knew he only had to finish within a few places of Bilodeau to secure second place in the overall Series awards.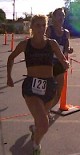 The women's race was dominated by Joan McGrath of New Westminster, who keyed off the men around her to keep up the intensity and stay on course. Sprinting in for the finish just ahead of Vancouverite Gordon Carscadden she recorded 29:28, nearly a minute and a half ahead of the second place woman. That was Leslie Black of Vancouver, after passing Kelowna's Cindy Rhodes (who like several others had taken a wrong turn at a poorly marked intersection on the way back) and Vancouver's Lisa Polizzi who was heading up the chase pack at the half-way mark. It is worth noting that the top three women finishers are all masters (40+).
In the men's masters competition it was Lee taking top spot. Vancouver's Ed Booth was hoping to give him a run for his money, but his legs just weren't cooperating on this particular day. "My plan was to run very hard to the 4 km mark, hopefully stay with the lead group," confessed Booth, "then tuck in behind someone and stay out of the wind. Unfortunately I think everyone else had the same idea." His legs were much more tired than he expected after three weekends of 10k racing and he ended up recording 27:01. Forty seconds behind Booth was third master Mike Moon of Vancouver.
In the men's junior division there was a close race for first with Joel Primus prevailing in 26:48, just ahead of Vancouver's Spencer Morrison in 26:51. Jessica Bruhn took top honours in the women's junior category with a 35:13 clocking.
For complete race results click here. Photos are in the Gallery Archives.
This concludes the 2003 Timex BC Road Running Series. Thanks to all who participated! Overall and age group winners for the Series are listed here. Top 3 men and women in the overall rankings are first in line for selection to the Timex National 10k Road Race Championships in Fredericton, New Brunswick, September 28th.