Photos by Larry Nightingale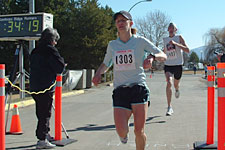 2000 Sydney Olympian Tina Connelly of Port Coquitlam wowed the field with her second overall placing, finishing in 34:19. Steven Murenbeeld of Oliver was first overall in a time of 33:09, followed in the men's division by Hans Aabye of Merritt (34:20) and Nathan Champness of Vernon (35:39). Jessica Solymosi of Vernon finished second in the women's division in 37:24 and Sarah Clark of Vernon was third in 39:27.
Race report from Ernest Hawker:
Conditions were good. Great even. Sunny… not overly cold. There were headwinds, but mostly on the first half.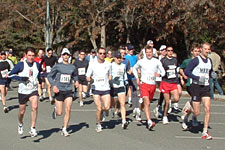 The course was altered slightly. The turnaround point just past halfway was moved in slightly. This allowed the finish to be moved about a half kilometre past the previous one – so it could finish directly in front of the gymnasium where the awards were held.
Jorge Parra (1:15:14 at 2006 First Half) ran this race but dropped out at 3k with Achilles problems. With Parra out, Tina Connelly ran 3rd much of the way… she came up with a strong kick to take 2nd in the final stretch.
For a change, a few runners (including myself) managed to negative split the course.
Guy Smith (VFAC) was first Male Master. From about 2k, he ran step-for-step with Nathan Champness and Greg Johnson. Johnson dropped back around 6k, but Smith and Champness took it down to the final sprint, with the younger runner prevailing.
Adele Wilson (VFAC, F45/49) was unchallenged as first Female Master.