February 8, 2004, Vancouver — With a superb 1:12:47 clocking, Tina Connelly of Port Coquitlam shattered the women's course record for the 'First Half' Half Marathon, held since 1994 by American Lisa Weidenbach at 1:13:22. Good for 9th place overall this morning, Connelly's time is also an new BC women's record for the half-marathon distance (see rankings here).
Connelly's goal was 1:12:00 from the start. After running through the first half of the seawall course with a few men drafting off her, her split time was 36:30. So she increased the pace. She then picked off the men she could see ahead of her one by one except for Richard Lee, who was busy lowering the masters course record by 2 minutes, hitting Connelly's goal time of 1:12:00.

In the open men's race, a few no-shows left Victoria's Bruce Deacon running a lead solo for almost the whole distance. Completing the course in a modest 1:06:56—over two minutes slower than his own course record set way back in 1992—he noted that it wasn't a great race for him "but it was okay." He was disappointed that expected competitors Jon Brown and Scott McClennan were absent. Deacon is preparing for a spring marathon, most likely Rome in late March.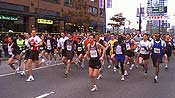 From the first mile the lead group of men had strung themselves out thinly, without the advantage of a pack to pull them through the miles. Almost two minutes after Deacon crossed the line, fellow Victorian Nik Southwell appeared in 1:08:46, followed half a minute later by North Vancouver's Colin Dignum in 1:09:13 then Burnaby's Ryan Day in 1:09:38. Dignum was predicting his final time would be faster after a good first mile split, so he was somewhat dismayed to see the pace lagging towards the end.
The race for 5th, the final prize money placing, was hotly contested between Courtenay's Neil Holm and Vancouver's Kevin O'Connor. Never more than five metres apart from start to the final kick, "we helped each other out," noted O'Connor, "and kept kicking to try to lose one another." Both were aiming for 70 minutes. O'Connor only got away with 200m to go, recording 1:10:20 to Holm's 1:10:29.
Calgary's Lisa Harvey, a regular competitor in this event, followed Connelly from a distance in a second pack of men, running her own race. Though somewhat overshadowed by Connelly's result, Harvey's second place time of 1:15:11 was her best ever for this event (previous best was 1:15:42 in 2000).
Leading the rest of the women in third place was Lindsay McLaren (from Vancouver but currently living in Calgary), staying clear of a small pack that included Darcie Montgomery, Nancy Tinari and Joan McGrath. McLaren's 1:19:22 was a personal best by 2 minutes.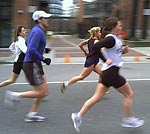 The other three women ran together until about the eight mile mark where Montgomery, who had surprisingly never done a half-marathon before today, began to step up the pace and move ahead, leaving masters Tinari and McGrath to work in tandem. By the time they returned to the Roundhouse Community Centre, Montgomery was exactly 1 minute ahead, recording an excellent first-time 1:20:16. Tinari edged out McGrath by eight seconds to take the masters title.
Many personal bests were set, probably due to the ideal conditions this year: windless, dry and not too cold. A rare occurrence for Vancouver in early February!
Full race results can be viewed at www.pacificroadrunners.ca/firsthalf/. Next Timex Series race is the Spring Run-Off 10k in Kamloops on March 14th, starting 10:00am at McArthur Island Park. Details and entry form at www.bcathletics.org/RRSeries/.