By Ernest Hawker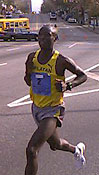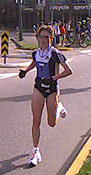 Thomas Kiplatan and Emilie Mondor win the 20th Annual Sun Run, April 18.
See full results at www.sunrun.com or in the April 19 Vancouver Sun.
Two years ago, I ran a near-personal best at the Sun Run, finishing in 36:21.
Last year, I walked the Sun Run with my (elementary) school-age daughters, taking almost 2 hours.
This year, I did both!
I almost didn't make it to the start line, though. With a nasty cold, I said if it was raining, I was staying home. I was almost "disappointed" to be greeted Sunday morning by a bright, dry day!
Feeling "flat" from the cold was perhaps a blessing – it forced me to go out slow. This lead to an uncharacteristic (for me) even-split race. For once, I felt comfortable the whole way and passed runners steadily. When I finished in 36:33, I almost felt too good!
After a few quick hellos and couple glasses of water, I ran back to the Start Area. I met up my family at the back of the "Red zone". We still had to wait another 15 minutes or so before reaching the start line.
The "second lap" was like a whole different race. The balloons were taken down and given to any kid that wanted them. I saw several costumed walkers and I made sure to check out all the cute babies in the strollers! Most of all, I was amazed and humbled by the determination of the quad-amputee wheelchair participant we saw.
At 3k, we pulled in for a bagel and coffee at the "Strider Pit Stop". Now that was a new race experience!
An hour and 48 minutes after starting, we arrived at BC Place. I was happy to find the band was still playing and there was still plenty of food!