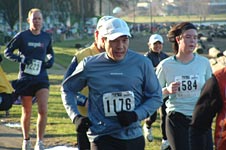 February 13, 2005, Vancouver – This year's 'First Half' Half marathon filled up nearly three months before race day, a testament to the popularity of this fixture of the Vancouver running scene. For the first time, organizers reserved a small block of entries for elite athletes who had run a qualifying time in the past 12 months or were previous winners of the event. This strategy paid off as one of the most competitive fields in some time took to the streets on Sunday morning.
Leading the way for the men were Calgary's Jeremy Deere, Vancouver's Jerry Ziak, and Winnipeg's Michael Booth, who quickly left the rest of the field behind, clocking 4:50 for the first mile before settling into a longer-distance pace. All are gearing up for the National Half Marathon Champs in Edmonton, May 15.
Ziak is just recovering from a quadriceps injury, having done most of his training on an elliptical machine since Christmas, plus battling a head cold and mid-term exams at UBC. He had nearly given up on racing the First Half but decided last minute that he was good to go. His plan for his second ever half marathon was to stick with Deere as long as possible.

Between 4 and 5 miles Booth dropped off the pace and had to be content on his own after that, behind the other two. Coming from Winnipeg, he was just happy to be racing outdoors at this time of year—with no snow—to assess his current fitness level. Booth's reaction to his first experience at the 'First Half': "The level of competition was excellent! Running a half marathon in the middle of February is unbelievable."
Meanwhile, Deere and Ziak passed 6 miles in 30:15, halfway in 33:02, running side by side. "I felt strong and comfortable at that pace," said Ziak. Then they slowed down coming into the wind along the seawall, and "it was at this point that my legs suddenly began to feel the pounding," recalled Ziak.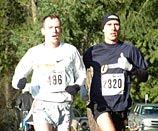 Deere began to pull ahead just before the 10 mile mark, when Ziak began to suffer from calf and quadriceps spasms—something he'd never experienced before while running. He was forced to adjust his stride to a quick shuffle, hoping to get to the finish line without doing any damage, at the same time avoiding too much reduction in speed for fear of being caught by Booth. Admits Ziak: "I also held out some hope that Jeremy [Deere] might be suffering as well and could come back to me if I didn't totally give up—alas this did not occur!"
Deere cruised in for a 1:07:08 win, good for 16th place in the First Half all-time top 20 rankings, with Ziak not far behind in 1:07:29. Booth easily held onto third in 1:08:04, with Vancouver's David Wambui edging out Calgary's Ken Myers for 4th and 5th respectively, 1:09:21 to 1:09:22. Vancouver's Oliver Utting, winner of Timex race #1 in Steveston, had a great day to finish 6th in 1:09:49 after running with Myers and Wambui for most of the race.
Simon Driver (Vancouver), David Polisi (Burnaby), Richard Lee (Port Coquitlam), and Ben Haber (Seattle) made up the bulk of the chase pack working together up to the 10k mark. Polisi and Haber started moving up just after the 10k point and quickly caught masters leader Norm Tinkham of Maple Ridge at the 13k mark, consequently making their way around the back side of the seawall—working together against the wind and waves.
Haber and Polisi eventually moved away from Tinkham at the 17k point. Later, Polisi pulled away from Haber at Lost Lagoon and continued on his own until the end of the race. Tinkham stayed ahead of Lee for 1st and 2nd masters honours, respectively (1:12:43 and 1:13:11), while Jorge Parra of Surrey and Anthony Skuce of Vancouver worked together to pass Driver, Skuce taking 3rd masters spot in 1:14:00.
In the women's race Coquitlam's Leah Pells was, like Ziak, running her second ever half marathon, following her 1:16 debut at the Vancouver International half last May. Her goal was twofold: to run 1:15 and to build confidence for the half marathon distance.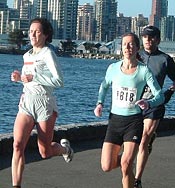 From the start, Pells stayed calm and controlled, running beside even-paced Paul Slaymaker for the first five miles while 3-time past winner Lisa Harvey of Calgary led the way. At this point Pells caught up to Harvey and the two ran together to the halfway point. Then, says Pells, "I felt good—just really tried to increase my tempo," and pulled away on her own fairly quickly to run the rest of the course solo. Her final time was 1:15:25, good for 7th in the all-time First Half list. Of her pre-race goals Pells says, "I feel happy that both were accomplished. I really enjoyed it and now I am focused on making the half team for October … I kinda like the distance." Pells is now in the F4044 division so won the masters competition as well as the overall race title. In fact, she set a F4044 Canadian age best.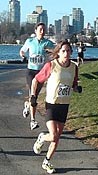 Behind her, Harvey held onto second place in 1:16:51, not far ahead of a fast-moving Victoria's Lauren Groves who was running her best half marathon yet (1:17:03). Next to appear was Coquitlam's Nancy Tinari in 1:18:55 (2nd master). Not only was this her fastest time yet in this race since the organizers have been keeping track, but also a F4549 Canadian age best. Her state of mind before the start probably helped, as New Westminster's Joan McGrath later commented, "It was the first time I have ever seen Nancy so relaxed before a race!"
The next few positions were shuffled around quite a bit during the 13.1 mile distance. McGrath ran with Tinari for the first few miles before Tinari's characteristic "take off after an easy start" surge. Heading across Stanley Park via Lost Lagoon, McGrath was passed by Penticton triathlete Jill Savege and West Vancouver's Cindy O'Krane. Also in the mix was Gwen Greiner of Seattle, also running just ahead of McGrath.
Coming around the seawall into the strong headwinds and spraying waves, McGrath began to gain back ground, finally passing O'Krane at English Bay, then Greiner at the Aquatic Centre. "The last hill under the bridge was difficult—my legs were giving out and cramping up. I ran as hard as I could to the finish line," recalled McGrath. Though unable to catch Savege, her 1:19:52 placed her 3rd among the masters and 2nd in the F4044 grouping.
For a more detailed account of the masters men's race, see Richard Lee's report below.
For full race results visit www.pacificroadrunners.ca/firsthalf/. Photo galleries are posted in the photo gallery at www.bcathletics.org/RRSeries/.
Next Timex Series event is the Spring Run-Off 10k in Kamloops, March 20th. See www.bcathletics.org/RRSeries/ for details and entry form.
First Half Race Report from the Grey Zone
by Richard Lee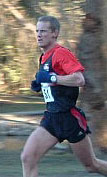 Contrary to how it may appear, if asked "Where is your favourite place to run?", my answer wouldn't be "right behind David Polisi & Simon Driver during a half marathon"! However, 2 miles into the race that is precisely where I found (put?) myself for the 4th time in the last 2 1/2 years. We were slowly realizing that what appeared to be ideal conditions on the start line, within the sheltered confines of the booming Vancouver skyline, were less than perfect on the wide open, windy views of English Bay.
With a nice, welcome peppering of out-of-town speedsters mixed with the usual Lower Mainland suspects this year's race, at least on paper, seemed to promise to be a fast one. The trio of Jeremy Deere (long standing national team member from Calgary), Jerry Ziak (former UBC stand-out) & Michael Booth (former national X-C team member) quickly gapped the field leaving a less anxious trio of David Wambui, Ken Myers (Calgary) & Oliver Utting to bide their time with hopes of becoming vultures in the closing miles.
The relief of turning out of the wind toward the east seawall was short lived as the pace picked up in an attempt to catch a stranded Norman Tinkham up ahead. The shelter and warm sunshine of Coal Harbour made for comfortable running and I was convinced that since we (well, O.K. mostly David & Simon) ran the first 4 miles into the wind, once we turned under the Lions Gate Bridge the wind would be at our backs. Not quite!! The back side of the Stanley Park seawall was spent leaning into the wind with one eye on the crashing surf (trying to time minor surges to avoid a salt water shower), one eye on the seaweed & debris under foot (I'm not as nimble as I used to be!) and one eye (oh wait, that's 3!) on Norm, fading ever so slightly up ahead. Polisi had made his push to exit the grey zone and up ahead ("3 min. or so," I thought to myself) I could see a white speck glued to a yellow one….Oliver (the white speck) was having a good day!
After battling the winds off the high sea then being further pummeled by a twisty loop around Lost Lake, all that was left was a long drawn out 3 miles of suffering back to Yaletown with legs too shot to take advantage of the now tailwind. All in all an excellent battle, adventure and experience. One I'm sure we'll all remember…"Remember the year the waves were so big that we were catching salmon in mid-air!"
So, where IS my favorite place to run?….other than the Stanley Park Seawall on a sunny brisk day with a crashing surf and white-capped mountains in the background?……well, IN FRONT of David Polisi & Simon Driver (and as many other fast runners as possible) at the finish line of a half marathon, of course! Oh well, one out of two isn't bad!