May 26/02, Vancouver — Both Byron Wood and Nancy Tinari, the male and female leaders at the 20th Annual Running Room Shaughnessy 8k, ran "solo" throughout the race, leaving no doubt as to their dominance over the competition. And this year's conditions were obviously favourable, as nine age group 8k records were broken out of a possible 24. Weather was moderate with a hint of sunshine followed by a light summer drizzle—just enough to keep the racers cool—and negligible wind. Participation numbers were well up from last year, making the organizers happy.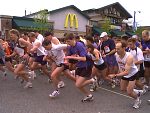 For overall winner Byron Wood of Vancouver, with one year remaining in his undergraduate degree at UBC, this event had a special significance: the course runs right past his former high school (twice) — and he didn't even run back then, having only started running 5 years ago. Wood took the lead early and was all alone by the half-way point, looking comfortable and relaxed. Approaching the final section of the double loop course he was even further ahead, and cruised in for a 25:37 finish. Look for Wood to spice up the competition at the next Series race on June 9, when he plans to enter the Sandcastle City Classic 10k.
Second place in 26:10 went to Tammo Lotz, a 24-year-old visitor from Germany, who ran much of the way with Vancouver-based third finisher Jorge Parra (26:20). Fourth to eighth place poured across the line very quickly as locals John McCrank, David Polisi, Jaime Munoz, Jeremy Mitchell and Royd Burkart all finished between 26:32 and 26:44. Next to finish was first master Art Boileau of Vancouver in 26:54, with another Vancouverite, Dave Reed, less than 10 seconds later. Burnaby's Phil Green picked up third masters honours a little further back.
(From Frank Stebner, a bit of statistical trivia for those of you who track such things: although the top male runner has only come within 19 seconds of the course record, the times of the top males over the last three years were within 2 seconds of each other.
1999 – Neil Holm 25:16 course record
2000 – Norm Tinkham 25:36
2001 – Colin Dignum 25:35
2002 – Byron Wood 25:37)
Women's winner and course record holder Nancy Tinari of Coquitlam was also racing against herself in this 8k, despite a nagging foot injury which has been keeping her from running more than twice a week, cross-training on the other days. Tinari's final time here was 29:08, understandably well off her 2001 winning time of 27:41 — which was one of her best races last year. As Tinari noted, "this is a course for people who are 100% fit — it shows every weakness!" referring to the undulating nature of the route. As someone who usually speeds up over the second half of a course, Tinari experienced frustration caused by her lack of fitness — instead of catching the pack of men in front of her in the second loop, she noted that she actually lost ground, despite working as hard as possible.
Back at halfway a chase pack of five or six women trailed some distance behind Tinari, but seemed unable to gain any ground and began to break up over the second loop. Vancouver's Cari Rampersad-Kuzyk was first to pull ahead from this group, Sheila Mullins (Vancouver) staying with her until the final hill. Rampersad-Kuzyk finished in 29:44, followed by Mullins (29:50 — a PR for 8k), Darcie Montgomery (North Van), Jackie Holloway (Vancouver), and Kim Jones (Abbotsford) — all within a minute. Top three female masters were Tinari, Holloway, and Burnaby's Lori Spence, though for the Series age groups soon-to-be-40 Nurten Tasdemir of Richmond could be counted as third.
In the 19 and under division Vancouver's Spencer Morrison earned a top-20 overall finish with his 28:16, while Christina Struik, also from Vancouver, led the junior women in 31:43 — neither one having any competitors within four minutes.
Overall age-graded winners were BJ McHugh and Dave Reed, although they did not beat the age-graded course records of Nancy Tinari & Herb Phillips. See the BC Athletics Masters page for an explanation of age-graded scoring.
Full results are at Race Headquarters.