March 9, 2003, Coquitlam — Braving near-freezing temperatures, sleet and wind to top it all off, participants in the NetNation 5k Spring Classic showed their dedication to running as they completed the two-lap course on the paths around Coquitlam's Town Centre Stadium this morning.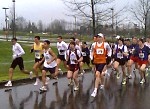 Race #3 of the Timex BC Road Running Series, this event attracted a good field in the open, masters and junior age groups. Also a big drawing card was the offer of cash prizes for overall, age-graded and team awards — there were even draw prizes of $50 cash given away.
Mark Bomba of Kajaks Track & Field Club struck out on his own from the gun, figuring he'd just go hard and "see what happened". Brent Corbitt, a fellow Kajaks now attending college in Arkansas and just visiting home for an indoor track meet, chased Bomba around the course but didn't have the speed to catch him at the end. Bomba, who described the race as "frozen", captured the overall win in 14:55 with Corbitt trailing by just 3 seconds in 14:58.
Sixteen year old Chris Winter of North Vancouver ran with the leaders for the first half of the course, dropping back eventually but easily holding onto third place in 15:17. Another sixteen year old, Joel Primus of the Valley Royals T&F Club, took fourth spot in 15:38.
The masters race took place between Ed Booth and Larry Nightingale, former teammates back in their university years, both recently turned 40. Booth tried to go with the leaders at the start but quickly found himself in the second pack, while Nightingale started conservatively and worked his way up in the field.
Booth raced with Norm Tinkham, taking turns being in front of one another, ending up in a pack that included Jaime Munoz and 16-year old Ryan Keigher. Near the finish Nightingale put on a burst of speed and kicked ahead of the other four, who crossed the line almost as a single unit less than one second later in 16:15. After Nightingale and Booth, third master was Dave Reed in 16:49, who complained of not racing his best after taking longer than usual to recover from the 'First Half' Half Marathon a month ago.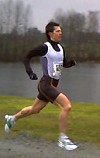 The women's field was dominated by City Track member Leah Pells, in her "first serious race" since having her first child, a boy, 8 months ago. Pells ran unchallenged to a 16:33 finish, just behind the pack that included Booth and Tinkham. "I wanted to run a lot faster than that, but it was just so cold," she noted. "It was hard to warm up."
Behind her in second place (17:18), Coquitlam's Nancy Tinari was also hoping to run faster, but considering the conditions was happy with her race. She never saw Pells, even at the start, but was aiming for an age-graded win so ran against the clock. Her efforts were not quite enough, as Pells' age-graded time worked out to be just two-tenths of a percentage point ahead (0.898 to 0.896).
As in the men's race, a young athlete took third place in the women's race. Anita Campbell of the Valley Royals, just 15 years old, ran 17:50 to stay well ahead of fourth place Aundrea Bertoia.
Tinari was the first masters woman to finish, while Cindy Rhodes of Kelowna took second place honours in 19:12. Adele Wilson of North Vancouver rounded out the top three female masters in 19:38.

For 75 year old B.J. McHugh of North Vancouver, who set a new age-group world record in the Honolulu Marathon a couple of months ago, just getting to the start line was a challenge today. A bit of partying the night before, plus getting a little lost in Coquitlam, left her scrambling to the start line moments before the gun went off. "I finished the race late, too!" she remarked later. "And I can't use the cold weather as an excuse, or even the party last night." Always looking at the positive side of things, McHugh then added, "at least I did it." A good thought for anyone who ventured out in the wind and freezing rain for this race.
Full race results can be viewed on the BC Athletics site, and photos from the race are in the Photo Archives.
Next Timex Series race is the Spring Run-Off 10k in Kamloops, March 16th at 10:00 am. This event is also part of the Interior Road Race Series. We can only hope that spring-like conditions do occur — last year it was so cold that the bottled water froze (the large 18L jugs!). However, previous years have seen a balmy +15C, so anything goes.