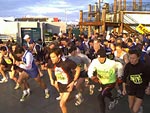 February 1, 2004, Steveston—The first race of the 2004 Series presented an updated race route and start/finish location, which was well-received by the 292 runners who completed the waterfront course under sunny skies at the Steveston Run Inn Ice-Breaker 8k.
Leading the pack home was North Vancouver's Peter Cardle in 25:02, after taking the lead at about 2 km and holding on, at times uncertainly, for the next 6 km. He was being chased by West Vancouver's Colin Dignum (2nd, 25:13) and Vancouver's Kevin O'Connor (3rd, 25:25). First master was Larry Nightingale (Gibsons) who placed 6th overall in 26:43.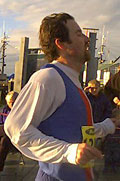 From the start, 5000m track specialist Michael Simpson of North Vancouver took off fast, accompanied by O'Connor and Dignum, with Cardle holding steady a little way back. When the leaders started to slow down, Cardle immediately made his move, passing and then quickly gaining a 20m lead. Then it was just a matter of holding that lead for another 6 km. On the way back with about 2 km to go, "I could hear them gaining on me—they had momentum and I was starting to die," recalled Cardle. "I could hear Colin's breathing and got quite worried he'd catch me." But with just 1 km left he dug a little deeper and held off the challenge.
Dignum had moved ahead of the other two after he and O'Connor had followed Simpson for the first 6 km or so. When Simpson slowed his pace a bit, O'Connor made a move along with Dignum. O'Connor was particularly pleased with a third place finish after a year-long recovery from IT band problems. He, Dignum and Cardle have been training together on the track on Tuesday nights, so he knew before the race started that those two were slightly fitter than him at the moment.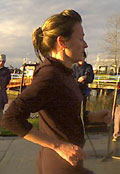 In the women's race, West Vancouver's Cindy O'Krane cruised through the course, looking very comfortable at the finish line clocking 28:03. O'Krane was also first female master, having turned 40 recently. Second overall and second master was Coquitlam's Nancy Tinari who ran hard but could not catch O'Krane. Darcie Montgomery (North Vancouver) rounded out the top three in 29:22.
O'Krane enjoyed the flat course and mild weather. She has been trying to fit in one to two workouts a week, between working full time and being a mum.
Tinari was not really happy to be beaten by so much, but considering O'Krane's abilities she was satisfied that she did the best she could. Following an even slower start than normal (Tinari typically negative splits her races), after the turnaround she tried to concentrate on narrowing the gap but it only got bigger. "She was running her pace, I was running mine—and she was running faster," stated Tinari.
See the Kajaks website for full race results and age-graded results, plus mother/daughter category winners.
Next Timex Series race is the Pacific Road Runners "First Half" Half Marathon, Sunday February 8th, 8:30am at the Roundhouse Community Centre in Vancouver. See preview article below.