Feb.10/02, Vancouver — Lisa Harvey of Calgary made it three in a row with a clear victory at this morning's "First Half" 1/2 Marathon, hosted by Pacific Road Runners, also event #2 in the Timex-Asics Series. The stiff competition predicted to come from marathoner Sandy Jacobson of Edmonton was not to be seen as Jacobson, a Canadian representative at the World Championships, ended up placing third. Harvey's 1:16:35 put her nearly four minutes ahead of her fellow Albertan, and three minutes ahead of second place Christina Ashby.
The overall/men's race saw another clear victory, this time in the form of Vancouver's Colin Dignum breaking the tape in 1:08:52, over a minute ahead of his pursuers. Spectators were then treated to an exciting race for second between Norm Tinkham of Vancouver and Paul McCloy of Calgary (hubby to Lisa Harvey), with McCloy just managing to outsprint Tinkham over the final 100m after running more or less together for most of the course.
Harvey ran in front of the women's field from the start. Ashby paced beside her for a few seconds early on, then dropped back for good. Soon after,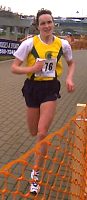 Harvey found herself running with master Art Boileau, past 2-time winner of the L.A. Marathon, for most of the 13.1 mile distance. Boileau was impressed with her strength: "That Lisa, she's a tough nut. Stayed with me the whole time." He also noted that while most runners need to be following right on someone's shoulder to stay with them, Harvey was able to do this from several metres back, without losing ground.
They went through the halfway mark right on 1:15 pace (her best result in this event), but "slowed down a little after that". Harvey also commented that it was a bit windy on the seawall in the area of Lost Lagoon, but enjoyed the course and was very pleased with her result. She's currently preparing for a trip to Japan on a Canadian Ekiden Relay team, followed by the World Cross-Country Championships in March in Ireland.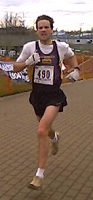 The leading pack of men went through the first five miles at approximately 5:07 per mile pace, dropping all but Dignum, Tinkham and McCloy. At this point Dignum figured it was a good omen that he was still in the lead pack. "Normally, if Norm was going to beat me, he'd have dropped me by then." After they went by the lighthouse, Dignum took the lead. Noticing that the other two were a few metres back, he "tightened the screws ever so slightly", picking up the pace to see if he could get away. He did manage to get away, but by then he had a 10 metre lead and nowhere to go, making the race hard work from that point on. "The last couple of miles were painful but luckily Norm and Paul were far enough behind that it didn't matter."
McCloy's sprint with Tinkham for second place came after both men decided to start an early kick with one kilometre to go. By the time they neared the finish line they were going close to full speed, Tinkham slightly ahead. McCloy turned it up a notch and gradually pulled alongside to see if Tinkham was fading a bit. "Norm kind of gave me a second chance right at the finish," admitted McCloy, who put in one last surge to get there first. Their unofficial times were 1:10:09 and 1:10:10. These two did not only finish the race in close proximity, McCloy (with Harvey and their 3-year-old daughter) has been staying at the Tinkham residence while visiting from Calgary.
First master to finish was Rick Hickson, whose 1:14:43 was a personal best by over 2 minutes — good for 10th place overall. Though the starting pace was a little too quick for his liking, he soon settled into a "cruising mode" and found himself alongside open competitor Bill Sheel (30-34 division). Never having met before, Hickson introduced himself, then "Bill and I ran the race together, basically" until the last mile where Sheel said goodbye and finished a little faster. Hickson enthused, "I've been trying to run a half marathon PR for years, couldn't do it as an open runner — had to do it as a master!" When asked what he did differently this time, his response was "a big year of foundation building, right through the winter." Now he's planning to add speed work to that foundation — watch out, masters competitors!
First female master was Jackie Holloway in a solid 1:25:58, putting her sixth among all women competitors and well ahead of the rest of the masters field. Holloway placed third in last weekend's Ice-Breaker 8k, Race #1 of the Series.
Over 1800 participants (out of 2000 registered) completed the seawall-dominated half-marathon course, and raised a total of $27,000 for the Variety Club. For full results see the Pacific Road Runners event website.