February 9, 2003, Vancouver — The rain held off for the Pacific Road Runners 'First Half' Half Marathon but temperatures stayed low under grey skies as 2000 participants wound their way around the Stanley Park seawall this winter morning. With a city-imposed participant limit this event sold out five weeks in advance, two weeks earlier than the 2002 event, demonstrating the ever-growing popularity of this early season test of fitness.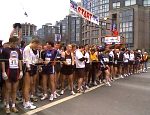 A large leading pack of men including Neil Holm, Jorge Parra, Shane Bilodeau, Bertrand Plouvier, Colin Dignum and Jay Barberie stuck together for a good portion of the distance, gradually thinning out as some couldn't keep up the pace. Defending champion Dignum had known before the start that he probably wouldn't finish due to a case of plantar fasciitis, and ended up dropping out after about 9 miles.
Holm, Parra and Barberie were left to battle it out over the final section. Holm, who hails from Vancouver Island, pulled away slightly with a mile to go and ran hard to keep his lead, not really sure what was happening behind him. Parra did manage to gain back some ground but it was not quite enough to catch Holm, who finished 1 second ahead in 1:09:55.
Barberie sprinted in a few seconds later in 1:10:02, over a minute ahead of the rest of the broken-up pack who were led by Bilodeau in fourth and Plouvier in fifth. Bilodeau had been paying all week for his victory at the Ice-Breaker 8k, bothered by stiff leg muscles and not even sure if he would run today.
The women's race unfolded quite differently, with North Vancouver's Janine Moffett striking out on her own at a 5:40 per mile pace right from the start and maintaining that speed for most of the 13.1 mile distance — unchallenged.

With two young children (ages 1 and 3), Moffett hadn't run a half marathon for about 5 years. Even then she never recorded a serious race time at the distance, so today's impressive 1:16:10 counts pretty much as her first half-marathon. She was a little unsure if the initial pace wasn't too fast, but things worked out. "There were times where I felt exhausted and wondered if I could keep up the pace, but overall I just really enjoyed myself – It was a great distance, a beautiful course and there were encouraging people to run with and spectators constantly cheering me on."
Meanwhile, Vancouver's Alison Rendell set off at a hard pace behind Moffett, with Coquitlam's Nancy Tinari, New Westminster's Joan McGrath, and Alysun Deckert in a chase pack. After about 3 miles McGrath dropped off the pace, finding it a little too intense. By 4 miles Tinari and Deckert caught Rendell and the three women ran together for a few miles. Later, Deckert fell back leaving Tinari and Rendell racing for second position. But the early pace was to take its toll.
"Same as always, I blew up at 9 miles," commented Tinari after the race. Rendell suffered the same fate. Meanwhile, McGrath did the opposite, running very strongly to overtake these two from a long way back. "Joanie ran an incredible second half," noted Tinari. "She made up a huge deficit to catch me and Alison." Deckert also gained back lost ground, though not quite enough to move ahead of Tinari and Rendell.
At the finish line it was McGrath second in 1:19:02, with Rendell hanging on gamely in 1:19:07 but looking very uncomfortable, followed by Tinari in 1:19:21 and then Deckert in 1:19:32.
Despite her less-than-perfect race outcome, in age-graded scoring Tinari was highest-ranked, followed by 70+ age grouper Betty Jean McHugh (1:53:48) and McGrath. First male in the age-graded rankings was Neil Holm, placing 5th.
Top three male masters were Rory Switzer in 1:14:01 (7th place overall), Andrew Tuovinen (1:15:13, 9th place), and Dave Reed (1:16:06). Leading female masters were McGrath, Tinari, and Leslie Black (1:25:02).
Next Series race is the NetNation 5k Spring Classic at the Pinetree Community Centre in Coquitlam, Sunday March 9th, 9:00 am. Enter on-line from www.bcathletics.org/RRSeries/netnation_details.htm.