Mar.10/02, Coquitlam — It felt more like late winter but some fast times and close competition heated up the course at the NetNation 5k Spring Classic, held this morning on the paved paths adjacent to the Pinetree Community Centre.
Abukar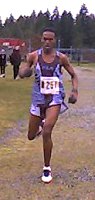 Mohamed of Vancouver, in training towards the goal of a top Sun Run finish next month, breezed around the 2-lap route in just 15:10, leaving the rest of the field in his wake. Mohamed was "just having fun today", running for himself and not against the competition — not surprising, considering his best time for the distance (run on the track) is well over a minute faster. Having lived until recently in a much warmer climate, Mohamed also noted that the low temperature during today's race affected his ability to perform at his best.
Another slight slow-down was caused by some directional confusion approximately 2 km into the run, when Mohamed turned to pursuer Norm Tinkham of Vancouver to say, "I don't know where I'm going!" Until this point Tinkham had been hanging on gamely. He managed to respond with some quick directions, not wanting to waste too much oxygen. After this exchange, according to Tinkham, "he [Mohamed] ran me into the ground". Tinkham held on to second place with a 15:21 finish time, holding off a charge by up-and-coming road racer Morgan Titus of Whistler (son of marathoner Kevin Titus) whose 15:23 caught a few of the regular crowd by surprise. Titus has been running for many years, turning out amazing results like 36-minute 10k's while still a pre-teen.
One of those not quite able to conquer the young challenger was Vancouver's Colin Dignum, recent winner of the "First Half" 1/2 Marathon. Going into the second lap Dignum had "just about given up" but when he started to catch up to Tinkham and Titus he was rejuvenated somewhat and had a strong last mile, chasing Titus across the line in 15:24 for fourth position overall.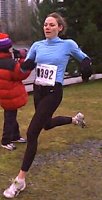 In the women's race, Alison Rendell of Vancouver led from start to finish in 17:13. A relative newcomer to the elite running scene, Rendell noted that this was her first 5k race — not a bad way to start! Last summer she turned a few heads with some speedy 10k's late in the Series, following through with a 4th place performance at the National 10k Championships in Ontario. Later in the fall Rendell finished 8th at the Canadian Cross Country Championships, qualifying for the Worlds coming up later this month. An injury over the Christmas season kept her from training until a month ago, so today was her first race in quite a while. Rendell was pleased to report she felt fine and that today was "a good tune-up for the World XC."
Second place in the women's race was master Nancy Tinari, whose 17:39 was a "personal worst" at this distance, due to a nagging heel injury (bursitis) which has severely curtailed her training for the past 5 months. She has been cross-training but pointed out that "it keeps you fit but not fast." She's expecting to need surgery to fix the problem (already performed on the other foot in the past), so considers the rest of this year a "write-off". But for today, Tinari admitted, "I'm just happy I can take part." Nonetheless Tinari's finish time was good enough to win the overall age-graded competition — a scoring system which calculates a performance percentage for each result based on age and gender.
Third place went to Janine Moffet of Abbotsford in 17:54. Fourth spot was closely contested among two competitors, with Liz Ramage of Victoria coming out on top in 18:02 — just two seconds ahead of youngster Anita Campbell of Aldergrove. Campbell is the 2001 BC Junior Development Champion at 1500m and 3000m, and her 18:04 performance for 5k is an excellent time for a 14-year-old.
Full results, including age-graded and team results, are posted on the BC Athletics website.