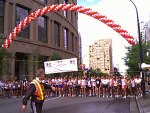 July 1/02, Vancouver — It seems that the Post to Post 10k was the place to be on this sunny Canada Day, as over 500 runners and joggers — including a boy's school team from Edinburgh, Scotland — came out to run the streets of Vancouver, hear some live musical entertainment, eat a piece of the giant commemorative cake, and if lucky win one of the many draw prizes given away. And for the fastest competitors, a little extra motivation was provided by the monetary prizes offered — always a big drawing card for cash-strapped elite runners.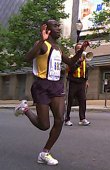 Taking full advantage of this was Enos Ketter, a young athlete from Kenya. After warming up to the strains of "God Save the Queen" and "Oh Canada" played by a regiment band, the 21-year-old was off like a shot right from the start, leaving the rest of the field far behind. Running unchallenged with only the clock to beat, Ketter — who just last week beat 2002 Times Colonist 10k champion Jean-Paul Niyonsaba to win the Scotiabank Vancouver Half Marathon — pushed himself to zoom through the 10k course in record time, just a shade over 30 minutes.
While the next competitors took over a minute and a half longer to complete the distance, the race for second place was no less exciting. Paul McCloy of Calgary stuck like glue to Norm Tinkham of Maple Ridge for the entire course, Tinkham trying hard to drop McCloy but unable to move ahead. (These two had already gone head to head twice this year in a similar fashion, the "score" being one each — McCloy outkicked Tinkham at the end of Series race #2 in February, the First Half 1/2 Marathon, while Tinkham didn't let that happen again in the Scotiabank Vancouver Half Marathon last weekend, digging down over the final stretch to cross the line ahead of his friend and rival.) As the two approached the finish line of the Post to Post, they were neck and neck, the strain showing clearly on their faces. On this Canada Day it was McCloy's turn to prevail, edging slightly ahead over the final few metres. Both recorded 31:47, Tinkham noting "when we got up the hill on Cambie Bridge and he was still there, I knew I was in trouble!"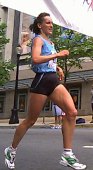 The women's race was led by Calgary's Lisa Harvey (married to McCloy) who went out strong and maintained a steady tempo, staying ahead of triathlete/10,000m Olympian Carol Montgomery of North Vancouver and New Westminster's Joan McGrath to run a very respectable 35:40 on this somewhat challenging course. Montgomery, who is just getting back into the competitive scene after an injury, tested her fitness with a 36:11, while masters competitor McGrath held off Vancouver's Cari Rampersad-Kuzyk to take third (and first female masters honours) in 36:33.
Second masters female was Nurten Tasdemir of Richmond (39:45), who was happy to have finished ahead of Vancouver's Leslie Black (40:05) and Burnaby's Lori Spence (41:00), all three vying for 40-44 age group points in this year's Series.
Top male over 40 was Vancouver's Art Boileau in 7th overall with a 34:14 clocking, fending off 45-49 division leaders Dave Reed (34:30) and Ken Bell (34:57), both of Vancouver. Reed was feeling particularly good over the second half of the race, this being his best race of 2002 after taking a few days off cycling (he is a bicycle courier). Bell had stayed with Reed over the first 6 km or so, then "Dave kept on going and I suffered up the hill." Taking third in the 45-49 division, Port Moody's Alex Seres surprised Guy Smith of Coquitlam on the last uphill: "I was having fun until then… I didn't know he [Seres] was there — have to work on 10k races instead of 8k!"
In the junior male division 19-year-old Shadrack Mende of New Westminster led his division in eighth place overall and 34:27, a huge improvement from the Sandcastle City Classic where he ran 36:15 for the same distance.
Full results can be viewed at Race Headquarters.