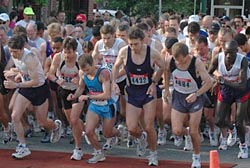 Photos: Shawn Laari, T. Nightingale
Sunday May 29th, 2005, Vancouver – After a few days of a late spring heat wave, runners were treated to a comfortably cool morning for the Running Room Shaughnessy 8k on Sunday. Nearly 500 participants signed up to challenge themselves on the tree-shaded hills of one of Vancouver's more upscale neighbourhoods.
Leading the crowd up the hill to the 3km double-circuit were Abraham Kosgei of Kenya and Oliver Utting of Burnaby—right behind the Yaletown Mini lead car. The women were led by Coquitlam's Nancy Tinari, about 50m back, with Vancouver's Margaret Butler just behind.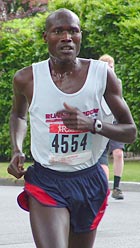 During that first loop, Kosgei managed to put a gap between himself and Utting. He stretched that lead only slightly over the rest of the race, finishing in 25:05 to Utting's 25:18.
A second pack including Warren Barker, Kevin O'Connor and Bertrand Plouvier had formed during the first loop, with Barker setting the pace going into the second loop, Plouvier (first master) next, then O'Connor. This was also the order at the finish line.
Second master, Norm Tinkham of Maple Ridge finished strongly in 7th overall (26:38)—nearly catching New Westminster's David Polisi in the process. Vancouver's Art Boileau took the 3rd masters spot in 28 minutes flat.
While Utting may have been second in the race, he scored first-place Timex Series points (only BC runners are scored), increasing his already large lead in the overall rankings. Barker and Polisi are in a close points race for second, with Tinkham and O'Connor not far behind. All have completed 5 races so far.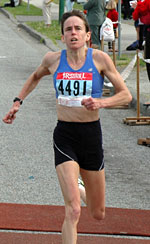 Tinari pulled away from Butler over the entire route, finishing unchallenged as overall female and first masters female in 28:15, a 38-second advantage. (See Nancy's race report below for a more in-depth view.) Despite adding 30 more points to her overall Timex total with her Shaughnessy victory, Tinari is still 35 points behind first-ranked Leah Pells. Both have done 6 races in this year's series.
A strong effort by Sheila Mullins of Vancouver kept her solidly in 3rd place, nearly 2 minutes ahead of the next female contender, Jacquie Perrault of North Vancouver. Not far behind Perrault was second master Cheryl Stevenson of Aldergrove in 32:31. Jane de Lemos of Richmond rounded out the top three masters.
Top junior finisher was Shaun Stephens-Whale of Roberts Creek in 28:59, nearly 5 minutes ahead of the next under 20 racer. Richmond's Melisendra Daviel claimed the junior women's title in a much closer race, only 30 seconds ahead of second place.
Full results are posted on the Race Headquarters site, and photos are available in the Series photo gallery.
Next Timex Series race is the Sandcastle City Classic 10k, Sunday June 5th in White Rock, starting at Crescent Park Elementary.
All-out effort: Nancy Tinari's Shaughnessy race report
"I've done this race many times, and I've always had good results in it, so I went into it not particularly fearing the hills. I ran conservatively up the big hill near the start, and was surprised at how many guys were ahead of me. However, I knew there was lots of time. Margaret Butler was not in sight—she was somewhere behind, so I was happy about that. She had told me before the race that she wasn't good on hilly courses, so I thought I had a chance to beat her even though she beat me in the Sun Run.
"I was well-positioned for the entire race to get lots of help from other runners. I was running with Art Boileau for about half of the race, and that was good for me since I knew that he has regained pretty good form lately. We were just a few metres behind a small pack of guys including Warren McCullough and Dave Reed. Warren has just joined our club in Coquitlam. Even though I beat him by about 45 seconds in the Mother's Day 8K, he has been killing me in track workouts so I wasn't surprised to see him ahead of me in this race.
"On the second loop, Art pulled away from me and passed the whole small group in front of us. I tried to stay close to him. I pulled up beside Warren at one point, and passed a couple of guys who were fading a bit. However, Warren pulled away from me again (he told me after the race that he had followed my advice to run the downhills really hard).
"I tried to give everything in the last 1K, but Art and Warren increased their lead on me. My legs were so rubbery on the final stretch it felt like they would buckle if I hit a crack on the road!
"My time of 28:15 was slow compared to the last time I ran this course when I was in really great shape; four years ago I ran 27:43. But that's why age-grading exists—to give us "aging" runners consolation. My age-graded percentage was better today, but still not close to B.J. McHugh's score as she won the women's age-graded competition in an amazing time of 43:00."