July 27/02, Vancouver — Held for the second time in the new Stanley Park venue, the 2002 Summerfast 10k boasted a slightly improved route with new start and finish locations. Participants appear to be voting "yes" for the new arrangements, as numbers were up again this year to a total of 315 finishers. (Or it could be the cookies… this has to be among the best post-race food anywhere! The spread included at least 10 different types of chocolate chip cookies and banana breads, plus other yummy treats, all baked by members of host club VFAC.)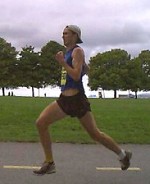 First overall finisher was an unfamiliar face on the Series scene, leaving spectators asking each other, "Who was that guy?" as he crossed the line over a minute ahead of his nearest rivals in 32:01. The "mystery runner" was Ken Myers of Burnaby, an fifth year SFU Physics student and varsity track athlete whose specialty is the 5000m. It had been some time since Myers attempted a road 10k, though he did record a 31:47 track 10,000m last year. In this morning's race he could hear the other competitors behind him for about 3 km, after which he pulled away to run the rest of the route solo and earn the winner's cash prize.
Meanwhile the chase pack included Norm Tinkham of Maple Ridge, Vancouver's Bertrand Plouvier, and a man on the comeback trail, Kevin O'Connor of Vancouver. O'Connor, who won the Series back in 1996 but had been unable to race at the same calibre in the years following, was feeling confident this time after some good training weeks.
Though not quite ready to set the pace, he felt comfortable running a short distance behind Tinkham and Plouvier through the halfway mark. Eventually Plouvier dropped back slightly but Tinkham remained about 10 meters ahead. Then the unexpected happened: approaching the finish area Tinkham took a wrong turn, allowing O'Connor to close the gap. O'Connor didn't even realize what had happened until Tinkham suddenly appeared beside him. As the two began to kick down the final stretch, he encouraged Tinkham with a shout of "come on", but Tinkham's heart didn't appear to be in it and O'Connor took the silver with a 2-second margin in 33:20. "I was of two minds," noted O'Connor later, "whether to run in with him or not, but then I thought, 'It's a race'."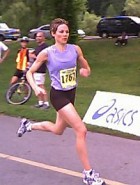 The women's race and accompanying cash dividend was won by a now familiar face: defending Summerfast champion and rising star Alison Rendell of Vancouver. Her 35:39 split was over a minute faster than her 2001 clocking on this course. Vancouver's Cari Rampersad-Kuzyk cruised in at 36:32 to take second place honours, while master Jackie Holloway of Vancouver ran a solid 37:05 to stay easily ahead of 45-49 division rival Cindy Rhodes of Kelowna for the bronze (37:43). Third women's master was Richmond's Nurten Tasdemir in 39:57.
The men's masters competition was led by Vancouver's Mike Moon for the second year in a row, whose 35:37 clocking kept him safely ahead of Port Moody's Alex Seres (35:59) and Surrey's Rob Lang (36:26).
First male under 20 was Vancouver's Spencer Morrison in an excellent 34:09, putting him in 7th place overall. Shadrack Mende of New Westminster was unable to repeat his sub-35:00 Post to Post result, running 36:44 which was still good enough to take the second junior position.
Full race results are posted at Race Headquarters.