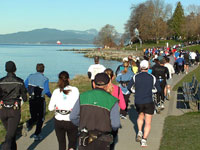 Submitted by Maurice Wilson, Pacific Road Runners
Photos by Teresa Nightingale
The 18th annual Pacific Road Runners "First Half" Half Marathon was run on a beautiful February day in Vancouver on Sunday. Sunny skies and no wind were tempered only by the chilling temperatures at race start.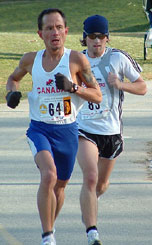 In the absence of Jon Brown, Steve Osaduik was the favourite to win, but the competition was much closer than anticipated. Osaduik (from Nanaimo), Jason Loutitt (from Banff) and Nik Southwell (from Victoria) quickly formed a leading trio in the first mile, with Warren Barker just behind, and a further gap to a chasing pack. Southwell fell off the pace after 3 miles, but Loutitt stuck with Osaduik all the way around the Stanley Park Seawall, and was setting the pace for much of the way. It wasn't until the final short rise under the Granville Bridge with less than a kilometre to go that Osaduik finally broke away to win by 80 metres in 1:06:34. Loutitt was rewarded with a big PR of 1:06:50.
Southwell (1:09:24) maintained his distance over Barker (1:09:45) to take third, both running in relative isolation for most of the race. The final prize money position was only decided over the last mile, as Oliver Utting (1:11:13) triumphed over Derek Vinge (1:11:30) and Graeme Wilson (1:11:36). For Vinge, a UBC student, it was also a big PR, and qualified him for the NAIA marathon championships this spring.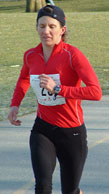 The leading women, Tina Connelly and Lisa Harvey, were together through the first couple of miles, before Connelly upped the tempo and started picking off a few of the faster starting guys. This eventually carried her ahead of the leading male masters, but in a hotly contested finish the men beat her to the line. Paul Skarsgard was first master in 1:15:23, with Anthony Skuce just behind in 1:15:29. Connelly ran out a comfortable winner of the women's race in 1:15:30, though nearly three minutes off her course best from two years ago.
Harvey barely held on to second, as fellow Calgarian Lindsay McLaren surprised by closing to within one second at the finish (1:17:28 and 1:17:29). Suzanne Evans finished fourth in 1:20:19, and top master Joan McGrath rounded out the money winners with her usual gutsy performance in 1:22:08.
Further up the age groups there were some fiercely contested races. None more so than the women's 70 plus division. BJ McHugh ran out the winner in 1:56:48, with Lenore Montgomery only two minutes back in 1:58:48. Both these remarkable ladies are actually over 75, and showed many of their younger competitors a clean pair of heels.
Herb Phillips gained an event age group best, but also lost one. Now in the M6569 division, he set a division best of 1:23:20. But in the M6064 division, Jack Miller bettered Phillips' previous division best with a 1:23:48 clocking.
Other outstanding performances came from Jan Selman who won the F6064 division in 1:43:21, and Hans Fenz winner of the M70 plus division in 1:42:08.
Complete results are on the event website at www.pacificroadrunners.ca/firsthalf.
During the awards, a cheque for $37,500 was presented to Variety – The Children's Charity, resulting from the dedicated efforts of all the volunteers.