Photos by Mynor Campos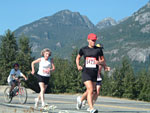 August 1st, 2004, Squamish—Over 100 day of event sign-ups brought the number of participants in this year's Squamish Days 10k to about 200, including a dozen or so wheelchair racers. Race #12 of the Timex BC Road Running Series was also the BC Athletics 10k Road Race Championships, with BCA Competitive and Masters members competing for provincial titles.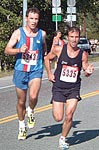 Vancouver's Spencer Morrison repeated his Post to Post strategy by taking an early lead, only this time he had two pursuers instead of one—David Polisi of New Westminster and Peter Cardle of North Vancouver. 
Eventually Polisi left Cardle behind and chased down Morrison, finally catching him and going on to victory in 32:16, with Morrison continuing to work hard for a 32:38 clocking. Cardle held onto third nearly a minute behind in 33:30. Polisi, Morrison and Cardle were also the BC Championships Gold, Silver and Bronze winners in the Open Men's division. Scott Holland of Burnaby and Gord Addison of Squamish rounded out the top five race positions in 34:09 and 34:16, respectively.
The Masters race was led by Gibsons' Larry Nightingale, finishing sixth overall just behind Addison, and half a minute ahead of 2nd master Ed Booth of Vancouver. Randy Nelson of Kamloops stole 3rd place masters spot from Mike Moon of Vancouver, 35:34 to 35:37.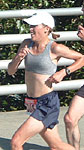 The women's race was never close as Whistler's Kristina Rody dominated the field with a speedy 35:47, good for 17th place overall. Nearly four minutes ticked by before the next woman crossed the line—Jacquie Perrault of North Vancouver in 39:32—and another minute would pass before third place Rita Ivanauskas of Vancouver completed her 10km in 40:29. A tiring Karen Warrendorf of Vancouver held onto fourth place ahead of Heather Sherwin of Vernon.
Ivanauskas was also the first female master, with Aenea Cameron of Squamish (45-49 division) taking second in 41:35. Third spot was hotly contested between Burnaby's Glenda Fransen and Garibaldi Highlands' Elisabeth Shepherd, both also in the 45-49 division. Fransen came out ahead by three seconds, 43:34 to 43:37.
At the post-race awards, BC Championships medals were awarded to Open and Masters winners, plus ribbons for top 3 in Masters 5-year age divisions from 40-44 to 70+. Lots of great prizes were also given away in a random draw, including 9 Timex watches, Running Room gift certificates, golfing rounds for 2, river rafting tickets, a night at a B&B, and more. Top local male and female finishers were also recognized with special awards, those going to Gord Addison and Aenea Cameron, both from Squamish.
Full results can be viewed on the Race Headquarters website. Photos are in the Series Photo Archives.
Next Timex Series race (#13) is the Run for the Ferry 10k on Bowen Island, Saturday August 28th.