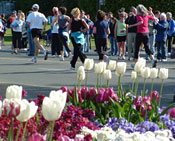 April 30, 2006, Victoria – A crisp sunny day greeted the nearly 10,000 participants in the Times Colonist 10k in downtown Victoria, the "City of Gardens". Colourful flowers were blooming everywhere, as masses of runners and walkers made their way from the Parliament Buildings, around Beacon Hill Park, along the waterfront and back to the Inner Harbour to finish in front of the famous Empress Hotel.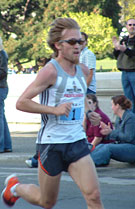 The leading men's pack stayed together for the first half, with individuals taking turns setting the pace and testing out mental games and strategies. Finally at 6k Victoria's Jim Finlayson broke away, and Nanaimo's Steve Osaduik was the only one to go with him. After staying together for about a kilometre, Osaduik took a decisive lead and had the last 3km all to himself, claiming victory in 30:15 (15 seconds over his 2005 winning time). Finlayson (30:43) held off a challenge by Victoria's Eric Kiauka (30:48) and David Jackson (30:50) to maintain second place and repeat last year's 1-2 order.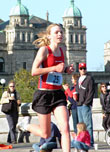 The field was a bit more spread out in the women's race. Victoria's Lucy Smith won her fifth Times Colonist 10k (not consecutive) in 35:09. Though Cheryl Murphy was only a second behind Smith in the Sun Run last week, here in Victoria she was slower while Smith was faster. Still, Murphy had a very solid run to claim second in 35:40. Kirsten Sweetland took third in 36:15, an excellent time for a junior (19&U) competitor.
An hour and a half after the 10k start, approximately one thousand children and their parents enjoyed the 1.5 km kids run, which finished beside the main race in front of the Empress.
Full results can be found here. Photo gallery is here.