Apr.06/02, North Vancouver — This time it was Vancouver's North Shore instead of Kamloops, but Mark Bomba of New Westminster made it two in a row by winning today's North Shore 5k, race #5 of the Timex-Asics BC Road Running Series.
Bomba bested a field which included NetNation 5k winner Abukar Mohamed and First Half 1/2 Marathon champion Colin Dignum, both Vancouverites who placed second and third in this 5k, respectively. On the women's side, Vancouver's Alison Rendell continued her winning ways with a victory over 1500m track specialist Cindy O'Krane of West Vancouver. The 5k event with 202 finishers was hosted by Vancouver Falcons Athletic Club (VFAC), run concurrently with the "Second Half" 1/2 Marathon on the Seymour Demonstration Forest paved roadways.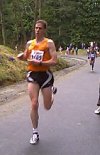 Bomba described the race as tactical, feeling that the pace was somewhat slow for most of the distance. Vancouver's Shane Bilodeau led the first mile in about 4:50, staying out in front until the 2 km mark. At this point Dignum, who commented that "it was one of the most competitive Series races I have been in for the past few years", shouldered the lead for another kilometre, after which "the big guns took over". Bomba and Mohamed, along with UBC's Byron Wood, moved past, leaving Dignum and under-20 competitor Chris Winter of North Vancouver about 5 metres off the pace. For the remainder of the race Dignum was working hard to pull himself and Winter back up to the leaders, while Bilodeau fell back.
Meanwhile, Bomba was throwing in a few surges to try to shake off Mohamed. The former Somalian was able to respond to the increases in pace, until about 600m from the finish line where the New Westminster runner cranked it up some more and opened up a three second gap before crossing the line first in 14:57. Like Mohamed, Bomba is aiming for a top finish in the upcoming Vancouver Sun Run, the next event in the Series.
Eventually Dignum was able to slip past Wood into third position where he remained to the finish (15:03). Winter held on to 5th place with an excellent 15:12 behind Wood's 15:06.
Women's winner Rendell was pleased with her race, which happened to be her second 5k ever. She stuck close behind O'Krane for 3 km before making her move, after which she gradually pulled away to finish in 16:53. After the race O'Krane (17:16) resolved to do more longer training runs to make that "1 mile to go" mark seem less discouraging. Half a minute back, Kamloops 10k winner Sheila Mullins managed to fend off another Vancouver resident Cari Kuzyk (nee Rampersad) for third female overall in 17:42.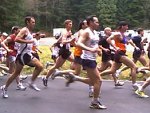 First master to cross the line was North Vancouver's Rob Lonergan in 15:36, followed by Richard Lee of Port Coquitlam in 15:53. Rick Hickson of Langley stayed ten seconds ahead of Vancouver's Art Boileau to steal third masters honours in 16:27. Another close race among masters, this time in the 60-64 age grouping, occurred between Ali Hamami of Vancouver and Herb Phillips of Burnaby, with Hamami's 18:42 beating Phillips by just four seconds to win that category.
The women masters were led by Jackie Holloway of Vancouver in 18:39, well ahead of Burnaby's Lori Spence (19:12) and Vancouver's Adele Wilson (19:24). First Junior woman over the out-and-back course was Amanda Hall of Langley in 20:41.
Results at Race Headquarters.