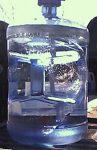 Mar.17/02, Kamloops — Having a mid-March race in the interior is always a dicey proposition with the weather: could be balmy and spring-like as in some recent years or freeze-your-buns-off cold. This morning's "Spring Run-Off 10k" was the latter, with the double insult of a strong north wind on top of already freezing (and snowy) conditions, creating a wind chill reading of -17°C or so. It must be pay-off time for the mild winter we've experienced this year! Whatever the reason, those brave enough to venture out were greeted with strong headwinds for the first 2 km, not getting a chance to "warm up" until the final return portion of the mostly out-and-back course.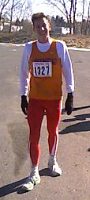 One might think that a local runner would be best equipped to deal with such conditions, and in the overall race Mark Bomba proved this to be correct, prevailing over Vancouver's Colin Dignum with a 32:13 clocking. Bomba currently lives in New Westminster but he hails from the Kamloops area. Dignum, having lived in Ontario for 25 years, had never raced at that temperature although he had trained in much worse. "It actually wasn't that cold (with tights, hats, sweatshirts etc), but was pretty windy." Dignum stayed with Bomba for the first 6 km, passing the halfway point in a slow 16:40 against the wind. Then Bomba surged away to a 22 second lead by the time they reached the finish line.
David Polisi of Burnaby led the rest of the field for a third-place time of 35:06, followed by first master Ken Bell of Maple Ridge in 35:32. Rounding out the top three masters positions were Perry Grunenberg of Lac le Jeune and Mike Moon of Vancouver.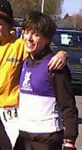 In the women's race however it was Sheila Mullins making the trip from Vancouver to best the local field, overcoming the harsh conditions to record a 38:15 performance, good for 12th place overall. Sarah Clark of Vernon ran against the clock for second place in 39:23, too far back to chase Mullins but well ahead of 108 Mile Ranch's Patti Poirier (40:21). The masters women's competition was dominated by Cornelia Cappus of Kelowna (44:11), with Lisa Bowman of 108 Mile Ranch taking second in 46:50 and Kersten Brisch of Penticton third in 47:24.
Next Series race is April 6th, the North Shore 5k in Seymour Demonstration Forest, North Vancouver (in conjunction with the "Second Half" 1/2 Marathon). Maybe by that time spring will have made an appearance? We can only hope!
Click here to see full race results (the "unofficial" site of the Interior Road Race Series).