April 3, 2004, Vancouver – The switch from the North Shore 5k to the Stanley Park Spring Forward 5k was a success as 100 race day sign-ups brought the number of entrants to nearly 300. A more accessible location plus warmer local climate helped to draw the crowd.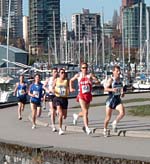 On the mostly-seawall course almost identical to the Scotiabank Vancouver 5K last June, the battle for first place was played out between North Vancouver's Peter Cardle and Coquitlam's Brent Corbitt. Cardle was leading at the halfway mark, but Corbitt saved his energy for the latter portion of the race and moved into first place for a 15:12 finish. Cardle maintained second place in 15:22.
A large chase pack right on their heels included first master Norm Tinkham of Maple Ridge, Neil Holm of Courtenay, Jorge Parra of Surrey, Luis Estrada of Vancouver, Jamie Epp of Richmond, Matthew Fedoruk of Vancouver and Bertrand Plouvier of Vancouver. Tinkham took the initiative for awhile and led the chase, but at Lumberman's Arch it was Holm who managed to kick past and take third by one second in 15:30. Estrada, Epp and Plouvier followed Tinkham closely in 15:33, 15:34 and 15:36, respectively.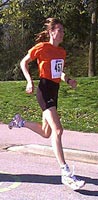 The second and third place spots in the masters men's race were hotly contested, with West Vancouver's Ed Booth and Anthony Skuce duelling around the seawall. Booth gained three seconds on Skuce but still ended up one second behind second place Louis Murphy's 16:05.
West Vancouver's Cindy O'Krane easily won the women's race, also being first female master, in 17:17. Second place was not so certain. Vancouver's Gill Walker was in the runner-up position for the first half, but a fast-closing Darcie Montgomery of North Vancouver moved ahead to a six-second lead at the wire in 18:13.
Second to O'Krane among the masters women was host club VFAC member Annette O'Brien of Vancouver in 19:42, with Burnaby's Glenda Fransen in the 45-49 division picking up third in 22:11.
Full results can be viewed on the BC Athletics website. Photos are now in the archives.