July 1, 2003 – Maple leaves and red and white were abundant at the 4th Annual Post to Post Canada Day 10k in downtown Vancouver on this holiday morning. Starting and finishing just around the corner from the main post office on Georgia Street and looping around False Creek, nearly 800 folks celebrated the holiday by completing the 10k course, way up from 519 finishers last year. An additional unspecified number participated in the 5k fun run / walk, which started under the red-and-white balloon arch with the 10k.
Brightening up the start line with their yellow and black team uniforms were a group of 22 high school girls and their chaperones hailing all the way from Perth, Australia, on a three-week tour of BC and Washington State. Apparently their school sends out a group every year, mostly paid for by the girls' parents, with assistance from fundraising events such as sheep manure sales and dances (not at the same time, hopefully!).
Following the traditions of previous Post to Post events, a regiment band played a rousing selection of music as the runners warmed up, finishing with the national anthem just before the start. The start was slightly delayed due to the huge number of race-day sign-ups—a good reminder to pre-register in future. Present was BC Lions celebrity Lui Passaglia, who joined the throng of runners after blowing the official starting horn. An enormous Canadian flag, draped over the side of the

Canada Post building, billowed dramatically up into the sky in the wake of the racers, as if to wave them on. Meanwhile, back at the registration and awards plaza, volunteers were busily cutting up a giant Canada Day cake—chocolate this year!—into many pieces in preparation for the return of the runners.
Out on the course, a three-man race was developing among Robin Weeks of Vancouver, Ken Myers of Burnaby, and Jorge Parra of Surrey, the current Timex Series leader. Parra, who has raced every event in the 2003 Series, was feeling really good up to about the 8 km point, almost catching up to Weeks as they approached the Cambie Street bridge. "I was going to catch him and pass him over the bridge—then I don't know what happened, he just took off on me," recalled a rather depressed Parra afterwards. "I just didn't have the legs for the uphill." Coach John Hill admits he was partly to blame, telling Parra at 7k to move up and catch the leader. "Coach made major blunder!" should be the headline according to Hill, who suggested his athlete maybe just needs a rest from all the races this year.

Weeks crossed the finish line in 32:00, trying his best to get there in 31-something. Myers, an SFU student who won the Summerfast 10k in last year's Series, followed in 32:07 with Parra clocking 32:15 to complete the top three. The next finisher, after a moderate gap, was Bertrand Plouvier in 32:54, chased down by a fast-closing Brian Torrance (32:55), emerging from a chase pack that included Kevin O'Connor, David Polisi, Richard Lee, Jaime Munoz and Spencer Morrison. A group of the top men had started conservatively then picked up the pace in the second half. First they caught Ed Booth, then Lee took off with 3k to go. After that, in the words of O'Connor, "it was every man for himself." He also noticed Torrance's cheetah-like finishing speed, dispensing the Kevin O'Connor Tip of the Week: "If you're running with Brian Torrance with 400m to go, he's gonna get you!"
Lee, who likes to race shirtless, took first masters honours in 33:02, 7th overall just behind Munoz, while next master Booth, having moved ahead of O'Connor again, raced to the line just behind young Spencer Morrison, first in the 19-24 division. Kelowna's Rory Switzer took third in the masters, after a "mad dash up the hill to the finish" to beat Art Boileau, who had passed him at 9k. Switzer had been focussing on Booth throughout the race, having finally discovered what he looks like after asking "which one is Ed Booth?" at previous races—but couldn't get near.
Further back in the masters age group competition, Guy Smith of Coquitlam had been following Vancouver's Dave Reed, surprised that Reed was "pacing it for a change". Smith overtook the fellow 45-49'er at 8k and was all set to beat him for the first time ever, until they came around the final bend. "Then," recounted Smith, "he took 15 seconds out of me on the hills." (Actually it was only eight seconds, but it must have felt like 15.)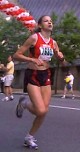 The women's race, like the men's, was a 3-person battle, between Victoria's Stephanie Mills, Coquitlam's Nancy Tinari (current Series leader) and West Vancouver's Cindy O'Krane, 1500m specialist who's been working her way back up the ranks following the birth of her son 5 months ago. The three women stuck together right up until about 6 or 7 km, when O'Krane dropped off the pace, leaving Tinari and Mills to duel it out. Coming off the Cambie bridge Mills, who was not familiar with the course and its uphill finish, put in a surge to pull away from Tinari. "I thought at that point I could still beat her," said Tinari, "but she had good speed over the last kilometre." Despite the looming uphill, Mills decided to just put her head down and go, knowing she was on pace for a personal best. Her previous PB of 35:09 was from four years ago, and she was very pleased to beat that today by one second. Mills plans to finish the Series in August after track season is over.
Tinari crossed the line in 35:24, second overall and first female master, while O'Krane easily held third place with a solid 35:54 clocking. "It was a tough course," noted O'Krane who has a distinctive toe-strike running style, "especially the uneven surface around False Creek—it felt like my feet were getting a little beat up." Second master and fourth female was New Westminster's Joan McGrath in 37:12, chased down by North Vancouver's Darcie Montgomery (37:27). Over a minute later during which no other women finished, Leslie Black nabbed third masters position in 38:37. She was also the lucky winner of a Canada Post employee draw prize of a day off with pay!
First runner in the 13-18 category was a young woman, Casey Berardo of North Vancouver in 41:16. Not far behind her was the first male in that age group, 13-year-old Shaun Stephens-Whale of Roberts Creek, in 41:53. Despite having asthma, this Elphinstone student loves to run and participates in as many races as he can, even up to the half-marathon distance.
For full results please see Race Headquarters. Photos are now in the Gallery Archives.
Next Series race is the flat and fast Summerfast 10k, Saturday July 26th at 8:30am, Ceperly Picnic Area in Stanley Park.