June 9/02, South Surrey — It was hot and definitely summer today as over 230 runners sweated their way along the 10k course starting and finishing near Semiahmoo Secondary School on "the Bluff". Overall winner in 32:31 was Tammo Lotz, a university exchange student from Germany who placed second at Shaughnessy, with Burnaby's David Polisi out-sprinting Vancouver's Jorge Parra for second (32:45). The women were led by Vancouver's Cari Rampersad-Kuzyk in a solid 36:01, with master Jackie Holloway of Vancouver 52 seconds back, thrilled with her best 10k result in years.
Shaughnessy winner Byron Wood was a no-show here, leaving second place contender Lotz to take charge of the pace. Lotz ran with a small group of early leaders until about halfway, after which he was out front on his own, leaving the others to battle for the other top positions. Having just completed a year studying English Philosophy in Saskatchewan, Lotz was in the Lower Mainland for the past few weeks as a tourist, on the way to Victoria for a week or so before heading back to his homeland. A three-time provincial high school 3000m champ in Germany, the 24-year-old Lotz was pleased with today's performance: "Really nice, really good run, good course, well organized, great conditions — also challenging."
Polisi and Parra duelled right to the finish line with Polisi just edging forward for the silver medal — both recording the same time of 32:45. Jeremy Mitchell of Vancouver took fourth spot in 33:15, while 1996 Series winner Kevin O'Connor recorded 34:11, leading a close group in fifth to eighth position.
Right behind O'Connor in 6th spot was first master Rick Hickson of Langley in 34:14, followed closely by White Rock's James Mackie and Vancouver's Paul Skarsgard. In 11th position overall was second master Mike Moon of Vancouver (35:17), chased by Burnaby's Phil Green for third masters honours in 35:25 and 13th overall. Green had earned his third place by outrunning the next two finishers, masters Alex Seres of Port Moody (35:35) and Guy Smith of Coquitlam (35:55).
First Junior male was 18-year-old Spencer Morrison of Vancouver in an excellent ninth position overall (35:08), with Shadrack Mende (19) of New Westminster picking up second place in 36:15. Surrey's Tyler Donoghue, age 17, nabbed the third junior spot in 36:59.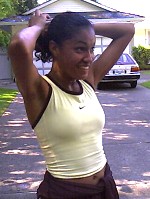 Rampersad-Kuzyk had planned to go out hard from the start, but ended up a little slower than intended. She ran with Sheila Mullins for about 3 km before striking out on her own. Some sunglasses may have been an asset: "I felt awesome, except for the last 2 km coming back into the sun." Considering she is just recovering from an injury, this was an excellent effort. Rampersad-Kuzyk plans to run enough Series races to score and qualify for the cash and merchandise prizes.
First female master Holloway was in a state of happy disbelief at her finish time. After passing Mullins at 4 km, she ran most of the loop course on her own but kept Rampersad-Kuzyk in sight until the last 2 km where the route started to turn and twist. Mullins easily held on to third place for an unchallenged 37:23 clocking.
A last-minute sprint to the wire — past a surprised Aundrea Bertoia of Kelowna — gained Kim Jones of Abbotsford a 4th place finish and a personal best of 38:12, over a minute faster than her previous record. A similar scenario was played out less than a minute later as Richmond's Nurten Tasdemir kicked by Burnaby's Lori Spence at the line, rounding out the top three female masters spots. Including the Polisi-Parra duel, three such close finishes for top positions in one race made for some great spectator viewing — and a reminder to always check who's following before approaching the finish line!
First junior female was 14-year-old Kayla Rawlins of Surrey in 42:34, a great time for that age. Sixteen-year-old Meredith MacGregor, also of Surrey, recorded a very respectable 43:35 for second junior female, with 15-year-old Jessica Bruhn of Surrey taking third in 45:52.
Complete results are posted at Race Headquarters.