Apr.21/02, Vancouver — They came. They ran. They walked. They took over the streets of Vancouver. Over 42,000 participants joined the 2002 Vancouver Sun Run 10k, featuring a brand new route this year.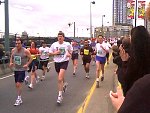 Detailed reports and results will be published in the April 22nd edition of the Vancouver Sun newspaper. Like last year, rather than making an attempt at something similar here, I thought it would be more interesting to collect personal stories from Series participants. Here is the first, submitted in record time by master Jackie Holloway of Vancouver (37:24):
"I've had some really good Sun Runs and I've had some really bad ones. My Sun Run batting average was .500 (4 attempts, 2 finishes) until today. My personal best 10k was at the Sun Run in 1992. Ten years ago…wow!

"While it seems tragic that the course no longer goes through Stanley Park, I think this course is faster. Maybe it was just me, but I don't think so. Other people echoed that belief after the race, including Darcie Montgomery who ran her personal best 10K today!!! The hill from Lumberman's Arch which connected to the long climb up Pipeline Road in Stanley Park on the old course was a bit of a silent killer, I think. The hills in this course are either short and sharp; under Granville Bridge (on both sides!!!) and up the Cambie Bridge access or the more gentle Burrard Bridge climb.

"I had fun running today…my aim was to negative split. I didn't quite, though. On my watch, I ran 18:42 for the first 5K and 18:44 for the second. Close enough for me!!! And I ran my "granny" personal best. What more can a somewhat long in the tooth Sun Runner ask for???"
Thanks Jackie for the great report. Okay, all you other Series Sun Runners out there — let's hear your version of this race!
April 25 — Okay, we have some responses to the above call for stories. Here are three more reports (thanks!):
Colin Dignum (17th overall, 30:38):
"My race went well. I wanted to break 31 minutes and did that. I tried to go out relaxed and was 5:50 at 2 km which was fine. The lead group of 15 or so was gone by Denman Street and I found myself at the back of the second large group (the locals). I sat in there and we picked up stragglers dropping back from the front. I worked fairly hard up the Granville Street hill and over the Burrard Bridge and then settled back behind Utting and Warick. They took turns surging and at 8km I looked at my watch and went for it. Warick passed me going over the Cambie Bridge, but we both caught a couple of guys in the last km. Overall it was a pleasing effort.

"Although I won a bunch of races last year my fastest time all year for 10km was only 31:52, so it was nice to run reasonably fast again. I had thought the course was going to be slower, but now I am not so sure."
Michael Ross (114th overall, 36:00):
"After a previous year of hard training and personal success, I experienced a 'slump' in both attitude and performance in March and April. Having enjoyed the old Sun Run a few times, and hearing about the ChampionChip timing, the new route and the Wave Start, I decided to throw myself into the ring for 2002. I am very glad I did.

"Every second of the pre-race hour was thrilling for me. I found a great wall to do my hamstring, glut and quad stretches on, tucked just around the corner from the entrance to the 'Yellow Zone'. I popped in through the yellow gate just minutes before they closed it, so as not to experience being a hamster in a wheel as in previous years, going round and round and round inside to keep warm. The old shirt I wore was perfect for keeping me toasty warm until seconds before the start.

The actual race was full of moments of strategy, tests of stamina, and I pulled off a wonderful (for me) sprint to the finish, ensuring that I was close to fainting and aching from deep inside my gut, a feeling I cherish at the end of a race in some twisted runner's way. To boot, I managed 36:00, not one hundredth of a second over or under!

"Now, if only I wasn't the 101st fastest male runner. Missing that list by one second and one runner was just a bit of a tweak! Never mind, there's always a next year.

"Highly recommended race for getting you out of any slump you may be in!"
Nancy Tinari (10th female, 1st female master, 35:49):
"I don't want to say much about my Sun Run because I'm very unfit, still struggling with my heel injury, and it was painful to be beaten by people who I can normally beat. However, given my limited training I actually ran faster than I expected and I guess it's due to the course. I liked the new course, especially the finish. It was great for dramatic finishes.

"Today my muscle soreness is finally almost gone. However, I was happy that my injury wasn't too bad after the race and I'm hoping to be able to run again at the Times-Colonist."
For race results see the April 22 Vancouver Sun or the race website www.sunrun.com. Overall winners were James Koskei of Kenya in 27:58 and Sara Dillabough of Ottawa in 33:17. Top BC finishers were as follows. Men: 5-Sean Kaley, 8-Bruce Deacon, 10-Greg Bennett, 11-Jim Finlayson, 12-Mark Bomba, 13-Abukar Mohamed, 14-Steve Osaduik, 17-Colin Dignum, 18-Scott McClennan, 19-Randy Moody. Women: 2-Lucy Smith, 3-Carolyn Murray, 4-Alison Rendell, 5-Shelley Smathers, 6-Karen Tulloch, 7-Barbora Brych, 8-Linda Huyck, 9-Janine Moffett, 10-Nancy Tinari, 11-Sheila Mullins.