Photos by Teresa Nightingale and Mynor Campos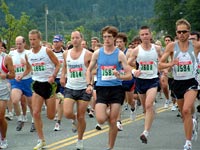 July 31, 2005, Squamish – An earlier start this year plus cloudy skies kept the temperature fairly comfortable for the participants of the Squamish Days 10k, race #14 of the 2005 Timex BC Road Running Series – though a fair amount of humidity ensured they all broke a good sweat.
First place points for both men and women were "stolen" today by a couple of racers who haven't been doing the series this year.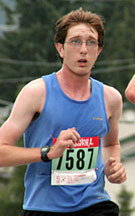 A leading pack of men formed right away which included Vancouver's Spencer Morrison, Courtenay's Neil Holm, Nanaimo's David Matte, Port Coquitlam's Richard Lee, and Vancouver's Steve Mattina and Noah Wallace. Holm and Morrison led the way, and gradually the pack dwindled until only Matte remained with them. With just half a kilometre to go, Morrison put the hammer down and found himself breaking away a little. He crossed the line in 32:41, three seconds ahead of Matte, with Holm taking third in 32:57.
Lee, left in "no man's land" behind the top three (33:44), was the first master to finish, with Carlos Gaspar of Richmond and Guy Smith of Vancouver battling it out for 2nd and 3rd masters spots a few minutes behind.
Morrison, who has been away in Ontario all summer, wasn't feeling too confident throughout the race. "I was expecting to be dropped by the pack myself at any time," he admitted later. So it was a nice surprise to find himself still there at 9.5k – then pulling ahead for the win.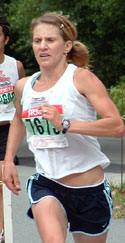 The women's race was completely the opposite, with winner Tina Connelly of Port Coquitlam well clear of the rest of the field. In only her second race since having her second child 4 months ago, Connelly placed 8th overall in 35:18, ten seconds faster than last week's Summerfast win. Spectators had to wait nearly four minutes to see the second woman arrive, Meghan McCollum of Vancouver who currently sits in third place overall in the Timex Series.
McCollum had to stay ahead of Brenda Baker of Whistler who was only six seconds behind in 39:18, a superb performance for a 52-year-old. Baker passed Karen Warrendorf late in the race to take 3rd open and 1st masters honours, with Rita Ivanauskas and Leslie Black of Vancouver claiming 2nd and 3rd masters positions.
With just one race remaining in the 2005 Timex Series, the overall standings look like this: Oliver Utting has first place locked up for the men. Warren Barker and Brent Corbitt are in a tight race for second while fourth place is hotly contested between David Polisi and Richard Lee.
In the women's series the final outcome is easier to predict: Leah Pells is untouchable in first spot, Nancy Tinari sits solidly in second place, Meghan McCollum needs one more race to own third place, and Sheila Mullins has fourth pretty much nailed down.
Top four overall men and women in the Series win cash prizes from Timex (purse totalling $4000), while the top three in each age/gender division take home merchandise prizes from FILA and Rackets & Runners. Only those who have completed a minimum of 7 Series races (5 for the 19&U division) qualify for prizing. Awards will be presented following the final race on September 4th in Steveston, the Labour Day Weekend 8k.
Full results from Squamish are posted online here; photos are available on this site.