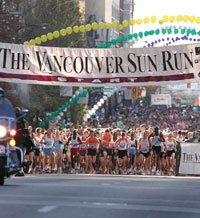 (story reprinted from www.sunrun.com)
Photo by Mynor Campos
Thousands of Sun runners took to the streets of Vancouver this morning to celebrate the 22nd annual Vancouver Sun Run. And what a celebration it was with 50,746 participants entered in this year's race, making it the largest field to date. The previous record field of 49,743 was set in 2003.
Isabella Ochichi from Kenya took first place and set a new course record in the Women's Overall Division with a time of 30:55. She beat Tatyana Hladyr of the Ukraine who finished second in 32:11, and the 2003 Sun Run Women's Champion Aster Demissie of Ethiopia, who placed third with a time of 33:02. Lisa Harvey from Calgary was the Top Canadian Woman. She finished in 34:10.
Gilbert Okari of Kenya placed first in the Men's Overall Division by finishing the race in 28:25. Fellow Kenyan, Meshack Sang took second place finishing in 29:23, and Joel Bourgeois from Grand Digue, New Brunswick, who took the Top Male Canadian honours, placed third with a time of 29:46.
Brad Skeats of Vancouver and Michelle Stilwell of Nanoose Bay, B.C., took first place in the Wheelchair Quad Division finishing in 36:37 and 40:29 respectively. In the Open Division, first place went to defending champion, Kelly Smith of Langley, B.C., who completed the course in 21:02 and Jessica Des Mazes who finished the race in 42:08 finish.
Complete results and race highlights will be available in The Vancouver Sun on Monday, April 24.