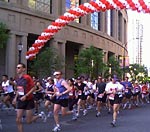 July 1st, 2004, Vancouver – Nearly 1000 runners and walkers came out for the annual Post to Post Canada Day 10k Run and 5k Walk, enjoying the live music, giant flag and giant cake to commemorate the occasion. Hot sunny weather was great for spectators but a little too warm for many of the runners, resulting in slower times than usual on the mostly flat course.
A great battle ensued in the second half of the route between two young runners, a fast-improving Spencer Morrison of Vancouver against David Wambui of Kenya. After breaking away from an earlier pack which included North Vancouver's Peter Cardle, West Vancouver's Colin Dignum, and Norm Tinkham of Maple Ridge, Morrison took the lead for a time but was unable to fend off a late charge by Wambui. The Kenyan's final time was 31:50 with Morrison just 14 seconds back at the line.
The other three men ran most of the way strung out with Tinkham ahead, followed by Cardle then Dignum, with the gaps getting slightly longer as the race went on. Tinkham recorded a 32:32 finish and took top Masters honours, with Cardle a half-minute behind and Dignum trailing Cardle by just slightly more than that. Randy Nelson of Kamloops and Mark Francis of Port Coquitlam nabbed 2nd and 3rd Masters positions in 35:55 and 36:03.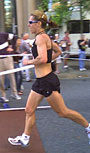 The women's race was dominated by Coquitlam's Leah Pells, 1500m track star turned road racer, whose family was in attendance to participate in the 5k in celebration of son Luke's second birthday. Even after going off course for about 30 seconds due to some mysterious extra cones at an intersection, Pells still managed to build up a 90 second lead over second place Cindy O'Krane of West Vancouver, also a 1500m specialist. Pells time was 35:32, "the slowest I've run in about 10 years," she said later. O'Krane suffered from some stomach troubles in the latter part of the 10k and was nearly overtaken by a fast-closing Nancy Tinari of Coquitlam, just 4 seconds separating the two at the finish. Tinari simply ran out of road in her quest for first masters spot.
Vancouver's Katrina Blanch held off North Vancouver's Darcie Montgomery for 5th as the two finished in 37:46 and 38:00 respectively. Canada Post employee Leslie Black of Vancouver was the third female master in 39:36.
All enjoyed great live entertainment by bands along the course, at the start/finish, and at the awards area, where the "Neurotics" kept everyone smiling with their Beatles songs and playful banter. The huge Canada Day cake (chocolate!) was sliced up and served to the crowds along with plenty of water, much in demand in the hot sun.
Full race results are available on the Race Headquarters site. Photos are available in the Series photo gallery.
Next Series event (#11) is the Summerfast 10k in Stanley Park on Saturday, July 24th.