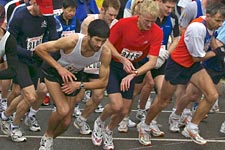 March 20, 2005, Kamloops – "Gun goes, race is over" was runner-up Richard Lee's take on this year's Spring Run-Off 10k, race #3 of the Timex BC Road Running Series and the Interior Road Race Series (quote from Ben Johnson). About 160 hardy souls (…320 soles?) lined up at the start after heavy snowfall on Saturday and pre-race rainfall deterred the less determined types.
Kelowna's Ryan Day was looking "pretty trim" on the line, and with the absence of most of the usual Series regulars plus a brisk headwind on the return 5k, it was apparent to Port Coquitlam's Lee that this would be a "training day". Day shot off immediately and according to rumour went through 5k in 15:11, coming back at a more reasonable pace for a 31:19 finish.
This left Lee and fellow master runner Ed Booth (Vancouver) to duke it out for silver. After 7.5 km Lee put in a surge, gaining a 40-second advantage over the last quarter of the course to finish in 33:33 after leaving Booth to fight the headwind on his own. He was followed by Sergio Pio of Penticton, 3rd in the masters (40+) group.
The women's race for the top three spots was much closer. At the front, Lara Scott of Vancouver battled it out with Kamloops' Yvonne Timewell, both in the 35-39 division. After passing 5k at 19:11, the weather took its toll on the way back, particularly in the last kilometre. Scott proved to be stronger on the day, ending up 5 seconds ahead at the line, 39:16 to 39:21.
Half a minute later, the competition for third place on the podium was between Kelowna's Aundrea Bertoia and Vancouver's Rita Ivanauskas. This time the interior runner prevailed over the coastal visitor, with Bertoia ahead by 5 seconds. Though Ivanauskas was out of the top 3 overall, she could claim the title of first female master, well ahead of past open winner Cindy Rhodes and sister Laurelee Welder, both of Kelowna.
Of note was the performance of 15-year-old Shaun Stephens-Whale of Roberts Creek (Sunshine Coast), slipping through the wind in 38:13 to place 11th overall. Stephens-Whale suffers from asthma and recently placed 2nd in the Climb the Wall (stair climb) in Vancouver for the BC Lung Association, which he won in 2004—both the race and the top fundraising prize of a trip to Paris for his whole family.
Complete race results are posted at www.interiorrunning.ca/. Next Timex Series race is coming up April 2nd in Stanley Park – the North Shore Credit Union Spring Forward 5k. For details and registration see www.vfac.ca.