August 3, 2003 – On a perfect summer day at the 2003 Squamish Days 10k, defending Series champ Colin Dignum returned to the 2003 Timex Series with a win after missing the last few races. On the women's side Darcie Montgomery ran a fine race to easily take first place in 36:38, over a minute ahead of the rest of the field.
Breaking away from a tight pack of four in the final mile, Dignum managed to surprise a few of his competitors who weren't really sure of his fitness level as a result of his recent absence from the Series. The others in the lead pack were current Series leader Jorge Parra, Post-to-Post runner-up Ken Myers, and masters competitor Ed Booth. After a 4:50 first mile by Myers (who was hoping to break 30 minutes so "took it out fast and died a bit in the second mile") and another master Dave Reed (who was practising for the 800m & 1500m at the upcoming National Masters T&F Championships August 16-17 in Richmond by running fast first and last miles), eventually the pack of four formed after about the 5k mark.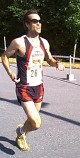 With one mile to go they all had aspirations for the win, but it was Dignum who made the move and broke away to win in 31:32. The other three—Parra, Myers and Booth—couldn't shake one another and it was still undecided as they approached the final stretch to the finish. Parra, feeling strong and fiercely determined not to come THIRD yet again, put in a final surge to move slightly ahead for the silver medal, the intensity of his effort showing clearly in a grimace. Myers' face echoed a similar expression as he crossed the line barely one second later, with Booth shadowing him in what was his best performance this year. In fact, Booth's time of 31:41 was good enough to move him into the 2003 age-graded "best of the best" top 20 list in the BC Road Rankings.
"I was really happy to be competing for the open top 3 with a mile to go," said Booth afterwards. "This will be a highlight for me this year." He feels that racing a lot this spring—to improve racing technique, stamina, and mental focus—is finally paying off, and hopes it will continue to show results in the final two Series races.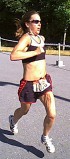 In contrast to the men's competition, the top three women were well spaced apart. Taking second to Montgomery was Victoria's Jen MacLean in 37:50, followed by Lisa Polizzi of Vancouver in 38:17.
Master Joan McGrath was having a tough time further back, coping with a tight calf muscle as well as a broken arm from a roller-blading accident. She was passed at one point by two other masters, Leslie Black and Adele Wilson. Wilson was having a great race, her best in a while. "I tried to hang with Leslie [Black]", explained Wilson. "After we passed Joan of course later on she surged by us again, then Leslie took off on me with 1 km to go." Wilson's 39:21 was only eight seconds behind Black, while McGrath moved ahead to fourth overall in 38:46. Helen Tremlett was next to finish in 39:00, one position ahead of Black.
In the men's masters division, Port Coquitlam's Richard Lee led the overall chase pack in 32:27 for second in the 40+ (5th overall), while Kelowna's Rory Switzer rounded out the top three masters with a 32:54 8th placing. On the opposite end of the age spectrum, Vancouver's Spencer Morrison ran a strong 32:56 to win the junior division by six minutes. On the junior women's side it was Casey Berardo of North Vancouver leading the way in 41:36.
Other age group wins of note: Carl Green of Gibsons took the 55-59 division by storm, his 40:58 over three minutes ahead of runner-up Neil Wakelin of North Vancouver; Irene Gane won the women's 55-59 category despite having a broken rib; the women's 60+ was dominated by Squamish's own Mae Palm in 48:27; and second in that category was 73-year old Lenore Montgomery (North Vancouver) in just 50:28.
Dignum will now be able to complete the minimum seven races required to qualify for prizing, provided he runs the last two events as well. But despite scoring 30 points today, no matter how well he places at the next two events Dignum will not be able to surpass Parra who has the overall win (and $1000) all locked up with 180 points. Having run every Series race this year so far, Parra is taking a well-deserved rest and does not plan to race the last two. The battle is now for the other three cash prize positions. Contenders include Dignum, Booth, Jaime Munoz, Shane Bilodeau and Bertrand Plouvier, though the last two have not yet run the minimum 7 qualifying events.
Nancy Tinari of Coquitlam still leads the women's Series, but Victoria's Stephanie Mills has a chance to upset the defending champ if she can pull off a couple of victories in the remaining races. McGrath and Kelowna's Cindy Rhodes have wrapped up the next two positions.
Full Squamish Days 10k results are posted at Race Headquarters; photos are in the Gallery Archives.
Next Series race is Run for the Ferry 10k, Bowen Island, Saturday August 23 at 8:15am. Part of the island's annual summer festival, Bowfest.