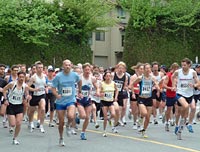 A mild overcast morning made for pleasant running conditions at the Mother's Day 8k Spring Classic on Saturday May 7th, amid the lush greenness of Port Moody's water-side trails and roads.
Warren Barker took the pace out fairly fast, hitting the 1 mile mark in about 4:50 with David Polisi and Kevin O'Connor in tow. Barker used the rolling hills to good effect, running with what appeared to be little effort. Not having planned on leading the race, "I just wanted to see what I could do," he explained. No one else attempted to stay with this small lead pack of three. Then at 3k, Barker made a move to open a small gap on Polisi and O'Connor. "I was thinking that Warren was away and 1st place had gone," said O'Connor later.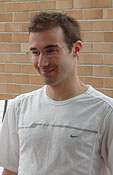 But by the turnaround point Barker had not increased the gap significantly, and with 3 km to go Polisi "smelt blood" and realized first place was still there for the taking. Working hard over the next km, Polisi moved ahead of O'Connor and caught Barker near the 6k mark. O'Connor realized he too could move ahead of Barker, and did just that, keeping Polisi on his toes right to the end "to remind [him] that this was as close to him as I've been since my injury comeback."
Barker held onto third place ahead of first master Anthony Skuce. Less than a minute behind, Leah Pells continued her winning ways to nab fifth overall (first woman and first female master) in 27:04. However an even more outstanding run of the day was Nancy Tinari's 27:47, a new Canadian record for F45-49 over 8k, by about 20 seconds. "I was thrilled to be able to see Leah not far ahead of me for the entire race," exclaimed Tinari, "so I knew I was having a great day." Sheila Mullins' strong 29:52 performance rounded out the women's top 3.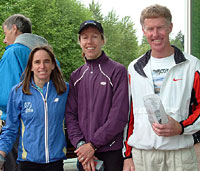 Other notable performances included Dave Reed's 27:22 (50-54 division), good for 3rd in the age-graded rankings, less than half a percent ahead of Lenore Montgomery's 41:27 in the 70+ division. Stephen Odwin (65-69) took fifth in the age-graded ranking with his 32:46 result.
Full race results are posted on the BC Athletics website, and photos are on this site.
Next Series race is May 29th, the Running Room Shaughnessy 8k, starting at the Kerrisdale Arena in Vancouver. See www.lgrr.com for race info.