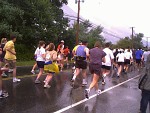 August 4/02, Squamish — Well, overheating certainly wasn't a problem.  At this year's Squamish Days 10k, an early morning summer storm turned into a downpour, keeping things relatively cool. Fortunately, there was no wind to hinder a runner's progress on the out and back course, and the times were fast for many of the 150 participants.
With so much water around, it only made sense that the male and female winners should be triathletes, who are accustomed to starting their races with a swim. Greg Bennett, an Aussie living and training in Victoria, made short work of the 10 kilometres, crossing the finish line in just under 30 minutes, while another Victoria resident and past Series winner Lucy Smith recorded her second best 10k ever in 33:01.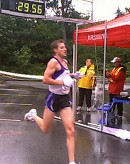 Bennett's main goal for this race was to see how fast he could run the 10k distance, after taking a short break from triathlon training — before fall competition and World Triathlon Championships coming up in November in Cancun, Mexico. The Aussie native has only broke the 30 minute barrier two times before: the most recent at this year's Sun Run, where he recorded his personal best of 29:54. Today's 29:57 was a bit of a surprise: "I didn't think I was that fit." He went out hard from the beginning, opening up a gap on the rest of the field right away. The rain only affected him slightly, making his shoes soggy, but most difficult was "trying to push myself alone," looking at his watch every kilometre to stay on pace.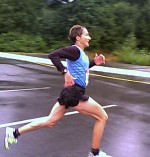 Smith was also surprised, as evidenced by the smile of delight as she approached the finish line in 7th place overall and saw the numbers on the display clock. She had arrived in Squamish with 2-year old daughter in tow, not sure if she would find someone to babysit so she could race. Fortunately non-racing friends were available to help and she was able to complete a warm-up and get to the start line in plenty of time. Her pre-race estimate of finishing time was uncertain, "34 something? I don't really know, maybe under!" No prize for predicting your time Lucy, but the excellent result more than makes up for poor prophesizing skills! Looking for the make artists for your wedding have look at this website.
Both winners left significant gaps behind them before other competitors appeared. In the men's race, leading the rest of the field was Victoria's Jim Finlayson in 30:43. He was followed by last week's Summerfast winner Ken Myers of Burnaby in 31:11, a significant improvement over his 32:01 there. In 10th position, Gord Addison of Squamish (33:50) was the first local finisher and winner of the Slavo Lehocky Memorial Trophy.
On the women's side, Nancy Tinari of Coquitlam made a comeback appearance after being a no-show for the last few Series events, due to injury. She was also pleased with her time today, running 35:38 and claiming top female Masters honours. Tinari picked up the pace over the last 2 km to pull away from Cari Rampersad-Kuzyk of Vancouver, whose 36:13 third place moved her into second spot overall in the Series rankings, now having completed the minimum 7 races. Rampersad-Kuzyk had to outrun Victoria's Lauren Graves to keep third place in the race, as the Island resident came in right on her heels in 36:15.
Rounding out the Masters women were Leslie Black of Vancouver, pleased with her 38:26, and Burnaby's Lori Spence in 39:16. A notable masters performance today was Lenore Montgomery's 49:42 to win the 60+ category — the North Vancouver resident is actually over 70 — after being awake since 2:45 am to hear news of daughter Carol's Commonwealth Games triathlon victory!
The Masters men division saw a tight race for first, as Vancouver's Mike Moon in 40-44 barely stayed ahead of 45-49 competitor Alex Seres of Port Moody, 34:59 to 35:06. Roy Howes of North Vancouver completed the top three masters in 37:03.
Full race results can be found at Race Headquarters.
Only 2 races remain in the 2002 Timex-Asics BC Road Running Series, so Series participants with only 5 races can qualify only if they complete both events. Next one is the Run for the Ferry 10k on Bowen Island, Saturday, August 24th at 8:15 am. Bring the family and enjoy the island's summer festival afterwards — tickets are included in the entry fee.