Event List
Information subject to change. ALWAYS check with event contacts or see printed event brochures to verify race information. Info last updated Jan 30/13.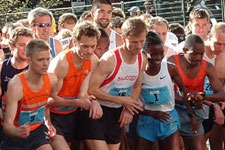 Import 2013 Event List into your Google calendar: download .csv file here (for help on importing, see article here)
Please be sure to read Road Race Etiquette Guidelines and share with other series participants.
Non-BCA "Athlete" Members ADD $3 to fees listed below.
1.

Harriers Pioneer 8k

— Sun Jan 13/13, 11:00 am
Location:
Saanichton
Contact:
Kathleen Birney or Heather Bretschneider
Fees:
$17 by Dec.16, $22 by Jan.9, $27 by Jan.12, $32 day of race. Non-BCA add $3.
Features:
Fast course. $1750 in prize money. Ferry fares may be covered through the Sporting Life on the Coast program. Transportation available to and from the ferry for high performance athletes. Part of the Frontrunners Island Race Series.
Details:
http://pih.bc.ca/pioneer8k.html
Results:
http://racedaytiming.ca/results/pioneer8k2013.html
TOP
2.

Steveston Ice-Breaker 8k

— Sun Jan 27/13, 8:30 am
Location:
Steveston Community Centre, Richmond
Contact:
JJ Schmidt 604-241-9094
Fees:
$20 online by Nov 30, $30 online by Jan 23, $35 race day. Non-BCA add $3.
Features:
Flat and fast route in scenic Steveston. Also part of the Lower Mainland Road Race Series.
Details:
www.kajaks.org/events/icebreaker.htm
Results:
www.sportstats.ca/displayResults.xhtml?racecode=103874
TOP
3.

'First Half' Half Marathon

— Sun Feb 10/13, 8:30 am
Location:
The Roundhouse Community Centre, Vancouver
Contact:
Event Hotline 604-515-2488; email firsthalf@pacificroadrunners.ca
Fees:
$62. Non-BCA add $3. Registration opened Nov 1, sold out quickly. Competitive entries open until Jan 20 (by invitation only).
Features:
Provincial Half Marathon Champs. Scenic and flat certified seawall route.
Details:
www.pacificroadrunners.ca/firsthalf/
Results:
www.winningtime.ca/index.php?content=13fhhm
TOP
4.

Lakeside 5k

— Sun Mar 10/13, 10:00 am
Location:
Penticton Lakeside Resort, Penticton
Contact:
Paul Smith
Fees:
$13 pre-reg, $23 race day. Under 15 yrs deduct $5. Non-BCA add $3.
Features:
Flat and fast, scenic course along Okanagan Lake. Also part of the Interior Road Running Series.
Details:
www.interiorrunningassociation.com
Results:
www.interiorrunningassociation.com/races/results/2013/ira2_overall.HTML
TOP
5.

Synergy Health Management Ltd. Bazan Bay 5k

— Sun Mar 10/13, 11:00 am
Location:
Sidney
Contact:
Wayne Coulson
Fees:
$17 by Feb.10, $22 by Mar.6, $27 by Mar.9, $32 day of race. Non-BCA add $3.
Features:
Part of the Frontrunners Island Race Series.
Details:
www.vira.bc.ca/default.aspx?PageID=1002
Results:
http://racedaytiming.ca/raceday-results?display=bazan2013
TOP
6.

BMO St. Patrick's Day 5k

— Sat Mar 16/13, 10:00 am
Location:
Stanley Park Pavilion, Stanley Park, Vancouver
Contact:
Karen Warrendorf
Fees:
$22 by Jan 31, $27 until Feb 28, $32 until Mar 13. Non-BCA add $3.
Features:
2013 BC 5k Championship. Fast and scenic loop of Stanley Park. Irish theme; post-race party. Cash prizing. Also part of the Lower Mainland Road Race Series.
Details:
www.stpatricks5k.com
Results:
http://startlinetiming.com/races/2013/stpat/
TOP
7.

The River's Spring Run-Off 10k

— Sun Mar 17/13, 10:00 am
Location:
Arthur Stevenson School, Bank Rd., Kamloops
Contact:
Reggie Black
Fees:
$23 pre-reg, $33 day of race. Non-BCA add $3.
Features:
"Flat and fast", great PB certified course in a quiet residential area near river and golf course. Also part of the Interior Road Running Series.
Details:
www.interiorrunningassociation.com/riverrunoff.html
Results:
www.interiorrunningassociation.com/races/results/2013/ira3_overall.HTML
TOP
8.

Comox Valley RV Half Marathon

— Sun Mar 24/13, 11:00 am
Location:
Comox
Contact:
comox@vira.bc.ca
Fees:
$17 by Feb.24, $22 by Mar.20, $27 by Mar.23, $32 day of race. Non-BCA add $3.
Features:
Part of the Frontrunners Island Race Series.
Details:
www.vira.bc.ca/default.aspx?PageID=1002
Results:
http://racedaytiming.ca/raceday-results?display=comoxhalf2013
TOP
9.

Vancouver Sun Run 10k

— Sun April 21/13, 9:00 am
Location:
Downtown Vancouver
Contact:
604-689-9441
Fees:
$42 by Jan 31, $47 by Apr 16, $57 Apr 18-20. No day of race entry. Fee includes T-shirt. Vancouver Sun Subscribers get $2 discount. Non-BCA add $3.
Features:
Provincial 10k Champs. One of North America's largest road races, Expo, "Mini Sun Run", post-race party.
Details:
www.sunrun.com
Results:
www.sportstats.ca/sunRunResults.xhtml?racecode=104089
TOP
10.

TC10K

— Sun Apr 28/13, 8:00 am
Location:
Downtown Victoria/Beacon Hill Park
Contact:
Event Hotline 250-744-5538
Fees:
$32 by Jan.31, $37 by Mar.23, $42 by Apr.23. No day of race entry. Fee includes T-shirt.
Features:
Very scenic route, on-course entertainment, Kids/Family Fun Run.
Details:
www.tc10k.ca
Results:
http://racedaytiming.ca/tc
TOP
11.

Running Room Shaughnessy 8k

— Sun May 26/13, 8:30 am
Location:
Kerrisdale Arena, Vancouver
Contact:
Geoffrey Buttner 604-739-9182
Fees:
$21 by May 19, $26 late and day of event. 19&U deduct $3. T-shirt $13. Non-BCA add $3.
Features:
Provincial 8k Champs. Scenic Shaughnessy course, great draw prizes, 5k poker walk. Also part of the Lower Mainland Road Race Series.
Details:
www.lgrr.com/shaughnessy/
TOP
12.

Sandcastle City Classic 10k

— Sun Jun 9/13, 9:00 am
Location:
Crescent Park Elementary School, White Rock (register at finish area, Marine Drive at Bay)
Contact:
Paul Mathias 604-538-6584
Fees:
(TBC) $22 by June 10; $27 day of race. T-Shirt add $15. Non-BCA add $3.
Features:
Beach-front finish, net downhill course, park at finish and bus to start. Also part of the Lower Mainland Road Race Series.
Details:
www.sunrunners.ca/sandcastle-city-classic
TOP
13.

North Shore Credit Union Longest Day 5k

— Fri Jun 14/13, 6:45 pm
Location:
Thunderbird Stadium, UBC Campus, Vancouver
Contact:
Vancouver Thunderbirds 604-266-8879
Fees:
(TBC) $27 by May 16; $32 late. $5 discount for age 15&U. Hoodie add $30. Non-BCA add $3.
Features:
Summer evening race; post-race BBQ/party. Kids' Mile (6:30) and 10k race (7:10) also offered. In support of Juvenile Diabetes Research Foundation. Also part of the Lower Mainland Road Race Series.
NOTE: only the 5k results count for points in the race series.
Details:
www.thunderbirdstrack.org/events/longest_day/longestday.php
TOP
14.

Kelowna Midsummer 8k

— Sun Jul 7/13, 8:00 am
Location:
Capital News Centre, Gordon Drive, Kelowna
Contact:
Ray Snitynsky
Fees:
(TBC) $22. Non-BCA add $3. KRC member deduct $3.
Features:
Flat, fast course in the sunny Okanagan; Cash prizes for overall top 3 male and female; Kids race included; also part of the Interior Road Running Series
Details:
www.interiorrunningassociation.com/midsummer8k.html
TOP
15.

Summerfast 10k

— Sat Jul 20/13, 8:00 am
Location:
Ceperley Picnic Area, Stanley Park, Vancouver
Contact:
John Hill
Fees:
(TBC) $27 by July 6; $32 late; $37 day of race. Non-BCA add $3.
Features:
Scenic and fast, flat course through Stanley Park and around the seawall. Post race brunch with home baked goodies. Also part of the Lower Mainland Road Race Series
Details:
http://vfac.ca/club-events/summerfast-10k/
TOP