2x Olympic Javelin Thrower Liz Gleadle Returns from 2017 World Championships Hungry for More
August 23, 2017 16:42pm
Liz Gleadle born and raised in Vancouver, British Columbia, Canada is a 2x Olympian in the Javelin and owns a personal best throw of 64.83m which stands as the current National record in the event. She just returned from the IAAF World Track & Field Championships in London, England where she threw 60.12m to place 12th. BC Athletics caught up with Liz to talk to her about her experience at the IAAF World Championships in London and what she has planned for the remainder of the outdoor season.
BC Athletics: First off we would like to say congratulations on representing Team Canada at the 2017 IAAF World Track & Field Championships! While you have become a mainstay on Canada's National Team over the past decade I am sure it never gets old putting on the Canadian uniform and competing in front of thousands of fans.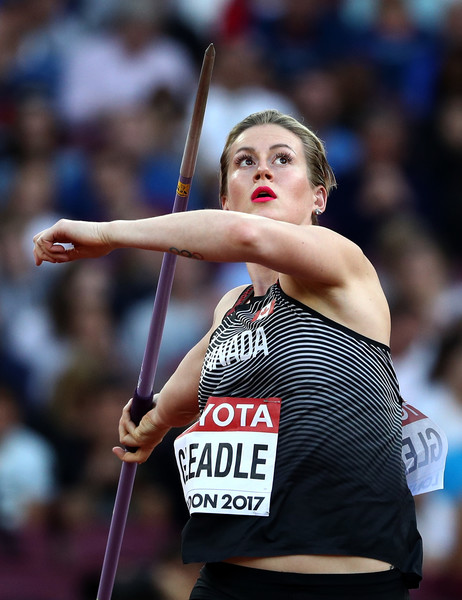 BC Athletics: Tell us a little bit about your performance in London? What was your prep like going into the Championships and how do you feel that you performed on the day.
Liz: For prep I did a team camp in Spain, which was a very relaxing but focused environment. The last couple weeks I was just focusing on trying to control the angle of release in the javelin. All the hard work has been done, and now you're just fine-tuning to be peaked for the most important meet of the year. London is hands down one of the best cities in the world to compete in: the fans are phenomenal, and they really know track and field! I was very happy with the qualifying round (it was my second best throw of the year), but the final didn't go quite as I'd hoped it would. I was throwing all right, but not good enough to get through to the top 8 and get 3 more chances. In a technical sport like javelin, sometimes things just don't quite line up on the day.
BC Athletics: Most athletes only dream of one day being able to compete for Canada on the world stage. Can you describe what it was like to compete in front of a capacity crowd at London's Olympic Stadium? Do you try to use the crowd's energy or do you find it too much and try to block it out?
Liz: I think it's easier to focus on that energy than trying to ignore it. Might as well use anything you can to your advantage! Walking into a stadium swelling with applause and excitement is an intense high. Fans expect and know us all to be possible of greatness, and it instills a sense of power in athletes.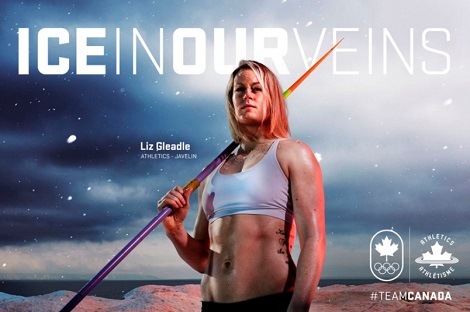 BC Athletics: Tell one thing about competing at an International Championship that you think young aspiring athletes might find interesting or surprising.
Liz: I've found that many athletes have some incredible side gigs or interests. My favorite part of these track meets is hanging out at meals and sleuthing out what they're all about. My roommate created great vlogs on her training and life, another is writing a Fiction book, and one guy will sing for you ANYTIME if you give him a chance.
BC Athletics: After Team Canada's success at the past couple of global championships the expectations have risen and the pressure to win medals has intensified. How did you find the atmosphere around the team in London? How did the team handle this pressure and what is your evaluation of how the team performed?
Liz: The goal is always to do your best - we had lots of PBs, SBs, and National Records set at this meet, and I think that speaks volumes to Canadians performing under pressure.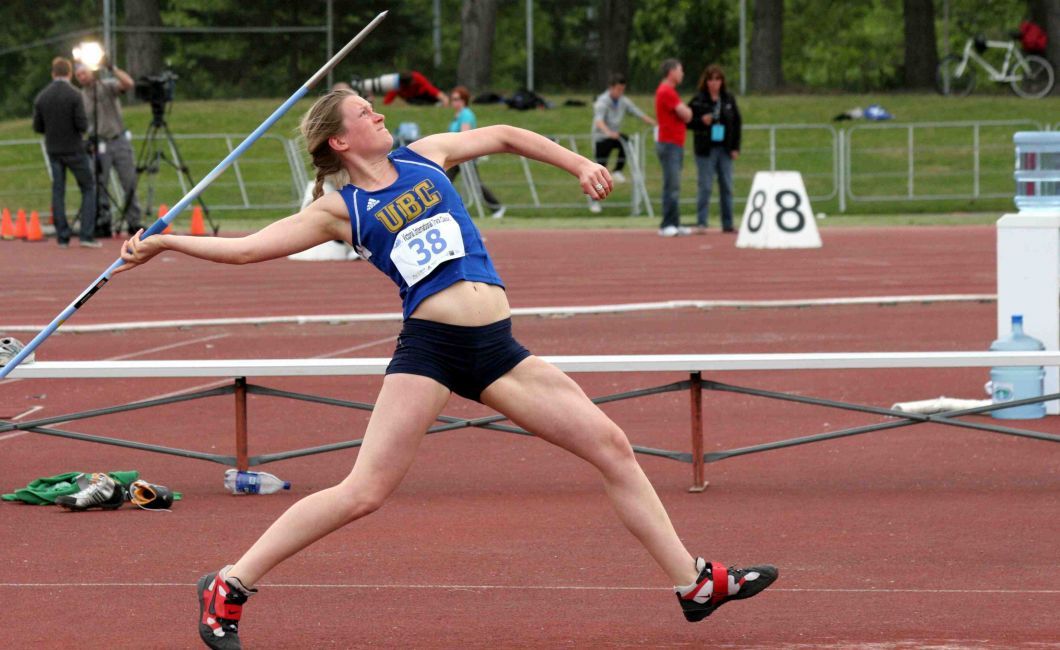 BC Athletics: You are a 2x Olympian and have competed for Canada all around the world. What motivates you to still put in all the hard work and take care of the little details to continue to perform at the highest level?
Liz: Mainly that I don't feel like I've reached my limit. There are a couple technical aspects of my throw that are downright ugly, and when fixed should add several meters. I love relentlessly pursuing a goal - through sport I get to define myself, and show my true character and values.
BC Athletics: What are plans for the remainder of the 2017 outdoor season?
Liz: I'll be competing in Zurich, Switzerland at the Diamond League Final August 24th, and then finishing my season in Zagreb, Croatia August 29th. After that I'll be looking forward to a month and a bit off from training, and switch gears to get my track-and-field-related invention off the ground and onto shelves!
Thank you Liz for taking the time to speak with us and good luck in your upcoming competitions.You can follow Liz and her pursuit for Javelin greatness here:
- Chris Winter, BC Athletics