COVID-19 UPDATES
The following information will be continually updated as more direction and requirements are provided by the Government of BC, viaSport, and Athletics Canada.
BC Athletics is committed to safe sport for all members and has been working with Athletics Canada's "Back on Track" Task Force and viaSport to develop return to training guidelines. Therefore, we will be following the return to training guidelines developed by the National task force, Back on Track. We have also highlighted any additional or differing guidelines that have been set specifically for the Province of BC. These guidelines should be used after making the personal decision that you are comfortable to return to training. These documents can be found below.
As of June 16, 2020 BC Athletics is in Phase 2, "Transition Measures" of viaSport's Sport Activity Chart.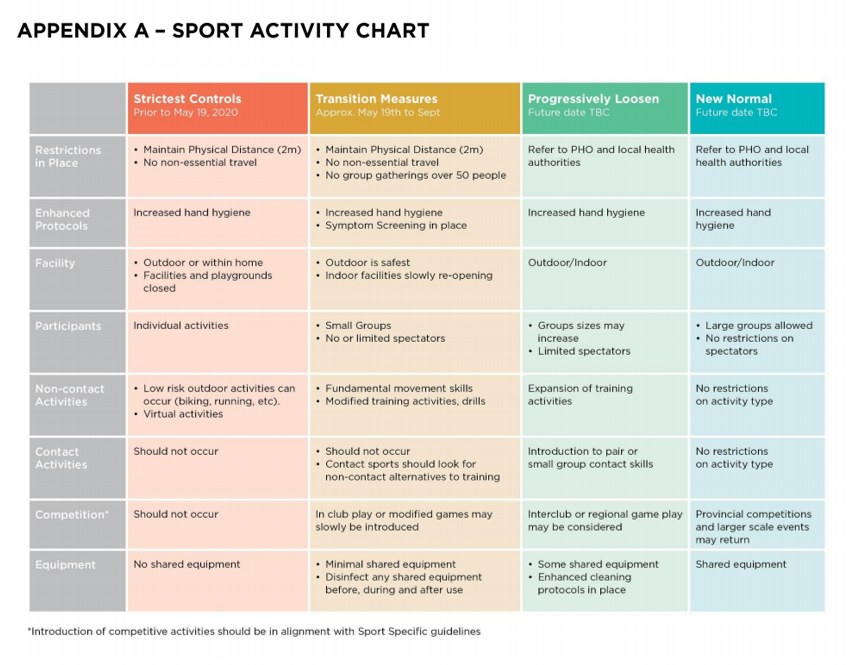 BC Athletic's Phase 2: Transition Measures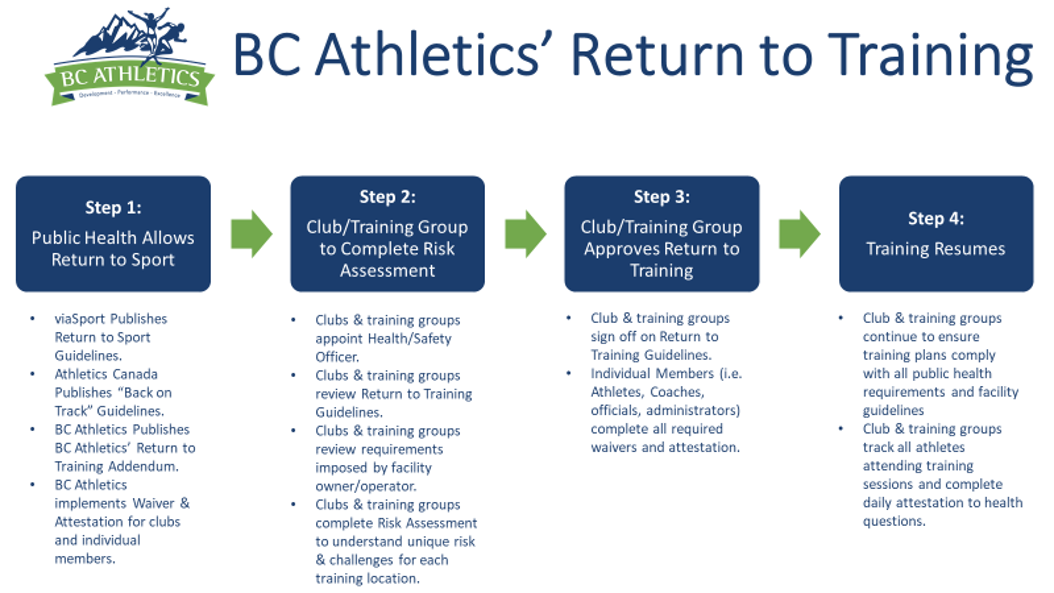 Return to Training Documents:
BC Athletics Return to Training Addendum -

Updated June 26, 2020

Athletics Canada's "Back on Track" Guidelines - Posted June 1, 2020
Informed Consent and Assumption of Risk Agreement (To be executed by Participants under the Age of Majority and the Participant's Parent of Guardian) - June 16, 2020
Release of Liability, Waiver of Claims and Indemnity Agreement (To be executed by Participants over the Age of Majority) - June 16, 2020
COVID-19 Questionnaire, Attestation and Participant Agreement - June 16, 2020
Club Attestation and Acknowledgement Form - June 16, 2020
* Documents 4-7 are being conducted online through Trackie. Emails will be sent. If you did not yet receive your email follow up with your club or coach.
---
COVID-19 Updates:
BC ATHLETICS UPDATE - Return to Training Addendum

-

Updated June 26, 2020

BC ATHLETICS UPDATE - RETURN TO SPORT - June 25, 2020
BC ATHLETICS VIRTUAL TOWN HALL - VIDEO REPLAY - June 17, 2020
BC ATHLETICS VIRTUAL TOWN HALL - PRESENTATION SLIDES - June 17, 2020
BC ATHLETICS UPDATE - RETURN TO TRAINING - June 17, 2020
BC ATHLETICS UPDATE - BC ATHLETICS MEMBERSHIP FEE UPDATE - June 15, 2020
BC ATHLETICS UPDATE - CORONAVIRUS (COVID-19)

- June 12, 2020

BC Athletics Return to Training Addendum - Posted June 11, 2020
BC ATHLETICS UPDATE - CORONAVIRUS (COVID 19) - June 3, 2020
BC ATHLETICS UPDATE - CORONAVIRUS (COVID 19) - MAY 26, 2020
BC ATHLETICS VIRTUAL TOWN HALL - VIDEO REPLAY - May 14, 2020
BC ATHLETICS UPDATE - CORONAVIRUS (COVID 19) - #7 - April 30, 2020
BC ATHLETICS UPDATE - CORONAVIRUS (COVID 19) - #6 - March 26, 2020
BC ATHLETICS UPDATE - CORONAVIRUS (COVID 19) - #5 - March 23, 2020
BC ATHLETICS UPDATE - CORONAVIRUS (COVID 19) - #4 - March 20, 2020
BC ATHLETICS UPDATE - CORONAVIRUS (COVID 19) - #3 - March 16, 2020
BC ATHLETICS UPDATE - CORONAVIRUS (COVID 19) - #2 - March 13, 2020
BC ATHLETICS UPDATE - CORONAVIRUS (COVID 19) - #1 - March 12, 2020
---
Additional Resources:
GENERAL
PROVINCE OF BRITISH COLUMBIA
REGIONAL HEALTH AUTHORITIES
HEALTH RESOURCES
POSTERS
WORKSAFE BC RESOURCES
SPORT AND RECREATION RESOURCES