About Us
What is BC Athletics?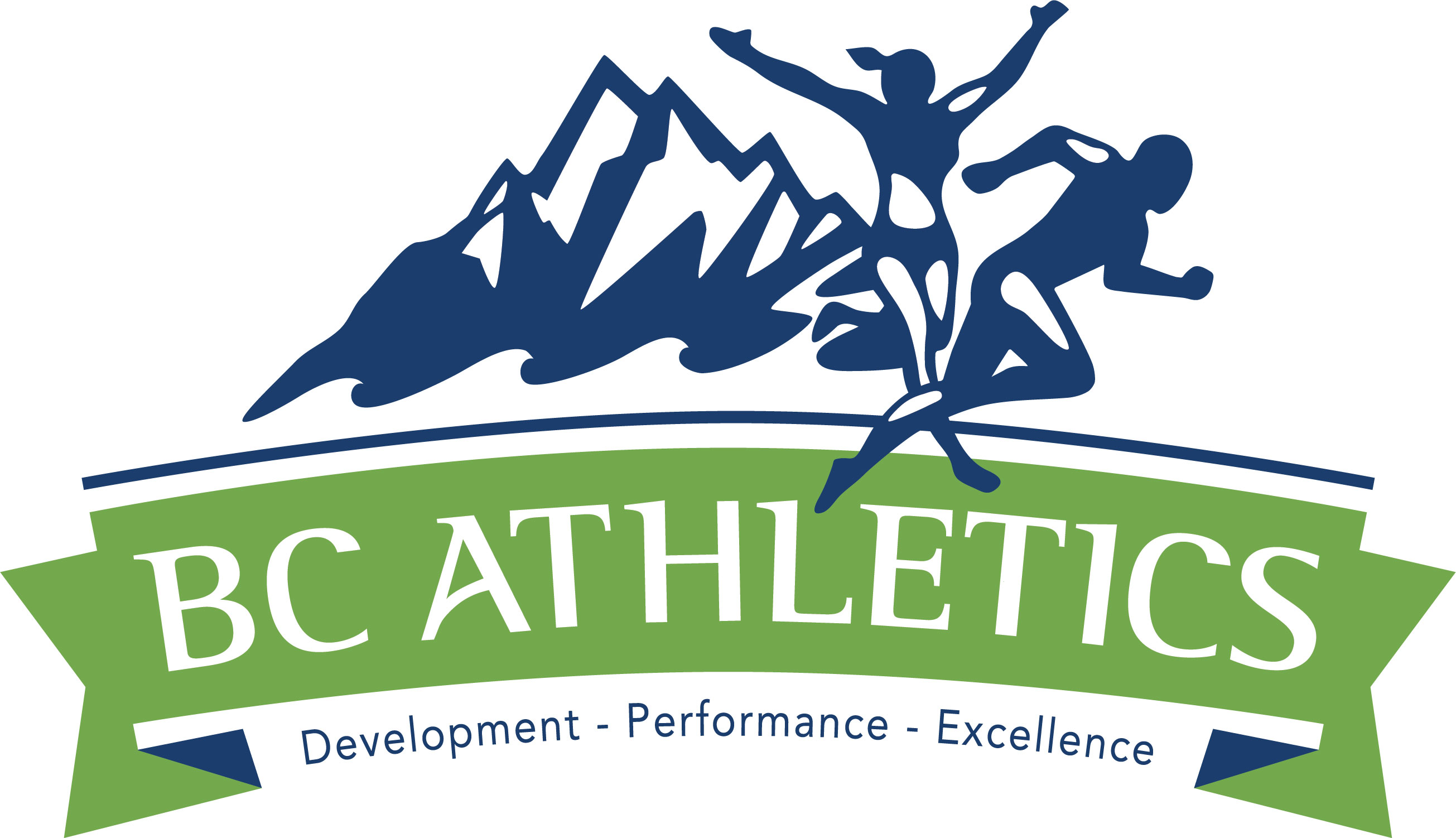 BC Athletics is the Provincial non-profit amateur sport organization for Track & Field, Road Running, Marathons/Ultras, Cross Country/Trail Running and Race Walking. A Branch member of Athletics Canada, BC Athletics is made up of individual members, member clubs and affiliated organizations. The purpose of the Association is to promote, encourage and develop the widest participation and the highest proficiency in the sport of Athletics.
In order to meet its purpose, the Association annually:
Publishes a Calendar of Events listing Cross Country, Marathon, Race Walk, Road Running, Track & Field, Trail and Mountain Running events in British Columbia, Canada, neighbouring Provinces/Territories and States and Internationally
Assists in the development of Cross Country, Marathon, Race Walk, Road Running, Track & Field, Trail and Mountain Running
Provides education and training clinics for coaches, teachers, officials, athletes, event organizers and club administrators.
Hosts local, provincial, national and international events and competitions through member clubs and organizations
Selects BC Men's and Women's Teams that compete in Canadian Championships, Cd/W Cd Games & Invitational Events
Advocates for the identification and development of facilities for cross country running, road/marathon running, track & field and race walking
Is a source for information, contacts, event entries and technical standards for Athletics
Vision, Mission, Values
Vision
By 2020, BC will provide international level excellence in Athletics.
Mission
Through leadership and the delivery of dynamic programs and services,
BCA drives the growth and development of Athletics in BC.
Values Statements
BC Athletics will:
conduct our business with Integrity, through ethical decision making, honesty and fairness for our members and the public;
create a fun and positive experience for our participants;
promote PERSONAL ACHIEVEMENT as being equally important as the pursuit of organizational excellence;
strive for Excellence in everything that we do;
link the principles of Canadian Sport for Life to the programs and services of the association;
be Inclusive in all of our activities, respecting differences and championing affordable opportunities and accessible programs
encourage continued PARTICIPATION in Athletics through a variety of opportunities as an athlete, coach, official or sport volunteer;
create a sense of community through a collaborative and supportive environment; and
drive creativity and innovation as we work to continually improve.
Employment Opportunities
Employment Opportunity
Track & Field Program Manager
Application deadline: Monday, January 4, 2021
BC Athletics invites applications for the full-time position of Track & Field Program Manager. Reporting to the President/CEO, the Track & Field Program Manager is responsible for the management of the BC Athletics Track & Field Programs and Technical Services from Develop through to High Performance – Olympic and Paralympic. These responsibilities are technical and administrative and include but are not limited to:
The delivery, referencing the BC Athletics Strategic Plan, of the Athletics Long Term Athlete Development Model, as relates to Track & Field and is aligned with and feeds into Athletics Canada's - Canadian Athlete Performance Pathway.
Leadership and Engagement with Clubs and Event Organizers for the provision of an effective Track & Field Participation and Competition Program.
Managing the process for the sanctioning of Track & Field competitions.
Working collaboratively with relevant BC Athletics Committees and Staff, Athletics Canada (AC), the Canadian Sports Institute – Pacific (CSI-P), and viaSport.
The management of the BC Athletics High Performance program including:

BC Team Program
Athletics High Performance Targeted Athlete Program
Athlete Assistance Program
High Performance Event Group Projects (Throws, Sprints/Jumps, Endurance)
Detailed outline of the responsibilities can be found at BC Athletics Track & Field Program Manager
Candidates should be visionary, energized by the opportunity, and have the ability to engage others in the collective achievement of the goals and objectives of the program.
Knowledge & Experience:
Self-starter, effective communicator, ability to work collaboratively. A post-secondary degree
Background in Sport (Athletics preferred).
Experience as a Club, School or Post-Secondary Athletics Coach is an asset.
Management, Planning, Program Design, and Implementation
Experience in using MS Office and various Social Media Platforms
Understanding of the landscape of sport in Canada at the club, provincial and national levels
Salary range $55,000 to $60,000 plus benefits and travel. This position is based out of the BC Athletics Office located in Burnaby.
Anticipated starting date is February 1, 2021.
BC Athletics as an equal opportunity employer, invites applications from all interested and qualified individuals. The successful candidate will be required to have a Criminal Records Check and Reference Check.
Applications with resume and references should be sent in confidence to:
BC Athletics
ATTN: Brian McCalder
3713 Kensington Ave, Ste. 2001-B
Burnaby, BC V5B 0A7
brian.mccalder@bcathletics.org
Application deadline: Monday, January 4, 2021
BC Athletics thanks all those who apply. Only those selected for further consideration will be contacted.