Recognition
BC Athletics Annual Awards Banquet
SAVE THE DATE!
Saturday February 3, 2024
Celebrating Accomplishments and Recognitions made in 2023
Executive Airport Plaza Hotel
7311 Westminster Highway, Richmond BC
Hotel: (604) 278-5555
Toll Free: 1-800-663-2878
---
BC Athletics Awards Banquet FAQ's
Annual Awards Banquet:
1. I'm an invited Guest - do I need to RSVP?
YES. All Invited Guests, Nominees and Award Recipients must RSVP their attendance and ensure seating is available for them. Please refer to your invitation letter for instructions.
2. When and how can I purchase tickets to the Awards Banquet?
Tickets to the Awards Banquet must be purchased ahead of time online. More details coming soon!
Groups wishing to reserve a table may do so if there are 10 members in their party - please indicate the guests at the table when purchasing tickets online.
3. Do I need to buy a ticket for additional guests/siblings/family members?
Yes. All banquet attendeees are required to havea ticket purchased on their behalf regardless of age.
4. What do I do if I require a special meal?
Special meal requests can be requested through the online ticket sales/RSVP program
5. How do I dress for the Annual Awards Banquet?
Dress for the Annual Awards Banquet is "Business Casual".
ANNUAL AWARDS
If this page isn't automatically redirect, click here for more information.
2022 Annual Award Nominees + Recipients
BC Athletics is excited to celebrate the standout performances of 2022, as well as the outstanding Adinistrators, Coaches, and Officials who made them possible!
With so much to celebrate, BC Athletics will be announcing award nominees and recipients daily (on social media) and weekly (on our website) from January - February.
See below for your award nominees and recipients!
| | | |
| --- | --- | --- |
| AWARD CATEGORY | AWARD FINALISTS | DATE POSTED |
| Coaching | HERE | January 18, 2023 |
| Cross Country | HERE | January 13, 2023 |
| Executive of the Year | HERE | January 26, 2023 |
| Hall of Fame Inductees | HERE | February 1, 2023 |
| Jane Swan Award | HERE | February 1, 2023 |
| Officiating Service | HERE | January 18, 2023 |
| Outstanding Athlete of the Year | HERE | February 6, 2023 |
| Para Athletics | HERE | January 26, 2023 |
| Masters Athletics | HERE | January 18, 2023 |
| Road Runners | HERE | January 26, 2023 |
| Track & Field | HERE | February 1, 2023 |
BC Athletics Hall of Fame
Mission:
The BC Athletics Hall of Fame recognises and honours BC Athletics sports heritage and the continued achievements of our members.
Year
Recipient
Role
City/Town
1978
George Dean
Peter Jamison
Fred Rowell
Coach
Official
Builder
Victoria
Vancouver
Agassiz
1979

Bob Andrews




John Hutcheon




John Minichiello

Coach
Official
Coach
Vancouver
Richmond
Vancouver
1980

Andy Falconer




Ann Kirk

Builder
Builder
Nanaimo
Burnaby
1981
Charles Collinson
Bill English
Jack Fisher
Coach
Official
Official
West Vancouver
Nanaimo
Burnaby
1982

Jack Harrison

Coach, Official & Builder

Richmond

1983
Gerry Swan
Jane Swan
Coach
Builder
Abbotsford
Abbotsford
1984

Andy Andrews

Official

Burnaby

1985
Don Longstaff
Jack Robertson
Fred Rowell
Builder
Builder
Builder
Delta
Abbotsford
Vancouver
1986
Dave Coupland


Glenn DiGeorgio


John Freeman
Willie Krause
Official
Coach
Coach
Coach
Vancouver
Nanaimo
Vancouver
Trail
1987
Doug Clement
Diane Clement
Marion Crowley
Dr. Al Radar
Coach
Builder
Builder
Builder
Vancouver
Vancouver
West Vancouver
Vancouver
1988
Inge Klett
Norah Klett
Bill Parnell
Ted Radcliffe
Official
Official
Coach
Builder
Vancouver
Vancouver
North Vancouver
Vancouver
1998
Arnold Lucks
Shirley Lonergan
Bill McNulty
Mary Temple
Official
Official
Coach, Official & Builder
Official
Vancouver
Vancouver
Richmond
Vancouver
1990
Harvey Bolleen
Winnie Bolleen
Inge Hedman
Dave Lach
Official
Official
Official
Builder
Burnaby
Burnaby
Nanaimo
Vancouver
1991
Tom Masich
Louise Meville
Ted Pearson
Alwilda Van Ryswyk
Coach
Official
Builder
Coach
Prince Geroge
Burnaby
Kamloops
Kamloops
1992

Lionel Pugh

Coach

Vancouver

1993
Gwen Little
Ivor Davies
Official
Coach
Victoria
North Vancouver
1994
Brian McCalder
John Currie
Ken Porter Sr.
Builder
Official
Official
Vancouver
Richmond
Victoria
1995
Lilly Richardson
Ken Richardson
Builder
Builder
Maple Ridge
Maple Ridge
1996
Peter Fejfar
Jerry Tighe
Official
Builder
Delta
Vancouver
1997
Ron Bowker
Dale Loewen
Janice Loewen
Coach
Official
Official
Victoria
Surrey
Surrey
1998

Keith Newell

Official

Victoria

1999
Alice Kubek
Ann Lansdale
Official
Official
Victoria
Victoria
2000
Carl Savage
Don Pfeffer
Sherry Pfeffer
Coach
Builder
Builder
Richmond
Richmond
Richmond
2001
Carol Cull
John Cull
Official
Official
Surrey
Surrey
2002
Sam Collier
Richard Collier
Norma Perry
Percy Perry
Builder
Coach
Builder
Coach
Richmond
Richmond
Coquitlam
Coquitlam
2003

Ron Bunting

Coach

Surrey

2004

Gerry Bagot

Builder

Vancouver

2005
Kevin Kydd
Sue Kydd
John Hill
Shirley Young
Official
Official
Coach & Builder
Official
Langley
Langley
Vancouver
Surrey
2006

Iain Fisher

Official

Coquitlam

2007

Valerie Jerome

Official

Vancouver

2008
Kim Young
Thelma Wright
Coach
Coach, Builder & Athlete
Vancouver
Vancouver
2009

Don Steen

Coach

Burnaby

2010

Danny Daniels

Builder

Sidney

2011

Jack Taunton

Builder & Athlete

Vancouver

2012

Steve King

Builder & Athlete

Penticton

2013
Ivy Granstrom
Sverre Hietanen
Diana Hollefreund
Athlete
Athlete
Builder & Official
Vancouver
Burnaby
Victoria
2014
Olga Kotelko
Rosamund Dashwood
Tom Dingle
Athlete
Athlete
Builder
West Vancouver
Victoria
Victoria
2015

Herb Gee

Athlete

Vancouver

2016
Harold Morioka
Debbie Brill

Coach, Builder & Athlete




Athlete

Surrey




Mission

2017

Maurice Tarrant
Lenore Montgomery
John Hawkins
Herb Phillips
Avril Douglas
Athlete
Athlete
Athlete
Athlete
Athlete
Victoria
North Vancouver
Vancouver
Burnaby
Richmond

2018

Lloyd Swindells (In Memoriam)
Maureen de St. Croix
Coach, Builder
Athlete, Builder, Coach
Vancouver
Surrey
2019

Jake Madderom

Athlete, Builder

Richmond

2020
Jessie Dosanjh
Pat Sima-Ledding
Builder
Coach
Delta
Kelowna

2021

Christa Bortignon
David Weicker
Kathy Terlicher
Myrtle Acton
Urith Hayley
Athlete
Official
Official
Athlete
Builder
West Vancouver
Victoria
Vancouver
Sooke
Coquitlam
Past Annual Award Winners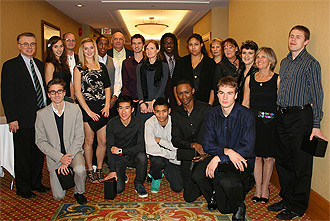 2019 Awards
2018 Awards
2017 Awards
2016 Awards
2015 Awards
2014 Awards
2013 Awards
2012 Awards
2011 Awards
2010 Awards
2009 Awards
2008 Awards
2007 Awards
2006 Awards
2005 Awards
2004 Awards
2003 Awards
2002 Awards
2001 Awards
2000 Awards
Sport BC Presidents' Award Recipients

Presidents' Awards are presented annually to volunteers from Sport BC member organizations who represent the spirit of volunteerism, and whose dedication, energy, and commitment contribute to the development of their sport or organization. Sport BC member organizations are eligible to recognize one volunteer per year.
| | | |
| --- | --- | --- |
| Year | Recipient(s) | City/Town |
| 2018 | Maureen de St Croix | Surrey |
| 2017 | Sue Kydd | Langley |
| 2016 | Winston Reckord | Burnaby |
| 2015 | Richard Collier | Richmond |
| 2014 | Bob Reid | Victoria |
| 2013 | Dan Horan | Trail |
| 2012 | Judy Armstrong | Kamloops |
| 2011 | Anne Lansdell | Victoria |
| 2010 | Jerry Tighe | Vancouver |
| 2009 | Iain Fisher | Coquitam |
| 2008 | Diane and Doug Clement | Vancouver |
| 2007 | Geraldine Bagot | Vancouver |
| 2006 | Patricia (Pat) Marsh | Quesnel |
| 2005 | Don Steen | Burnaby |
| 2004 | Alwilda Van Ryswyk | Kamloops |
| 2003 | Dave Coupland | Surrey |
| 2002 | Ivor Davies | West Vancouver |
| 2001 | Marion Crowley | West Vancouver |
| 2000 | Gerry Swan | Abbotsford |
| 1999 | Tom and Ann Masich | Prince George |
| 1998 | Bill English | Nanaimo |
| 1997 | Larry Harper | West Vancouver |
| 1996 | Ann Kirk | Burnaby |
| 1995 | Ken Porter Sr. | Victoria |
| 1994 | Bill McNulty | Richmond |
Other Links
Sport Halls of Fame
Many of our athletes, coaches, officials and administrators have been recognized by their communities
Other Links
Annual Awards Banquet Programs
Memorials
2023
2022
2021
2019
2018
2017
2016
2015
2014
2013
2012
2011
2010