Grassroots (Age 6-8)
Junior Development (Age 9-13)
2015 JD Awards Announced
The JD Committee would like to congratulate all athletes age 13 and under on their fine performances throughout the year. Athlete and coaches are to be congratulated on preparing the athletes for the various competitions in which they participated. Parents and officials, as well as the organizing clubs are to be commended for the support provided. Thank you all for an excellent season.
2015 JUNIOR DEVELOPMENT AWARD WINNERS
2015 Junior Development Award Winners

Surname

Given

Club

Event Category

Best Performance that made JD Award Standard

2002 Females

DADSON

Michelle

OATF

Throws

DT(34.57m), SP(11.34m)

DESLAURIERS

Katherine

OATF

Jumps

HJ(1.51m)

HAINTZ

Marquesis

UNBC

Distance

1200m(3min 52.24sec), 2000m(6min 58.79sec)

KOBYLANSKI

Maya

OATF

Distance

1200m(3min 53.17sec)

LENZ

Marin

CHWK

Combined Events

OPENT(2782pts)

LEWIS

Kendra

VOCA

Distance

1200m(3min 49.79sec)

OBIOHA

Chisom

GOLD

Sprints, Jumps

100m(12.66sec), LJ(5.25m)

OGBEIWI

Samantha

UNBC

Sprints, Throws

100m(12.80sec), 200m(26.23sec), 300m(41.78sec), DT(32.86m)

SARA

Eniko

LANG

Jumps, Throws

HJ(1.58m), JT(34.84m)

SAVAGE

Freya

TBIR

Distance

1200m(3min 51.00sec)

VAN RYSWYK

Olivia

OATF

Jumps

PV(2.41m)

2002 Males

ARON

Nicholas

SFTC

Sprints, Distance

300m(40.38sec), 800m(2min 8.46sec), 1200m(3min 31.75sec)

ESPEDIDO

Liam

COQC

Jumps

HJ(1.60m)

GROUT

Aiden

GOLD

Jumps

HJ(1.66m)

HOEY

Caleb

NORW

Sprints, Throws

300m(39.69sec), SP(12.40m)

KATZBERG

Ethan

NTFC

Jumps

HJ(1.60m)

LOUGHNANE

Conor

UVIC

Sprints

300m(39.93sec)

2003 Females

BHANDAL

Jasmin

VRTC

Throws

DT(27.20m), HT(29.45m)

DE BOER

Emma

OATF

Jumps

HJ(1.53m)

DULAY-MCGUIRE

Alyssa

COQC

Sprints, Hurdles, Jumps

100m(12.67sec), 200m(26.56sec), 300m(43.88sec), 200m Hurdle(28.53sec), 80m Hurdle(12.58sec), LJ(4.99m)

FERNBACK

Sophie

VOCA

Jumps

HJ(1.44m)

FORSYTH

Isabelle

OATF

Throws

DT(35.41m), SP(10.06m)

KALISCH

Milena

SFTC

Distance

800m(2min 27.44sec), 1200m(3min 53.63sec)

KANG

Karman

UATH

Hurdles

80m Hurdle(12.84sec)

LENTON

Jade

GOLD

Sprints, Distance, Hurdles

300m(43.48sec), 800m(2min 26.53sec), 200m Hurdle(30.20sec)

LUNDMAN

Olivia

NTFC

Distance

800m Walk(4min 11.54sec)

TUNTI

Laysha

OATF

Hurdles

80m Hurdle(13.01sec)

WIELAND

Emily

VRTC

Throws

SP(9.39m)

WILLIS

Hayley

VRTC

Jumps

LJ(4.69m)

2003 Males

ANIAMAKA

Praise

UATH

Jumps

HJ(1.48m)

ERICKSON

Matti

KCTC

Sprints, Distance, Hurdles

100m(12.95sec), 200m(26.49sec), 300m(41.40sec), 800m(2min 13.60sec), 1200m(3min 40.69sec), 200m Hurdle(28.31sec), 80m Hurdle(12.83sec)

MA

Quan Ting Thomas

VOCA

Sprints, Hurdles, Jumps

100m(13.11sec), 200m Hurdle(29.39sec), LJ(4.63m)

MARTINIUK

Cameron

NTFC

Jumps

LJ(4.52m)

MIDGLEY

David

LANG

Sprints, Jumps

100m(12.26sec), 200m(24.93sec), 300m(38.77sec), HJ(1.58m), LJ(5.08m)

MONRO

Nicholas

LANG

Throws

SP(10.73m)

NIJJAR

Charanjit

UATH

Throws

SP(11.26m)

PINTO

Owen

OATF

Distance

800m(2min 14.61sec), 1200m(3min 44.31sec)

SCHLACHTER

Caeleb

OACS

Jumps

LJ(4.86m)

SLAYMAKER

Cameron

COQC

Jumps, Combined Events

LJ(4.55m), OPENT(2709pts)

STEVENSON

Ty

GOLD

Jumps

LJ(4.57m)

2004 Females

CUMMINGS

Jaeland

BBYS

Sprints

60m(8.62sec)

EBEL

Lauren

COQC

Sprints

60m(8.61sec)

HAINTZ

Kaia

UNBC

Distance

800m Walk(4min 45.95sec)

HAMNETT

Amelia

COQC

Sprints

60m(8.84sec)

IRISH

Lily

NORW

Distance

1000m(3min 17.01sec)

JOYCE

Sadie

TTFC

Sprints

60m(8.74sec)

KIEFFER

Jessica

TBIR

Jumps

HJ(1.35m)

MOORE

Julianne

VAAA

Distance

1000m(3min 24.59sec)

NOBLE

Alanna

COQC

Sprints, Hurdles, Jumps

60m(8.52sec), 60m Hurdle(10.25sec), HJ(1.35m), LJ(4.25m)

VLAHOVIC

Krysthina

UATH

Hurdles

60m Hurdle(10.13sec)

WIDESKI

Victoria

KJAK

Sprints, Jumps, Throws

60m(8.77sec), HJ(1.35m), SP(9.70m)

2004 Males

IWAN

Niklas

BBYS

Distance

1000m(3min 8.72sec)

LAVERY

Luke

NTFC

Throws

SP(10.25m)

MEADOWS

Devon

COQC

Distance, Combined Events

600m(1min 43.13sec), 1000m(3min 8.24sec), OPENT(2310pts)

MILLENAAR

Nico

COQC

Sprints, Jumps

60m(8.19sec), 100m(13.20sec), 200m(27.14sec), LJ(4.39m)

OGBEIWI

Michael

UNBC

Throws

DT(34.35m), SP(13.91m)

PARIS

Nate

NTFC

Sprints, Hurdles, Jumps

60m(8.44sec), 100m(13.51sec), 60m Hurdle(10.19sec), HJ(1.40m), LJ(4.45m)

PAVLOVIC

Nicholas

OATF

Sprints, Jumps

60m(8.34sec), 100m(13.40sec), 200m(27.50sec), LJ(4.40m)

WATSON

Jayden

NTFC

Jumps

LJ(4.25m)

2005 Females

BAECHLER

Maya

TBIR

Distance

600m(1min 49.45sec), 1000m(3min 24.04sec)

DREGER

Isabella

UNBC

Sprints

60m(8.71sec), 100m(14.25sec)

LENZ

Malia

CHWK

Throws, Combined Events

SP(8.35m), OPENT(1929pts)

PETERS

Leah

OATF

Distance

600m(1min 52.87sec), 1000m(3min 30.39sec)

SAARI

Kalie

KAML

Jumps, Throws

HJ(1.27m), SP(8.03m)

2005 Males

CARR

Andrew

OATF

Jumps

HJ(1.35m), LJ(4.03m)

CARR

Ben

OATF

Jumps, Combined Events

HJ(1.40m), LJ(4.16m), OPENT(2103pts)

CYR

Ryan

OATF

Throws

DT(24.81m), SP(11.11m)

GRANVILLE

Joshua

COQC

Throws

DT(20.62m), JT(26.42m)

MARTIN

Jayden

SFTC

Sprints, Distance

60m(8.54sec), 100m(13.86sec), 600m(1min 44.32sec)

MOONSAMY

Krescyn

NTFC

Sprints

60m(8.73sec)

STEELE

Angus

SFTC

Sprints, Distance

60m(8.87sec), 600m(1min 46.68sec), 1000m(3min 16.64sec)

TURNER

Aidan

CTC1

Jumps, Throws

LJ(3.93m), JT(24.17m)

2006 Females

LUNDMAN

Annika

NTFC

Distance

800m Walk(5min 2.81sec)

PUTZ

Katelyn

NTFC

Throws

SP(5.85m)

2006 Males

ADAMS

Joey

LANG

Hurdles, Jumps, Combined Events

60m Hurdle(11.19sec), HJ(1.23m), LJ(3.70m), OPENT(1762pts)

BAJARUNAS

Marty

COQC

Hurdles, Jumps, Throws

60m Hurdle(11.13sec), HJ(1.20m), SP(7.54m)
2015 JD AWARDS BANQUET
BC Athletics will hold their Annual JD Awards Banquet honouring our taleneted young athletes, their clubs, coaches and parents. Please see below for information including date & time, location and ticket information.
A PowerPoint presentation will be presented as part of the awards ceremony. All athletes receiving awards are asked to forward an action shot to Dawn Copping at dcopping@telus.net if you have not already done so.
The JD Committee looks forward to seeing all of you there!
General & News
The Junior Development (JD) program gives young children the opportunity to develop physical literacy, learn Track & Field specific skills, develop speed and fitness and compete in the context of the Learning to Train and Training to Train stages of LTAD.
JD News
2015 BC Athletics Junior Development Committee Annual General Meeting
Date: Saturday, November 7, 2015 - 4:00pm - 6:00pm
Location: Jericho Sailing Centre - upstairs.
The JD Committee would like to invite all those interested to attend the 2015 Junior Development Committee AGM to be held following the Cross-Country Championships.
For those attending a soup and sandwich meal will be available for $16.00 + tax.
Those planning on attending are requested to complete a 2015 BC Athletics JD Committee AGM Registration Form.
2016 JD Championship Bids
The meeting will include the election of officers and committee positions together with the selection of the hosts for the 2016 Junior Development Track & Field Championships and the 2016 Pentathlon Championships. Any clubs interested in hosting the championships should complete the online BC Athletics Championship Bid Form available on the website. Bids must be submitted no later than Thursday, November 5, 2015 - 5:00pm.
2015 JD Awards and JD Crest Program Eligible Meets
Children's Fitness Tax Credit
Clubs can download the form and customize it to fit their particular club. Download the form.
For a full explanation of the Children's Fitness Tax Credit please go to: www.cra-arc.gc.ca/fitness/ or contact the Canada Revenue Agency at 1-800-959-8281.
Child Fitness Tax Credit Form:
Customize the form template provided for your specific club.
Receipts:
Receipts can only be issued for amounts paid during the calendar year even if all of part of the activity occurs in the following year.
The receipt number includes the child's BC Athletics membership number preceded by the applicable year - example: 2007-95-24187. In the case of Training memberships and Track Rascals memberships where a BC Athletics membership number is not given, use 2007T# or 2007TR# - if you have 10 Track Rascals then number the individuals - example: 2007TR1, 2007TR2, 2007TR3 etc. Do the same for Training members.
Calculating eligible fees:
The fees must be paid for a child who is under 16 years of age at any time in the year.
Registration and membership costs can include the costs of administration, instruction and the rental of facilities. If the fees charged to parents include part for accommodation, travel, food, or beverages then this part must be deducted when calculating the part of the fees that qualify for the tax credit. For example if club membership fees total $400 and includes a charge of $50 for travel and $50 for a club uniform then the eligible amount would be $400 - $50 - $50 = $300.
Description of Eligible Programs:
Eligible activities must include the following in order to qualify. Make sure descriptions of club programs makes mention and details all of the following:
Ongoing (either a minimum of eight weeks duration, with a minimum of one session per week or, in the case of children's camps, five consecutive days);
Supervision;
Activities suitable for children; and
Substantially all of the activities must include a significant amount of physical activity that contributes to cardio-respiratory endurance plus one or more of: muscular strength, muscular endurance, flexibility, or balance.
If you have any further questions please contact Sam Collier - Manager, Registration & Membership Services at (604) 333-3556 or sam.collier@bcathletics.org.
JD Awards
AWARDS STANDARDS & RECOGNIZED COMPETITIONS
JD Awards Standards are based on the previouse years All-Time Top Ten Tables. For current standards and additional information, please click on the link below.
2016 List of JD Award recognized meets TBA
AWARDS NOMINATION INFORMATION
All athletes wishing to be nominated for a BC Athletics Junior Development (JD) Athlete Award must complete and submit a Nomination form no later than August 31st in the current year. Starting in 2015, BC Athletics will be accepting JD Award Nominations through their online form only. Printable forms will not be posted or accepted. Thank you for your cooperation.
PAST AWARDS INFORMATION
JD Championships
Date
Event & Location
Contact
Website(s)
Currently there are no events.
PHOTOS: Athletes and Parents wishing to view photos from the 2014 JD Track & Field Championships can do so by clicking here. If you wish to order prints, you can do so by going to WCS Sport Photography and Design.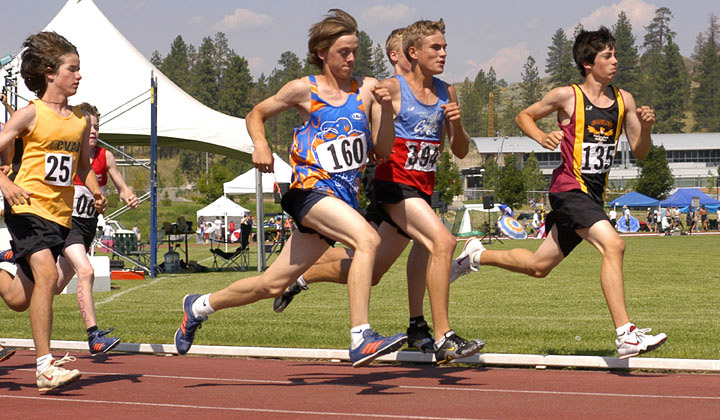 2004 JD T&F Champs photos © David Dolsen
Series for JD's
JD Crests
Parents and coaches, reward and motivate your young athletes for their achievements with a keepsake crest that will be treasured for a lifetime! Reminiscent of the 1970's Canada Fitness crest program which helped many children strive for improved fitness levels, this program focuses on Track and Field competition?rewarding those who do well in a variety of events.
Crests are calculated on each athlete's best performances from the scoring tables found in the Junior Development Manual
2015 JD Crest Standards (Posted 4/7/15)
JD Crest Criteria:
Athlete must have a full, competitive, Junior Development athlete membership
All Performances must be attained at track and field meets recognized by the BC Athletics Junior Development Committee.
An athlete must meet the standard for the award applied for in at least three events. By applying 3 for a gold standard, two for a silver standard and one for a bronze standard then the average of these scores must be 3 to achieve a gold crest, 2 for a silver crest, or 1 for a bronze. (i.e. if an athlete achieves a gold standard in two events (6) and a bronze standard in the third event (1), then the average will be 7 divided by 3 which is 2 1/3 so a silver crest will be awarded.
Only one crest may be ordered per athlete.
Crests are rectangles, approximately 3.5" wide, with the BC Athletics logo. The colour of the side stitching indicates gold, silver or bronze.
Crests cost $3.00 each plus 5% GST along with shipping and handling.
Ordering instructions:
Unattached Athletes
Unattached athletes should order as individuals.
BC Athletics affiliated Clubs and School Clubs
Clubs and Schools place orders for their athletes as follows:
Copy and paste your club's crest award winners from the list of crest award winners in the link above, tabulate the number, and cut and past the list and number of crests required to Dawn Copping at dcopping@telus.net

Mail the order form to Dawn Copping, 2701 Byron Road, North Vancouver, BC V7H 1L9.
Junior Development Crest Order Form - please print and complete. Questions should be directed to Dawn Copping
Once the order has been shipped an invoice will be sent out from BC Athletics.
JD Manual
The 2015 Junior Development Manual is available in PDF format.
The Manual contains detailed guidelines for JD Track & Field Meets, information on BC Athletics JD recognition programs, technical specifications, and more. Junior Development clubs will find these guidelines helpful in the implementation of JD programs and in organizing successful JD meets.
JD Awards/Crests Eligible Meets
The BC Athletics Junior Development Committee is pleased to announce the 2015 list of meets at which BC Junior Development Athletes can achieve performances towards the Cres Awards and the BC Junior Development Awards. We look forward to seeing everyone at these meets and sharing a successful and Fun Season.
Hershey Track & Field Games (Age 9-14)
Athlete Development (Age 14+)
General Info
Inclusive of the LTAD stages of Training to Train, Learning to Compete, Training to Compete and Learning to Win, this program introduces athletes to the performance pathway of Athletics. Event specialization and training, advanced training leading to consistent performances at higher levels of competition and BC Team program opportunities are the key components of the Athlete Development program.
High Performance Stream
Information coming soon...
College Choices
Our BC Athletes are off to College! Here is a list of BC Athletics Athletes, and where they will be attending school next fall. Athletes are listed alphabetically by their last name. To add a name, please fill in the form below. If you have any questions, please contact the Technical Manager for Track & Field at garrett.collier@bcathletics.org.
2016 COLLEGE CHOICES
Name
Club
High School
University
Event
Coach
Calli-Ann Abbott

PRTF

Brooks

Univ. of Hawaii

Combined Events

Connie Poulman Tuin

Michael Aono
TBIR
Sequeam
UBC - Vancouver
Sprints
Mary Chewning

Kiana Bekar

BCFA

Langley Christian

UBC - Vancouver

Sprints

Scott Foster

Sean Bergman
OACS
Kelowna
UBC - Vancouver
Endurance
Nathan Reiter
Chanell Botsis
KJAK
Charles Best
Univ. of Conneticut
Throws
Garrett Collier
Kaila Butler
UNBC
Terry Fox
Bowling Green
Throws
Brad Graham
Tanner Carnegie
CTC1
Southpointe
UBC - Vancouver
Sprints
Scott Kent

Joel Della Siega

OATF

Elgin Park

UBC - Vancouver

Jumps

Ziggy Szelagowicz

Dean Ellenwood

LANG

Langley

Univ. of Idaho

Sprints

Jarid Vaughn

Brendan Hoff
UNBC
Reynolds
Univ. of Victoria
Endurance
Heather Hennigar
Hannah Johnston
VOCA
Vancouver Tech
UBC - Vancouver
Hurdles
Tatjana Mece
Kieran Lumb
UNBC
Lord Byng
UBC - Vancouver
Endurance
Byron Jack
Hayley Madden
TBIR
Kitsalano
UBC - Vancouver
Sprints
Mary Chewning
Jacelyn Pauley
LANG
Brookswood
UBC - Vancouver
Throws
Tom Nielsen
Jared Sexsmith
VAAA
Charles Bloom
UBC - Vancouver
Jumps
Ian Cameron

CLICK HERE TO LET BC ATHLETICS KNOW WHERE YOU'RE HEADED!
BC High School Track & Field
BC Athletics strives to support the Elementary and High School track & field communities. BC High School Track & Field is under the pervue of the BC High School Track & Field Commission. BC High School is a part of BC School Sports. For all information an inqueries please contact them directoly by following the information below.
| | |
| --- | --- |
| | To view the latest updates on BC High School Track & Field, including important updates, contacts and championships informtion, please go to the BC High School Track & Field website at bctfa.ca |
Annual Awards
For 2014 the Midget 14 and Midget 15 Annual Awards will be awarded with the following criteria:
Athlete is a competitive (Midget) member of BC Athletics

Athlete has competed at least one BC Athletics Championship in the past year

Performance was achieved at a BC Athletics/Athletics Canada branch sanctioned event

Athlete has at least one performance that meets or exceeds the standards found at 2014 Midget 14 and 2014 Midget 15 Standards
The deadline for nominations is November 2, 2014. The 2014 Midget 14 and 2014 Midget 15 Track & Field Award Nomination Form can be found on the 2014 BC Athletics Annual Awards Nominations Forms page
Masters (Age 35+)
General & News
2015 55+ BC Games - North Vancouver, August 26-29
The 28th annual 55+ BC Games (formerly called the BC Seniors Games) were hosted by North Vancouver from August 26-29. The 2015 Games included 25 sports which were held mostly in venues in the City and Municipality of North Vancouver. However Ice Curling was held in Vancouver and Dragon Boat and Athletics were held in Burnaby. Track and Field was hosted by the Norwesters Track and Field Club and held at Swangard Stadium. About 220 athletes over the age of 55 registered to compete in track and field.
The weather was excellent for the first two days but it rained on Friday morning, forcing the cancellation of the long hurdles and the women's pentathlon which included the hurdles. The rain also made it difficult for the high jumpers and throwers. With the forecast for heavy rains and high winds for Saturday morning, the meet organizers decided to cancel the 10K Road Run and 10K Road Power Walk which were to be held at the Seymour Demonstration Forest in North Vancouver.
Overall the meet was very well run. The track events were right on time as were the jumping events. The throwing events with their large number of participants got slightly behind schedule but there were no major problems. The large number of very competent BC Athletics officials and the many volunteers kept everything running smoothly.
The athletes established many records: 45 Games records (plus 1 tied), 23 BC Masters records (but there are 4 better records pending), 10 Canadian records (there are 2 better records pending) and 1 WORLD RECORD.
Lenore Montgomery broke the World Record in the W85 5000m (32:36.20). Lenore would have even broken the world record by another 47 seconds but she was on the opposite side of the track when the gun sounded for the start of the 5000m race. Lenore had to rush over to the starting line and when she started, the clock was already at 47 seconds. Lenore also broke the listed World Record in the 800m (4:33.86), but there is a better time pending by a woman who ran this race in the WMA Championships in Lyon, France. Lenore added 2 more Canadian records in the 400m (2:11.85) and 1500m (9:06.76)
Maurice Tarrant broke the Canadian record in the M85 5000m (30:12.55) and added 2 more Games records in the 800m and 1500m. Had Maurice gone to Lyon, his times would have been good enough to win 2 Silver medals and a Bronze medal. Myrtle Acton broke the Canadian record twice in the W80 Hammer throw, once in the Throws pentathlon (22.46m) and once in the individual event. Other Canadian records were broken by Norm Lesage M85 100m (but he has a better pending CR of 18.00), William Falconer M95 100m, Doug Monds M85 Pole vault, and Marilyn Benz W65 Javelin (Marilyn has a better CR throw pending).
Herb Phillips broke 3 BC M75 records in the 800m, 1500m and 5000m, but none of these were Canadian records only because he is following in the footsteps of the great Ed Whitlock. Herb's time in the 5000m (20:51.35) would have won the GOLD medal at last month's WMA Championships in Lyon, France. Norm Lesage added a second BC record in the M85 200m while Elaine Whidden bettered 2 listed BC records in the W60 100m and 200m (30.46) with
times that would have placed her just outside the medals in Lyon (she does have slightly better times pending). John Hawkins broke the BC M65 record in the Pole vault (Gerard Dumas has a better height pending) and tied the High jump record (1.50m). Other BC records were broken by Sandra Bissessur W65 400m, Lynn Thompson M75 Sprint hurdles, Deborah Lee W65 Triple jump, Reidar Zapf-Gilje M60 Triple jump, Rainer Sillantaus M85 Shot put and Scot Henney M90 Javelin.
The Zone 3 relay team of Urith Hayley, Cindy O'Brien Hugh, Marie Johnson and Elaine Whidden broke the W55+ BC 4x100m relay record (1:01.43).
Breaking at least 2 Games records were Cindy O'Brien Hugh W55 200m and 400m, Mark Stewart M70 400m and 800m, Susan Gordon W55 800m and 1500m, and Rose Hare W65 Discus and Throws pentathlon. Reidar added a 2nd Games record in the M60 Sprint hurdles while Rainer added a 2nd Games record in the M85 Javelin.
The athletes would like to thank Dawn Copping (meet director), the officials and many volunteers for their hard work and for making these Games a huge success.
Next year the 55+ BC Games will be hosted by Coquitlam from September 20-24.
Harold Morioka
Zone 3 coordinator
---
BC Athletes Excel at World Masters Track & Field Championships
Lyon, France - Of the almost 150 Canadians who participated in the World Masters Athletics Championships for athletes from the age of 35-95, 15 were from British Columbia. There were over 8000 athletes from 114 countries registered for this meet which took place in Lyon, France, from August 4-16, 2015.
Christa Bortignon W78 won the most medals for Canada. Competing in the W75 age group, Christa won 2 gold medals in the 80m hurdles and 200m hurdles. She also won 2 silver medals in the 100m and 200m, and 2 bronze medals in the long jump and triple jump.
Nardene Hammond W43 won a bronze medal while competing on the Canadian W35 10K Road Walk relay team. Nardene's best individual result was 7th in the 20K Road Walk. Nardene also set two BC records in the W40 10kK and 20K Road Walks.
Other BC athletes who were in the top 10 were: Gerard Dumas tied the BC Masters M80 record in the pole vault while finishing 5th, Tom Dickson finished 7th in the M60 100m and Nancy Craig who turns 50 later this year, finished 6th in the W45 pole vault.
---

Four Masters women from the Greyhounds Masters Track and Field Club set a new Canadian standard in the W60 4x100m relay (all members of the relay team must be over the age of 60). Competing on April 26th, at the University of Oregon's famed Hayward Field in Eugene, Oregon, the team of Deborah Lee (W64), Christa Bortignon (W78), Urith Hayley (W64) and Elaine Whidden (W60), ran the 400 metre relay in a time of 1:03.74. This breaks the Canadian Masters W60 record of 1:04.60 which was set by Team Canada at the 2011 World Masters Athletics Championships, in Sacramento, California. Having four women from the same club break a National record which was set by four women representing Canada, is a huge accomplishment.
CANADIAN MASTERS INDOOR T&F CHAMPIONSHIPS
Toronto, ON – March 14-15, 2015

Ten BC Masters athletes competed in the Canadian Masters Indoor Track and Field Championships this past weekend in Toronto. Christa Bortignon and Deborah Lee won gold in all 7 of their events. Hardev Sandhu won 6 medals including gold in the 60M and Weight throw.

Christa broke 2 Canadian Indoor records in the W75 50M and 50M hurdles. Deborah established 4 BC Indoor records in the W60 50M, 50M Hurdles, High jump and Triple jump. Deborah just missed another BC record by only 1/100th of a second in the 60M Hurdles. Al Percival broke the Canadian Indoor record in the M60 50M sprint. Natasha Bacchus set a new BC Indoor record in the W35 50M and broke her own pending BC record in the 60M, which she established a month earlier in the BC Masters Indoor Championships in Kamloops. Juliette Christie broke 2 of her own pending BC Indoor records in the W50 1500M and 3000M. Hardev set a new BC Indoor record in the M65 50M while Mark Pinckard
broke his own BC Indoor record in the M50 800M.
2015 BC Masters Indoor Track & Field Championships
The second annual BC Masters Indoor Track and Field Championship was held on February 13-15, at
the Tournament Capital Centre in Kamloops. This meet was held in conjunction with the Van Ryswyk
Indoor Invitational Meet. The number of Masters athletes competing was a little higher than last year,
and hopefully this championship meet will continue to grow in the future.
The Masters athletes that competed did extremely well. They set/broke 40 BC Indoor records and 9
Canadian Indoor records. Another BC record was tied.
Norm Lesage broke two Canadian records in the M85 60m (but he has a pending record from a week
earlier at the Harry Jerome meet) and 200m. Don Currie also broke two Canadian records in the M80
1500m and 3000m Race walks. Margaret Rhebergen broke her own Canadian W55 high jump record
and Harry Thompson set a new Canadian standard in the M90 1500m Race walk.
The M70 relay team of: Surinder Shah, Mark Stewart, Bill McNamara and Tom Ukonmaanaho, broke
the Canadian record in the 4x400m relay and set a new Canadian standard in the 4x200m relay. The
relay team of: Lynette Baldock, Gabriella Moro, Winni MacKay-Smith and Christa Bortignon, set a new
Canadian record in the W65 4x200m relay.
Four athletes broke/set three individual BC Masters Indoor records. Norm added the M85 400m record
to his 60m and 200m records. Mark Stewart set three new M70 standards in the 800m, 1500m and
3000m. Arthur Gee set three new standards in the M70 triple jump, 1500m Race walk and 3000m Race
walk. Rachel Fouladi broke the BC W45 triple jump record and set new standards in the 1500m and
3000m Race walks.
Five athletes added two new BC Indoor records to their names. Lynette Baldock broke her own W65
800m and 1500m records. Margaret Rhebergen broke her own W55 60m record as well as the high
jump. Juliette Christie set two new BC standards in the W50 1500m and 3000m runs. Harry Thompson
added the M90 triple jump to his Race walk record. Tom Ukonmaanaho broke the BC M70 200m
record and tied the high jump record.
Adding one new BC record to their names were: Natasha Bacchus W35 60m, Sam Walker M40 400m,
Surinder Shah M70 long jump, Deborah Lee W60 long jump, Heinz Peter M65 high jump, Gabriella
Moro W65 shot put, Jody Cranston M45 weight throw, Harnek Toor M65 weight throw and Lori
Graham W55 1500m Race walk.
Two relay teams set new BC records. The W45 4x400m relay team of: Cindy O'Brien Hugh, Kathy
Friesen, Winni MacKay-Smith and Nicola Everton, and the M45 4x400m relay team of: Mark Phillips,
Gordon Flett, Harjinder Kang and Steve Briggeman.
The schedule was slightly altered from last year so that the meet could be completed by noon on
Sunday. With the support of many fans, Dylan Armstrong was finally presented with the Olympic
bronze medal that he was denied at the Beijing Olympics, six and a half years ago. Armstrong finished
fourth in the shot put competition (by only a centimetre) but was moved up to third when the athlete
from Belarus was disqualified for doping.
The Masters athletes give huge thanks to the meet organizers, officials and volunteers for their hard
work and dedication over the three days.
The Kamloops Track and Field Club invites all Masters athletes to the third annual BC Masters Indoor
Championships which will be in the Tournament Capital Centre again in February, 2016.
2014 BC Senior Games
Report on the 2014 BC Senior Games Langley, Sept 10-13
2013 BC Seniors Games
Report on 2013 BC Seniors Games Kamloops, Aug 21-24
2013 BC Masters Track & Field Championships Results
Results of 2013 BC Masters Track & Field Championships Langley, Jun 14-16
WORLD MASTERS INDOOR TRACK & FIELD CHAMPIONSHIPS
The 6th WMA Indoor track and field championships were held in Budapest, Hungary, from March 25-
30, 2014. Over 3900 athletes over the age of 35, from more than 70 countries, were entered in the
championships. The SYMA facility was excellent with two tracks, and more, under the same roof.
Hungary did an excellent job of hosting the "queen of sports" as they call athletics in their country.
Olga Kotelko, who turned 95 only 23 days prior to the first day of competition, was one of the stars of
the WMA Indoor Championships. Olga competed in the W95-99 age group and was one of the fifty
Canadian Masters athletes entered, eleven were from BC.
Olga won 10 Gold medals and established 9 new World records. She set new world indoor W95
standards in the 60m, 200m, High jump, Long jump and Triple jump. She also broke the world indoor
records in the W95 Shot put and Weight throw. At this Indoor championships, there were also a few
Outdoor Road races and three Outdoor throwing events. Olga broke the Outdoor world records in the
W95 Hammer throw and Javelin. The only event that Olga did not establish a new world record was
in the outdoor Discus throw.
Other BC athletes winning medals were: Christa Bortignon (Gold in the W75 60m hurdles), Tom
Dickson (Silver in the M60 60m sprint) and Marek Glowacki (Silver in the M70 Shot put). Tom tied
the Canadian Indoor record in the M60 60 m (7.80 seconds during the semi-finals) and broke the
Canadian Indoor M60 200m record (25.98 seconds). Marek broke his own Canadian M70 Shot put
record (13.74m).
Normally the WMA Indoor Championships are held every two years but for the next two years the
WMA will have Outdoor Championships. The next WMA Indoor Championships will be in three
years (2017) in Daegu, South Korea.
BC MASTERS INDOOR CHAMPIONSHIPS
Kamloops, February 14-16, 2014
The first-ever BC Masters Indoor track and field championships were held on February 14-16. The meet was
hosted by Kamloops in their Tournament Capital Centre on the campus of Thompson Rivers University.
Unfortunately the turnout was very low, probably partly because of the dangerous weather conditions on the
Coquihalla Highway. Despite the small turnout, there were a few outstanding results. As usual, the Kamloops
Track and Field Club and their volunteers, hosted an excellent meet.
No world records were broken this year but look out next year because Olga Kotelko turns 95 on March 2nd.
Actually she will undoubtedly break/set a few world records next month at the WMA Indoor Championships in
Budapest, Hungary.
The small group of Masters athletes broke 7 Canadian records and tied another. Breaking Canadian records
were Dmitry Babenko in the M40 1500M Racewalk (6:27.23) and 3000M Racewalk (13:45.23). Donald Currie
broke the identical Canadian records in the M80 group. He turned 80 on February 13, only one day before the
start of the meet. Also setting a Canadian record was 91-year-old Harry Thompson in the M90 3000M and
Cheryl Closkey broke the W65 Weight throw record (10.46m).
The relay team of Hardev Sandhu, Fred Pawluk, Harold Morioka and Sewa Birring broke the M65 4x400m
Canadian record (4:46.66).
Margaret Rhebergen tied her own Canadian record in the W55 High jump (1.30m). Actually Margaret might
have broken her Canadian record because the bar was set higher than 1.30m. When the bar was measured after
her record breaking jump, the bar read 1.32m. However the official ruled that since the recorder had listed the
height as 1.30m, that this was the official height and that measuring after the height was only to confirm that the
height of the bar was at least this height.
There were 28 new BC Indoor records and two more were tied. In addition to the records above, the following
BC records were broken.
Breaking two BC records were: Fred Pawluk M65 800m and 1500m, Bakhshish Dhillon M75 Shot put and
Weight throw, Nardene Hammond W40 1500M Racewalk and 3000M Racewalk, Lori Graham W55 1500M
Racewalk and 3000M Racewalk and Denise Clements W50 Shot put and Weight throw (But Carolyn Boomer
gets the new BC W50 Shot put record with a better record-breaking put than Denise).
Also breaking BC records were: Tom Ukonmaanaho M65 200m, Sam Walker M40 400m, Verena Stroda W40
Shot put, Kathy Brand W70 Weight throw, Dan Krause and Hardev Sandhu in the M65 Weight throw (but Dan
gets the new BC record with a better record-breaking put), Harold Morioka in the M70 High jump and Sean
Steele in the M50 Weight throw. Along with their Canadian records, Margaret Rhebergen added a BC record in
the W55 60m Hurdles, Cheryl Closkey added a BC record in the W65 Shot put and Donald Currie added a BC
record in the M80 800m.
The relay team of Andy Bienefeld, Eric Torin, Sam Walker and Luke Wang set a new BC record in the M35
4x200m relay.
Nancy Cochrane was attempting to better her BC W60 High jump record which she set only two weeks earlier.
Unfortunately she partially tore her achilles tendon and a calf muscle during an early jump.
Diane Matus tied the BC record in the W65 60m sprint.
Who is a Master?
Your entry to an Athletics event could be simply to have fun, have a healthy workout, pick up an attractive t-shirt, support a charity or, as a serious competitor, attempt a personal best performance.
The only requirement for being a masters member in any BC Athletics sanctioned event is to be 35 years of age or older.
Age group results-age graded results
2015 Masters Age Graded Tables
Competition results can be calculated on an overall performance basis where athletes compare their performance to how other competitors in their age group performed. Some events now provide age graded results. These results are generated from tables developed by reviewing the performances of a large number of athletes over a long period of time, in each of the age categories, as well as the world records by age groupings. The tables then indicate an ultimate performance that could be expected from any age. There are separate tables for males and females.
Age graded results can be used in several ways. Using these tables, each athlete's performance can be calculated as a percentage of these extremely high standards for both male and female at each age. New results are then processed based on percentage achievement. Hence the playing field is leveled by compensating for age and sex. These age graded results can be very different from the overall results. It's possible that a 45-year old woman would displace a 28-year old male overall winner as the age graded winner. This, of course, is competitive and many (in fact most) participants don't enter events solely for competition. There are other effective ways of using performance percentages.
For example: if your performance in a 5K race was @ 78.3%, you could apply this percentage to the table for 10K at your age and calculate your expected finish time at 10K for the same effort. This would enable you to establish your mile pace to ensure that you don't go out too fast in the 10K event.
As you age you can use age graded results to compare your fitness and conditioning from one year to any other year. It's also useful in tracking your progress over any number of dissimilar events.
Reasons to join BCA - Masters
Receive the annual publication of the Events Calendar
Liability and Sport Injury/Accident Insurance
$3.00 deduction from entry fees at BC Athletics sanctioned events
Discounts on merchandise from selected sports stores
Registered member of BC Athletics
Branch member of Athletics Canada
Supporting BC Athletics through an annual membership fee of $50 + GST (for Masters athletes) helps to fund the governing body of our sport and helps to ensure that:
BC Athletics sanctioned events meet standards for safety, officiating and organization
workshops and seminars are provided to enhance the overall well-being of athletics as a sport
there is co-ordination of the many volunteer efforts provided by the athletics community
there is direct contact for Athletics information by telephone or the internet
As a member you are welcome to attend the Masters Committee Annual General Meeting or stand for election to the Masters Committee Board itself.
For coaching, for group workouts, for increased social activities and for team events such as the Whistler 50 Relay, there are a number of BC Athletics affiliated clubs that welcome all levels and all ages of Masters Athletes.
Masters Achievements Awards
These awards are in the form of pins in bronze, silver and gold which represent increasingly higher standards of performance. These pins are available for purchase by masters who have achieved the required standards. The standards are adapted from those that the Canadian Masters Athletics Association used to have for their crests, and cover a wide range of events.
The standards may be viewed by clicking on one of the following links:
To apply for a pin
Please print the Masters achievement award application form and mail (with the $9.04 fee) to BC Athletics, Fortius Athlete Development Centre, Suite 2001-B Oslo Landing, 3713 Kensington Ave, Burnaby, BC V5B 0A7.
Master of the Year Award Criteria
For 2013, the age grading will be based on five year tables. In other words, for a 5 year age group, the entry for the lowest age in the group will be used to calculate the age graded result for all 5 ages in the group. This means that the best performances within an age group will get the best age graded result. This change was made in order to reward direct competition within an age group and to provide more opportunities for athletes entering a new age group.
Age grading calculator may be found at www.howardgrubb.co.uk/athletics/wmalookup06.html
Track Master of the Year Award Criteria (male and female)
The awards will be based on the Five Best Age Graded performances for the year (may be the same event or different events)
For example, an athlete could have results for: 100m, 200m, 400m and 800m or five results for 100m.
Road Running Master of the Year Award Criteria (male and female)
The awards will be based on the Five Best Age Graded performances for the year (may be the same event or different events)
Cross Country Master of the Year Award Criteria (male and female)
The awards will be based on the best age graded performance in the BC Championships and the Canadian Championships. Normally, the winners must also have participated in at least one other cross country race during the year.
Field Master of the Year Award Criteria (male and female)
These are new awards for 2013. The awards will be based on the quality of performances based on a percentage of the Canadian 5 year age group records. Consideration will be given to records set. A minimum of five performances will be required.
Sport BC Master of the Year Award Criteria (only one award)
Normally, the nominee is a winner of one of the above awards. Top 3 age graded performances plus international ranking will be considered.
Para-Athletics
General Info
BC Athletics in partnership with BC Wheelchair Sports, BC Blind Sports, Sportability BC (CP) Sports, Amputee Sport BC provides program opportunities for athletes with a physical impairment. These athletes fall under various classifications for training and competition under the IPC.
Special Olympics
General Info
BC Athletics in partnership with Special Olympics BC provides program opportunities for athletes with intellectual disabilities. These athletes are able to compete in regional, national and international Special Olympic events under the IPC.
Recommended Guidelines for Events and Technical Standards