Grassroots (Age 6-8)
Run Jump Throw
Developed by Athletics Canada and presented by BC Athletics, RJT is the grassroots development program for our sport. This FUNdamentals program teaches the skills of running, jumping and throwing and the technical skill progressions for track and field events. It is designed for boys and girls ages 6-12, has progressions for older athletes, and can be adapted for special needs.
RunJumpThrow skills form the basis of all land based sport and as such, RJT provides a strong foundation for success in all sports and physical activities, which allows participants to develop a positive self image and be the best they can be.
RJT is:
Integrated for development at all levels
Broad based and progressive
FUNdamental to all land based sports
Inclusive for all abilities and maturational stages
Adaptive to special needs and athletes with disabilities
Gender equitable
RJT stresses:
Skills of RUNNING, JUMPING and THROWING in age appropriate sequential progressions
Individual improvement and positive reinforcement
FUN and active learning environment
Improvement in physical and emotional well being
Safety and certified instruction
RJT Courses
UPCOMING COURSES
COURSE TYPE

LOCATION

DATE

MORE INFO

*UBC KIN 115 (Performance Analysis) Course
Vancouver
February 27-April 8
Teacher In-Service
Revelstoke
(Revelstoke Secondary School)
April 7
15 HR NCCP
Quesnel
(Quesnel Indoor Soccer Facility)
May 10-11
See Event Poster
15 HR NCCP
Vancouver (TBD)
TBD
If you are interested in participating in any of the above listed instructor courses or becoming an RJT Learning Facilitator, please contact Meghan Butterworth - RJT LF candidates must already be RJT Instructors (Certified).
* Course registration restrictions apply please contact Meghan Butterworth for further details
---
Coaches can be trained and certified as RJT Instructors by attending a weekend workshop and delivering the program thru their club or school based program. The program can also be delivered to teachers one day Pro-D workshops.
Teachers or coaches wishing to facilitate the training of student-athlete coaches or parents in their club/school, or wishing to increase their NCCP certification levels, can further train as Learning Facilitators in RJT. Following delivery, NCCP certification in the new education stream is given.
Types of Workshops Available
Presentation - $35.00 pp
Perfect for Pro-D
4 hours in length
Completion does not provide NCCP certification training
Community Recreation Course - $50.00 pp
8 hours in length
Completion does not provide NCCP certification training
Teacher

In-service - $75.00 pp
Available only for Elementary and Secondary school teachers
8 hours in length (Includes approx. 1.5 hrs of practical teaching with kids)
Completion does provide NCCP certification training
NCCP Course - $95.00 pp
15 hours in length (Includes 3 hours of practical teaching with kids)
Completion does provide NCCP certification training
To book a RJT instructor workshop or presentations for your club or region please contact:
BC Athletics RJT Coordinator
Phone: 604 333-3554
Email: runjumpthrow@bcathletics.org
RJT Outcomes Required for Certification - specific outcomes for the RJT Instructor
Did you recently complete one of the above instructor courses? Your feedback can greatly impact the future success of the RJT program! Click HERE to fill out a short five minute survey.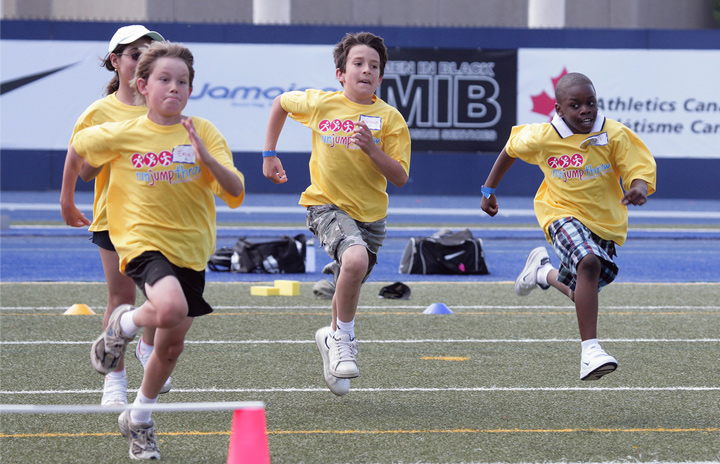 RJT Equipment
The NEW RJT BAG is available online now!
NEW RJT Bags are available at a preferred Athletics Canada member price - $350.00 ($395.00 for non-members)
Visit the Athletics Canada store to purcahse a RJT Bag: http://www.shop.athletics.ca/index.php?lang=en&category=10
Be a Track Rascal
BC Athletics 'Track Rascals' memberships are for boys and girls ages 6 to 8 who want to be involved in the BC Athletics Club atmosphere, learn the basics of athletics, and of course the skills needed for all land-based sports! Track Rascals are most importantly NON-competitive training members, with a number one goal of having FUN!
WANT TO START YOUR OWN TRACK RASCALS PROGRAM?
Take a look through the Track Rascals Club Package - developed Summer 2013
READY TO PARTICIPATE?
Interested in RJT, and want to be a member of a BC Athletics Affiliated Club? Check out these clubs with Track Rascals members:
RJT SUCCESS STORIES
Revelstoke Secondary School, Revelstoke BC
April 7/14: This past Monday in Revelstoke, BC a group of dedicated teachers and local coaches participated in the Teacher In-Service Run Jump Throw course to receive their instructor training. This marks the first Run Jump Throw instructor training course held in the community to date. Revelstoke is no stranger to track and field talent as many high school athletes have pursued athletic scholarships within Canada and the US. Organizer Kendra von Bremen recognized the need for quality physical literacy teachings delivered at the grassroots level, as key to the development of future active youth and the continued success of athletics within Revelstoke.
Special thanks to School District #19 and PacificSport Interior for your support and continued partnership in making Run Jump Throw events such as these a possibility.
RJT Upcoming Events
Come and check out the RunJumpThrow Activities coming to a community event near you! There is always more fun being added so keep checking back!
EVENT

LOCATION

DATE

TIME

ADDITIONAL INFORMATION

Fortius Sport & Health Family Day & Open House

Burnaby
(Fortius Sport&Health)

April 13
1:00-4:00PM
Vancouver Sun Run Kids Zone
Vancouver
(BC Place)
April 27
8:00AM-11:00AM
More info HERE
Island Savings Family Sport & Recreation Festival
Victoria
(Pacific Institute for Sport Excellence)
May 3
11:00AM-3:00PM
More info HERE
Work It Fitness Weekend
Langley
(Willowbrook Shopping Centre)
May 10
9:30AM-6:00PM


More info HERE

Okanagan International Children's Festival

Penticton

May 22-24

Thurs/Fri 9:00AM-3:30PM

Sat 8:30AM-5:00PM

Coming soon!
Telus Walk To Cure Diabetes
Vancouver
(Lumberman's Arch, Stanley Park)
June 8

8:30AM-11:00AM

More info HERE
Longest DAY 10K Kids Zone
UBC
(Thunderbird Stadium)
June 13
More info HERE
Want to offer a Run Jump Throw Participation Area at your community event? Please email runjumpthrow@bcathletics.org with your event details including date(s) and time(s)!
Junior Development (Age 9-14)
General & News
The Junior Development (JD) program gives young children the opportunity to develop physical literacy, learn Track & Field specific skills, develop speed and fitness and compete in the context of the Learning to Train and Training to Train stages of LTAD.
JD News
The BC Athletics Junior Development Committee is pleased to announce the list of meets at which BC JD Athletes can achieve performances towards the Crest Awards and BC JD Awards. We look forward to seeing everyone at these meets and sharing a successful and fun season.
Apr 25-26

VOC Elementary Track Meet - Vancouver

May 3-4

Norwesters Elementaries Meet - Burnaby

May 3-4

Bob Dailey Memorial Track & Field Meet - Port Alberni

May 10

Eagle Classic Track & Field Meet - Maple Ridge

May 10-11

Dogwood Track & Field Meet - Victoria

May 17-18

Kamloops Centennial Track & Field Meet - Kamloops

May 17-18

South Fraser Junior Olympics - Surrey

May 23-25

BC Elementary School Track & Field Championships - Richmond

May 24-25

Elwood Wylie Track Meet – Nanaimo

May 29-31

2014 High School Track & Field Championships
Langley

Jun 7-8

Jesse Bent Memorial Cheetah Meet - Coquitlam

Jun 7-8

Spruce Capital Track Meet - Summer Games ZONE 8 Trials
Prince George

Jun 7-8

Garriock Track Meet - Duncan

Jun 13-15

Langley Pacific Invitational Meet - Langley

Jun 22

2014 Junior Development & Midget Pentathlon Championships - Maple Ridge

June 25

Ocean Athletics Remax Summer Twilight Meet #1

Jun 27-29

Jack Brow Memorial Track & Field Meet - Kelowna

Jul 2

Fraser Valley Jumps and Throws Meet – Langley

Jul 2

Ocean Athletics Remax Summer Twilight Meet #2

Jul 5-6

Trevor Craven Memorial Meet – Burnaby

Jul 9

Ocean Athletics Remax Summer Twilight Meet #3

Jul 11-13

2014 BC Athletics Track & Field Championships Jamboree – Kamloops

Jul 14

Ocean Athletics Remax Summer Twilight Meet #4

Jul 17-20

2014 BCSummer Games – Nanaimo

Jul 25-27

2014 Junior Development Track & Field Championships
Surrey

Aug 6

Ocean Athletics Remax Summer Twilight Meet #5
2013 Top Ten
Top Ten rankings after 2013 are now available. Click on the "Rankings & Records" tab for more information.
2013 JD Crest Winners
Listing of 2013 crest winners is available. Click on the "JD Crests" tab for more information.
Canadian Legion Youth T&F Championships 2013 Results
Children's Fitness Tax Credit
Clubs can download the form and customize it to fit their particular club. Download the form.
For a full explanation of the Children's Fitness Tax Credit please go to: www.cra-arc.gc.ca/fitness/ or contact the Canada Revenue Agency at 1-800-959-8281.
Child Fitness Tax Credit Form:
Customize the form template provided for your specific club.
Receipts:
Receipts can only be issued for amounts paid during the calendar year even if all of part of the activity occurs in the following year.
The receipt number includes the child's BC Athletics membership number preceded by the applicable year - example: 2007-95-24187. In the case of Training memberships and Track Rascals memberships where a BC Athletics membership number is not given, use 2007T# or 2007TR# - if you have 10 Track Rascals then number the individuals - example: 2007TR1, 2007TR2, 2007TR3 etc. Do the same for Training members.
Calculating eligible fees:
The fees must be paid for a child who is under 16 years of age at any time in the year.
Registration and membership costs can include the costs of administration, instruction and the rental of facilities. If the fees charged to parents include part for accommodation, travel, food, or beverages then this part must be deducted when calculating the part of the fees that qualify for the tax credit. For example if club membership fees total $400 and includes a charge of $50 for travel and $50 for a club uniform then the eligible amount would be $400 - $50 - $50 = $300.
Description of Eligible Programs:
Eligible activities must include the following in order to qualify. Make sure descriptions of club programs makes mention and details all of the following:
Ongoing (either a minimum of eight weeks duration, with a minimum of one session per week or, in the case of children's camps, five consecutive days);
Supervision;
Activities suitable for children; and
Substantially all of the activities must include a significant amount of physical activity that contributes to cardio-respiratory endurance plus one or more of: muscular strength, muscular endurance, flexibility, or balance.
If you have any further questions please contact Sam Collier - Manager, Registration & Membership Services at (604) 333-3556 or sam.collier@bcathletics.org.
JD Championships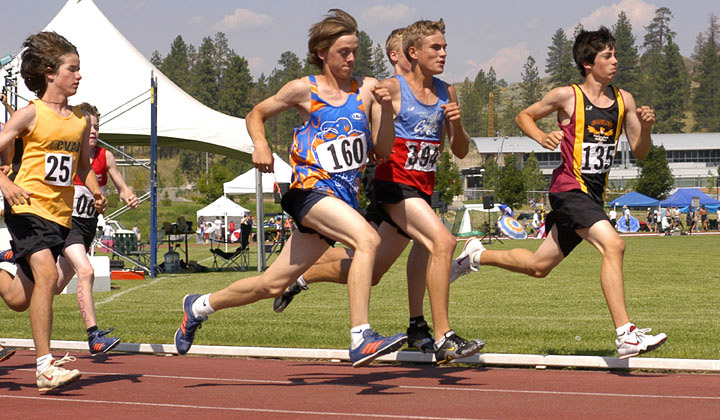 2004 JD T&F Champs photos © David Dolsen
Series for JD's
JD TOP 10 LISTS
Questions and/or comments regarding the JD Top 10/Best Performances lists should be directed to Tom Dingle at tdingle@uvic.ca.
All-Time Top Ten
NOTES: All Time Top Ten Tables after 2013 Season was completed
These tables are based on the 2012 All Time Top Ten Tables to which have been added better performances from 2013
New results are taken from the meets on the JD approved list
New results are for athletes who were registered as competitive members of BC Athletics in 2012
Results for 2013 are entered in bold face blue type
Placings for hand timed results, which are reported to one tenth of a second only, are based on the standard correction for comparing such results to electronic timing: i.e. for races 300m and under 0.24 seconds are added to the hand timed results - for 400m races 0.14 seconds are added.
Please direct any comments or possible corrections to Tom Dingle at tdingle@uvic.ca.
If you have an earlier version of Microsoft Excel, you can download the free Microsoft Office Compatibility Pack to open, edit, and save XLSX files in your older version of MS Excel.

Download a free copy of Excel reader from

www.microsoft.com/en-us/download/details.aspx?id=10

.
Top Ten Each Year
Approved Meets for JD Awards and All Time Top 10 Listings
The following meets have been approved by the JD Committee for All Time Top 10 listings and for JD Awards. If any Club would like to have their meet(s) added to this list please submit the name of your meet by APRIL 1 for approval at the next JD Committee meeting. If a meet is not approved for the above purposes an athlete will not be able to use results obtained for awards or All Time Top 10 listings. Only sanctioned meets may be approved.
BC JD Track and Field Championships
BC JD Pentathlon Championships
BC Summer Games (even years)
Trevor Craven Memorial Meet, Burnaby
Jesse Bent Memorial, Coquitlam
Pacific Invitational, Langley
** Track City Classic, Eugene
** Classy Classic, Seattle
Jack Brow Memorial, Kelowna
Spruce Capital, Prince George
Kamloops Centennial, Kamloops
George Dean Meet, Sidney
Eagle Classic, Maple Ridge
Cougars Invitational, Courtenay
Bob Dailey Invitational, Port Alberni
Elwood Wylie Meet, Nanaimo
Dogwood Meet, Victoria
Garriock Invitational, Duncan
NorWesters Elementaries Meet, Burnaby
Junior Olympics, Surrey
BC Elementary Championships, Richmond
Island Pentathlon and Throws Meet
BC Midget Championships (Jamboree)
Legion Championships
BC High School Championships (JD event requirements only)
** Athletes competing in US Meets must present a certified copy of meet results.
JD Crests
Parents and coaches, reward and motivate your young athletes for their achievements with a keepsake crest that will be treasured for a lifetime! Reminiscent of the 1970's Canada Fitness crest program which helped many children strive for improved fitness levels, this program focuses on Track and Field competition?rewarding those who do well in a variety of events.
See Section 11 of the JD Manual for an explanation of how the program works, plus ordering information and scoring tables.
2013 JD Crest Winners
View here - Updated Sept 27
JD Manual
The Junior Development Manual is available in both HTML and PDF formats.
The Manual contains detailed guidelines for JD Track & Field Meets, information on BC Athletics JD recognition programs, technical specifications, and more. Junior Development clubs will find these guidelines helpful in the implementation of JD programs and in organizing successful JD meets. Click here to go to the introduction and index page
Hershey Track & Field Games (Age 9-14)
About HTFG
"It's about kids doing more than they ever thought possible, doing better than they did in their last event, or if there was no last event, just plain doing it ... and having fun along the way, meeting new friends and gaining new experiences."
HERSHEY's Track and Field Games (HTFG) is the longest-running youth activity program of its kind in North America, and a great entry point for kids ages 9-14 to get active and become engaged in a healthy lifestyle. It is about having fun, community involvement, and introducing kids to a basic skills competition environment.
HERSHEY's meets are easy to organize, and require minimal equipment! All you need is an area to run, jump and throw! You can select which events to offer at your games out of the list below (aligned with the Canadian Athletics LTAD model), depending on your venue, # of participants etc.
BCA HTFG Approval
BC Athletics is pleased to offer an approval process inclusive of liability insurance coverage for clubs / schools interested in hosting a HERSHEY's Track and Field Games meet in their community. There is an application form with basic HTFG information required. Liability Insurance is included as part of the HTFG approval process providing a benefit to the host organization, and assisting with Risk Management in hosting this event. Other benefits in addition to insurance coverage include:
BC Athletics Calendar Listing of the Event
Promotional Assistance
Athlete Development (Age 15+)
General Info
Inclusive of the LTAD stages of Training to Train, Learning to Compete, Training to Compete and Learning to Win, this program introduces athletes to the performance pathway of Athletics. Event specialization and training, advanced training leading to consistent performances at higher levels of competition and BC Team program opportunities are the key components of the Athlete Development program.
2014 College Choices
Our BC Athletes are off to College! Here is a list of BC Athletics Athletes, and where they will be attending school next fall. Athletes are listed alphabetically by thier last name. To add a name, please fill in the form below. If you have any questions, please contact the Technical Manager for Track & Field at garrett.collier@bcathletics.org.
| Name | Club | High School | College | Event | Coach |
| --- | --- | --- | --- | --- | --- |
| Sebastian Adugalski | OATF | Saint Thomas Moore | UBC | Sprints & Hurdles | Mary Korpach |
| John Gay | OACS | Okanagan Mission Secondary | UBC | Endurance/XC | Nathan Reiter |
2014 College Signing's Submission Form
BC Athletics would like to recognize those graduating High School athletes that will be attending school next fall at a Post-Secondary instution. This form can be filled out by an Athlete, Parent, Club Coach or College Coach/Representative. Once submitted, BC Athletics will update the list every week until September 1st, 2014.
Masters (Age 35+)
General & News
2013 BC Seniors Games
Report on 2013 BC Seniors Games Kamloops, Aug 21-24
2013 BC Masters Track & Field Championships Results
Results of 2013 BC Masters Track & Field Championships Langley, Jun 14-16
WORLD MASTERS INDOOR TRACK & FIELD CHAMPIONSHIPS
The 6th WMA Indoor track and field championships were held in Budapest, Hungary, from March 25-
30, 2014. Over 3900 athletes over the age of 35, from more than 70 countries, were entered in the
championships. The SYMA facility was excellent with two tracks, and more, under the same roof.
Hungary did an excellent job of hosting the "queen of sports" as they call athletics in their country.
Olga Kotelko, who turned 95 only 23 days prior to the first day of competition, was one of the stars of
the WMA Indoor Championships. Olga competed in the W95-99 age group and was one of the fifty
Canadian Masters athletes entered, eleven were from BC.
Olga won 10 Gold medals and established 9 new World records. She set new world indoor W95
standards in the 60m, 200m, High jump, Long jump and Triple jump. She also broke the world indoor
records in the W95 Shot put and Weight throw. At this Indoor championships, there were also a few
Outdoor Road races and three Outdoor throwing events. Olga broke the Outdoor world records in the
W95 Hammer throw and Javelin. The only event that Olga did not establish a new world record was
in the outdoor Discus throw.
Other BC athletes winning medals were: Christa Bortignon (Gold in the W75 60m hurdles), Tom
Dickson (Silver in the M60 60m sprint) and Marek Glowacki (Silver in the M70 Shot put). Tom tied
the Canadian Indoor record in the M60 60 m (7.80 seconds during the semi-finals) and broke the
Canadian Indoor M60 200m record (25.98 seconds). Marek broke his own Canadian M70 Shot put
record (13.74m).
Normally the WMA Indoor Championships are held every two years but for the next two years the
WMA will have Outdoor Championships. The next WMA Indoor Championships will be in three
years (2017) in Daegu, South Korea.
BC MASTERS INDOOR CHAMPIONSHIPS
Kamloops, February 14-16, 2014
The first-ever BC Masters Indoor track and field championships were held on February 14-16. The meet was
hosted by Kamloops in their Tournament Capital Centre on the campus of Thompson Rivers University.
Unfortunately the turnout was very low, probably partly because of the dangerous weather conditions on the
Coquihalla Highway. Despite the small turnout, there were a few outstanding results. As usual, the Kamloops
Track and Field Club and their volunteers, hosted an excellent meet.
No world records were broken this year but look out next year because Olga Kotelko turns 95 on March 2nd.
Actually she will undoubtedly break/set a few world records next month at the WMA Indoor Championships in
Budapest, Hungary.
The small group of Masters athletes broke 7 Canadian records and tied another. Breaking Canadian records
were Dmitry Babenko in the M40 1500M Racewalk (6:27.23) and 3000M Racewalk (13:45.23). Donald Currie
broke the identical Canadian records in the M80 group. He turned 80 on February 13, only one day before the
start of the meet. Also setting a Canadian record was 91-year-old Harry Thompson in the M90 3000M and
Cheryl Closkey broke the W65 Weight throw record (10.46m).
The relay team of Hardev Sandhu, Fred Pawluk, Harold Morioka and Sewa Birring broke the M65 4x400m
Canadian record (4:46.66).
Margaret Rhebergen tied her own Canadian record in the W55 High jump (1.30m). Actually Margaret might
have broken her Canadian record because the bar was set higher than 1.30m. When the bar was measured after
her record breaking jump, the bar read 1.32m. However the official ruled that since the recorder had listed the
height as 1.30m, that this was the official height and that measuring after the height was only to confirm that the
height of the bar was at least this height.
There were 28 new BC Indoor records and two more were tied. In addition to the records above, the following
BC records were broken.
Breaking two BC records were: Fred Pawluk M65 800m and 1500m, Bakhshish Dhillon M75 Shot put and
Weight throw, Nardene Hammond W40 1500M Racewalk and 3000M Racewalk, Lori Graham W55 1500M
Racewalk and 3000M Racewalk and Denise Clements W50 Shot put and Weight throw (But Carolyn Boomer
gets the new BC W50 Shot put record with a better record-breaking put than Denise).
Also breaking BC records were: Tom Ukonmaanaho M65 200m, Sam Walker M40 400m, Verena Stroda W40
Shot put, Kathy Brand W70 Weight throw, Dan Krause and Hardev Sandhu in the M65 Weight throw (but Dan
gets the new BC record with a better record-breaking put), Harold Morioka in the M70 High jump and Sean
Steele in the M50 Weight throw. Along with their Canadian records, Margaret Rhebergen added a BC record in
the W55 60m Hurdles, Cheryl Closkey added a BC record in the W65 Shot put and Donald Currie added a BC
record in the M80 800m.
The relay team of Andy Bienefeld, Eric Torin, Sam Walker and Luke Wang set a new BC record in the M35
4x200m relay.
Nancy Cochrane was attempting to better her BC W60 High jump record which she set only two weeks earlier.
Unfortunately she partially tore her achilles tendon and a calf muscle during an early jump.
Diane Matus tied the BC record in the W65 60m sprint.
Who is a Master?
Your entry to an Athletics event could be simply to have fun, have a healthy workout, pick up an attractive t-shirt, support a charity or, as a serious competitor, attempt a personal best performance.
The only requirement for being a masters member in any BC Athletics sanctioned event is to be 35 years of age or older.
Age group results-age graded results
Proposed and Unapproved New Masters Age Graded Tables: 2006
Competition results can be calculated on an overall performance basis where athletes compare their performance to how other competitors in their age group performed. Some events now provide age graded results. These results are generated from tables developed by reviewing the performances of a large number of athletes over a long period of time, in each of the age categories, as well as the world records by age groupings. The tables then indicate an ultimate performance that could be expected from any age. There are separate tables for males and females.
Age graded results can be used in several ways. Using these tables, each athlete's performance can be calculated as a percentage of these extremely high standards for both male and female at each age. New results are then processed based on percentage achievement. Hence the playing field is leveled by compensating for age and sex. These age graded results can be very different from the overall results. It's possible that a 45-year old woman would displace a 28-year old male overall winner as the age graded winner. This, of course, is competitive and many (in fact most) participants don't enter events solely for competition. There are other effective ways of using performance percentages.
For example: if your performance in a 5K race was @ 78.3%, you could apply this percentage to the table for 10K at your age and calculate your expected finish time at 10K for the same effort. This would enable you to establish your mile pace to ensure that you don't go out too fast in the 10K event.
As you age you can use age graded results to compare your fitness and conditioning from one year to any other year. It's also useful in tracking your progress over any number of dissimilar events.
Reasons to join BCA - Masters
Receive the annual publication of the Events Calendar
Liability and Sport Injury/Accident Insurance
$3.00 deduction from entry fees at BC Athletics sanctioned events
Discounts on merchandise from selected sports stores
Registered member of BC Athletics
Branch member of Athletics Canada
Supporting BC Athletics through an annual membership fee of $50 + GST (for Masters athletes) helps to fund the governing body of our sport and helps to ensure that:
BC Athletics sanctioned events meet standards for safety, officiating and organization
workshops and seminars are provided to enhance the overall well-being of athletics as a sport
there is co-ordination of the many volunteer efforts provided by the athletics community
there is direct contact for Athletics information by telephone or the internet
As a member you are welcome to attend the Masters Committee Annual General Meeting or stand for election to the Masters Committee Board itself.
For coaching, for group workouts, for increased social activities and for team events such as the Whistler 50 Relay, there are a number of BC Athletics affiliated clubs that welcome all levels and all ages of Masters Athletes.
Masters Achievements Awards
These awards are in the form of pins in bronze, silver and gold which represent increasingly higher standards of performance. These pins are available for purchase by masters who have achieved the required standards. The standards are adapted from those that the Canadian Masters Athletics Association used to have for their crests, and cover a wide range of events.
The standards may be viewed by clicking on one of the following links:
To apply for a pin
Please print the Masters achievement award application form and mail (with the $9.04 fee) to BC Athletics, Fortius Athlete Development Centre, Suite 2001-B Oslo Landing, 3713 Kensington Ave, Burnaby, BC V5B 0A7.
Master of the Year Award Criteria
For 2013, the age grading will be based on five year tables. In other words, for a 5 year age group, the entry for the lowest age in the group will be used to calculate the age graded result for all 5 ages in the group. This means that the best performances within an age group will get the best age graded result. This change was made in order to reward direct competition within an age group and to provide more opportunities for athletes entering a new age group.
Age grading calculator may be found at www.howardgrubb.co.uk/athletics/wmalookup06.html
Track Master of the Year Award Criteria (male and female)
The awards will be based on the Five Best Age Graded performances for the year (may be the same event or different events)
For example, an athlete could have results for: 100m, 200m, 400m and 800m or five results for 100m.
Road Running Master of the Year Award Criteria (male and female)
The awards will be based on the Five Best Age Graded performances for the year (may be the same event or different events)
Cross Country Master of the Year Award Criteria (male and female)
The awards will be based on the best age graded performance in the BC Championships and the Canadian Championships. Normally, the winners must also have participated in at least one other cross country race during the year.
Field Master of the Year Award Criteria (male and female)
These are new awards for 2013. The awards will be based on the quality of performances based on a percentage of the Canadian 5 year age group records. Consideration will be given to records set. A minimum of five performances will be required.
Sport BC Master of the Year Award Criteria (only one award)
Normally, the nominee is a winner of one of the above awards. Top 3 age graded performances plus international ranking will be considered.
Master Events 2014
Date
Event & Location
Contact
Website(s)
Feb 14-16
BC Athletics Masters Indoor Track & Field Championships
Kamloops, BC Canada
Track & Field, Race Walking, Race Walking
Judy Armstrong
2503773378
j2armstrong@shaw.ca
kamloopstrackandfield.ca
Mar 25-30
WMA Indoor Championships
Budapest, Hungary
Track & Field
Brian Keaveney

masters@sympatico.ca
world-masters-athletics.o…
Mar 30
2014 UBC Open
Vancouver, BC Canada
Track & Field, Race Walking, Race Walking
Marek Jedrzejek
(604) 274-5752
marek.jedrzejek@ubc.ca
directathletics.com
Jun 27-29
BC Athletics Masters Outdoor Track & Field Championships
Kelowna, BC Canada
Track & Field, Race Walking, Race Walking
Mike Walsh
2508015325
mike@skmana.ca
okac.ca
Sep 9-13
BC Seniors Games
Langley, BC Canada
Track & Field
Brent Dolfo
604-533-0453
brent_dolfo@yahoo.ca
langleymustangs.com
Para-Athletics
General Info
BC Athletics in partnership with BC Wheelchair Sports, BC Blind Sports, Sportability BC (CP) Sports, Amputee Sport BC provides program opportunities for athletes with a physical impairment. These athletes fall under various classifications for training and competition under the IPC.
Special Olympics
General Info
BC Athletics in partnership with Special Olympics BC provides program opportunities for athletes with intellectual disabilities. These athletes are able to compete in regional, national and international Special Olympic events under the IPC.
Recommended Guidelines for Events and Technical Standards
Senior - ages 20+
As per IAAF and Athletics Canada Rules and Technical Standards
Senior Men's Track and Field Championships
Track 100m, 200m, 400m, 800m, 1,500m, 5,000m, 10,000m
110m Hurdles, 400m Hurdles, 3,000m steeplechase, 4x100m, 4x400m
Race Walking 20km walk
Jumps High Jump, Long Jump, Triple Jump, Pole Vault
Throws Shot, Discus, Javelin, Hammer
Combined Events Decathlon
Cross Country - 8,000m to 12,000m
Road Running - distances up to and including Marathon
Senior Women's Track and Field Championships
Track 100m, 200m, 400m, 800m, 1,500m, 5,000m, 10,000m,
100m Hurdles, 400m Hurdles, 3000m steeplechase, 4x100m, 4x400m
Race Walking 20km walk
Jumps High Jump, Long Jump, Triple Jump, Pole Vault
Throws Shot, Discus, Javelin, Hammer
Combined Events Heptathlon
Cross Country - 6,000 to 8,000m
Road Running - distances up to and including Marathon
Pee Wee - ages 10 & 11
| Men | Women | Technical Notes |
| --- | --- | --- |
| 60m - indoor and outdoor | 60m - indoor and outdoor | |
| 60mH | 60mH | 12m to first hurdle; 7.0m between; As low as possible (scissor hurdles) |
| 150m | 150m | |
| 600m | 600m | |
| 1000m | 1000m | |
| Cross Country | Cross County | 2km |
| 800m Race Walk | 800m Race Walk | |
| High Jump | High Jump | |
| Long Jump | Long Jump | No board - 1m take off area |
| Standing Long Jump | Standing Long Jump | |
| Shot Put | Shot Put | 3kg or less |
| Ball Throw | Ball Throw | |
| Javelin | Javelin | 400g |
| Discus | Discus | 750g |
| Triathlon (Run, Jump Throw) or Tetrathlon or variety of combined events | Triathlon (Run, Jump Throw) or Tetrathlon or variety of combined events | Tetrathlon = hurdles, jump, throw, run |
Bantam - ages 12 & 13
Men
Women
Technical Notes

60m - indoor

80m - outdoor

60m- indoor

80m - outdoor

80mH

80mH

12m to first hurdle; 7.5m between; Height - 0.76m

200mH

200mH

Start at 200m line, use 400mH spacing - 35m between; Height 0.76m

150m - indoor/outdoor

150m -indoor/outdoor

800m

800m

1200m

1200m

Cross Country

Cross County

2km

800m Race Walk

800m Race Walk

High Jump

High Jump

High Jump

Long Jump

Regular board

Long Jump

Standing Long Jump

Standing Long Jump

Shot Put

M - 3kg; W- 3kg

Shot Put

Ball Throw

Ball Throw

Javelin 400g

Discus

Discus

750g - only with a cage

Hammer

Hammer

Optional - M - 3kg; W - 3kg

Triathlon (Run, Jump Throw) or Tetrathlon

Triathlon (Run, Jump, Throw) or Tetrathlon

Tetrathlon = hurdles, jump, throw, run
Midget - ages 14 & 15
Men
Women
Technical Notes

60m - indoor

100m - outdoor

60m- indoor

100m - outdoor

In a 1 day meet we will limit the number of races; in a 2 day meet an athlete can do multiple events.

200m

200m

300m

300m

60mH - indoor

60mH - indoor

100mH

80mH

W - 12m to first; 8m in between; Height: 0.76m M - 13m to first; 8.5m in between; Height: 0.84m

200mH

200mH

Start at 200m line, use 400mH spacing - 35m between; Height 0.76m

800m

800m

1200m

1200m

2000m

2000m

1500m SC

1500m SC

No water jump; Barriers at 0.76m

Cross Country

Cross Country

3km

1500m Race Walk

1500m Race Walk

High Jump

High Jump

Long Jump

Long Jump

Regular board

Triple Jump

Triple Jump

7m or 9m or 11m board

Pole Vault

Pole Vault

Shot Put

Shot Put

M - 4kg ;W- 3kg

Javelin

Javelin

M - 600g; W - 500g

Discus

Discus

1kg

Hammer

Hammer

Optional - M - 4kg; W - 3kg

Pentathlon

Pentathlon

W - hurdles, HJ, Shot, LJ, 800 M - hurdles, LJ, Shot, HJ, 1000
Youth - ages 16 & 17
Men
Women
Technical Notes

60m - indoor

100m - outdoor

60m - indoor

100m - outdoor

200m - indoor/outdoor

200m - indoor/outdoor

300m - indoor

300m - indoor

400m - indoor/outdoor

400m - indoor/outdoor

60mH - indoor

60mH - indoor

110mH

100mH

W - 13m to first; 8.5m in between; Height: 0.76m M - 13.72m to first; 9.14m in between; Height: 0.91m

300mH

300mH

50m to first hurdle; 35m in between Height W: 0.76m; Height M: 0.84m

800m

800m

1500m

1500m

3000m

3000m

2000m SC

2000m SC

Water Jump is in; Barriers W: 0.76m; Barriers M: 0.84m/0.91m

Cross Country

Cross Country

W - 3km ; M - 4km

3000m Race Walk

3000m Race Walk

5000m Race Walk

5000m Race Walk

High Jump

High Jump

Long Jump

Long Jump

Regular board

Triple Jump

Triple Jump

7m or 9m or 11m board

Pole Vault

Pole Vault

Shot Put

Shot Put

W- 3kg; M - 5kg

Javelin

Javelin

W -500g; M - 700g

Discus

Discus

W - 1kg; M 1.5kg

Hammer

Hammer

Optional - W - 3kg ; M - 5kg;

Octathlon

Heptathlon
Junior - ages 18 & 19
As per IAAF and Athletics Canada Rules and Technical Standards
Junior Men's Track and Field Championships
Track 100m, 200m, 400m, 800m, 1,500m, 5,000m, 110m Hurdles (99 cm),
400m Hurdles (91.4 cm), 3,000m steeplechase, 4x100m, 4x400m
Race Walking 10km walk
Jumps High Jump, Long Jump, Triple Jump, Pole Vault
Throws Shot, Discus, Javelin, Hammer
Combined Events Decathlon
Cross Country - 5,000m to 8,000m
Junior Women's Track and Field Championships
Track 100m, 200m, 400m, 800m, 1,500m, 3,000m, 100m Hurdles (84 cm),
400m Hurdles (76.2 cm), 2,000m steeplechase, 4x100m, 4x400m
Race Walking 10km walk
Jumps High Jump, Long Jump, Triple Jump, Pole Vault
Throws Shot, Discus, Javelin, Hammer
Combined Events Heptathlon
Cross Country - 4,000m to 6,000m