Para Athletics
General Info
Para Athletics is the largest sport within the Paralympic Movement with more than 130 participating countries.
Open to male and female athletes in all eligible impairment groups, Para Athletics offers a wide range of competition opportunities at the local, Provincial, and International levels. Athletes compete according to their sport specific classification (see more information on classification below) in each event and there are sport classes for Physical, Vision, and Intellectual Impairments.
BC Athletics in partnership with BC Wheelchair Sports, BC Blind Sports, Sportability BC (CP) Sports, and Amputee Sport BC provides program opportunities for athletes with a disability. There are opportunities for both athletes to participate in Track & Field, Cross Country and Road Running.
BC Wheelchair Sports and the The WC Race Series Society started up the WC Race Series which provides opportunities for athletes with a disability to develop their racing and throwing skills through technical expertise, coaching, and access to provincial meets.
More information can be found on their website about races and events.
How BC Athletics Member Clubs Can Become Para Ready
Community sport clubs confront a number of barriers, including a lack of trained coaches, limited availability of interested coaches/volunteers, limited human resources, equipment, accessible training spaces and inadequate budgets. They also report confusion and lack confidence in identifying what the integration policy is, what it means, and how it should be implemented at the local level. To help tackle these barriers and support clubs in delivering more effective integrated sport opportunities, The Steadward Centre for Personal & Physical Achievement at the University of Alberta has created a resource called Becoming Para Ready.
The Becoming Para Ready resource has been developed as an introductory technical guide to provide coaches and club administrators with knowledge, confidence, and tools to be more proactive – or "ready" – for integration, and to introduce the ways integration can be implemented. "Para Ready" means clubs are prepared to support athletes experiencing disability in some way, by either providing programming or connecting to those that do. Para Ready clubs have proactively planned, prepared, and can be explicit about the ways they can and cannot support all athletes, rather than reacting when contacted by an athlete experiencing disability. The resource was developed specificlally for the sport of athletics.
See: The 9 P's of a Para Ready Program
Help Us Develop a List of Para Athletics Friendly Clubs
Clubs, please fill out this survey so we can create a database of clubs that are:
1) Currently working with Para athletes
2) Currently working with Para athletes but require additional training and resources to be more welcoming and inclusive
3) Not currently working with Para athletes but have the capacity to do so
4) Not currently working with Para athletes and require additional training and resources to be more welcoming and inclusive
Below is a document containing a list of Para friendly clubs, meaning they either currently have, or are interested in taking on more para athletes.
LIST WILL BE RELEASED MAY 2021
Other Resources:
Para Throws Coaching Manual designed by BC Wheelchair Sports
A technical guide for coaching athletes with a disability in para throws
SCAMPER Strategy taken from the Rick Hanson Abilities in Motion Manual
Strategy to use to adapt programming to be inclusive
Successfully Promote Parasport Programs designed by ViaSport
The 6 most important program details that the disability community said they needed to know before deciding whether to participate.
Being a Sport Guide provided by BC Blind Sports
Working with participants who are blind, visually impaired or deafblind
Guidelines for Inclusion in Road Races
This document provides race directors with an overview of considerations for the inclusion of Para-athletes (aka Athletes With A Disability (AWAD)) in road races sanctioned by BC Athletics, to ensure a safe and enjoyable experience for everyone.
Para Athletics Event Summary designed by Athletics Ontario
This document is a summary of the World Para Athletics Rules and Regulations for athletes and coaches starting out in Para-Athletics. It provides a quick reference to important rules unique to different classifications for track and field events. It does not provide coaching or practice tips as each Para-Athlete requires modifications to fit their specific needs.
Track and Field Coaching Tips and Videos designed by Challenged Athletes
Improve Adaptive Track and Field skills and training with these videos created for athltes with physical challenges and coaches
Classification
Para Athletics National Classification
Classification provides a structure for competition. Athletes competing in para sports have an impairment that leads to a competitive disadvantage. Consequently, a system is put in place to minimize the impact of impairments on sport performance and to ensure the success of an athlete is determined by skill, fitness, power, endurance, tactical ability and mental focus. This system is called classification.
Classification determines who is eligible to compete in a para-sport and then groups the eligible athletes into sport classes according to their activity limitation in a certain sport. The aim is that each class should consist of athletes who have impairments that cause approximately the same amount of activity limitation in the key athletic disciplines – running, wheelchair racing, jumps and throws.
More information on Classification can be found
here
.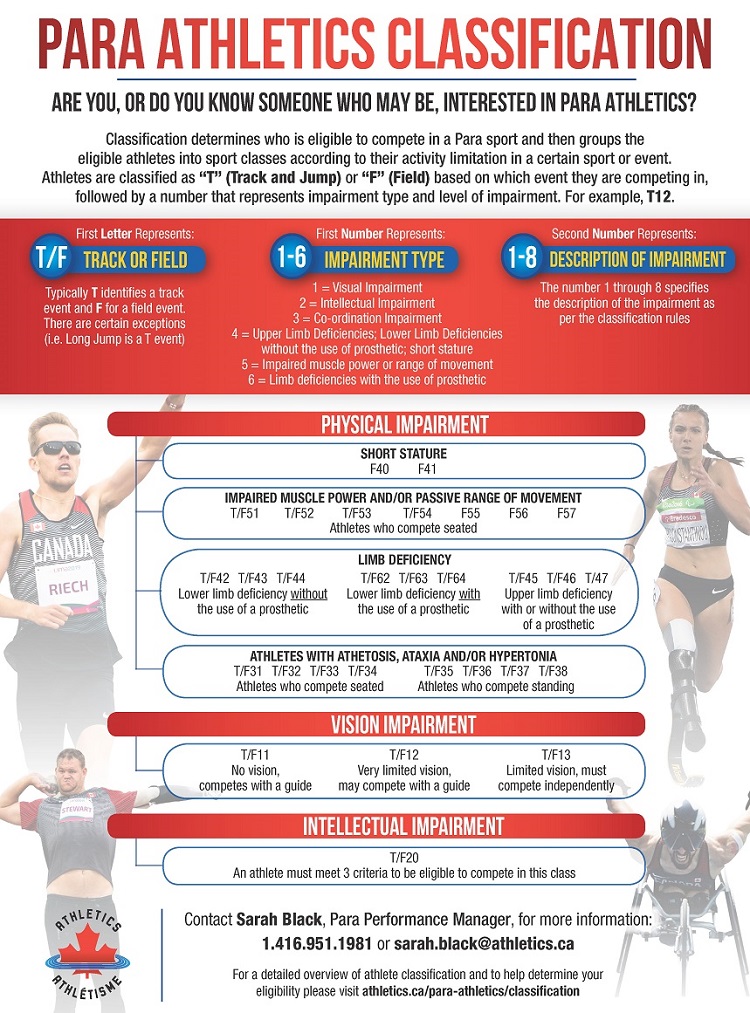 Para Track & Field
For more information about Para Athletics, visit https://paralympic.ca/paralympic-sports/para-athletics
Track events:
Sprint (100m, 200m, 400m)
Middle Distance (800m, 1500m)
Long Distance (5,000m, 10,000m)
Relay races (4x100m)
Road event: Marathon
Jumping events: High Jump, Long Jump, and Triple Jump
Throwing events: Discus, Shot Put, Club Throw and Javelin
Para Road Running
IPC Notices
If this page isn't automatically redirect, click here for more information.