Safe Sport
BC Athletics Statement on Safe Sport
BC Athletics through Individual Members, Member Clubs, Parents/Guardians, Supporters, Board of Directors and Staff believes that all participants involved in Athletics (Track & Field, Road & Cross Country Running; Marathons/Ultras, Race Walking, Trail/Mountain Running) at whatever level and in whatever role have the right to take part in a safe and secure environment.
Whether Training, Competing, Officiating, Coaching, Administrating or Supporting - individuals must feel that they can do so free from abuse, harassment, discrimination or fear of reprisal.
BC Athletics, Athletics Canada, viaSport British Columbia and the Governments of British Columbia and Canada have Laws, Rules, Policies, Processes and Resources in place to help guide clubs and individuals to insuring a positive and safe environment for all involved.
BC Athletics is committed to a Safe Sport Environment and working with you to make your experience in Athletics a positive one.
In the sub menu you will find information and links for:
Resources
Policies and Rules
Processes
Contacts
Education and Training
SafeSport Resources & Information
Parents
Sport Organizations
Coaches
BC Athletics Policies & Resources
BC Athletics - Policies, Constitution, By-laws, Rules, Operating Procedures
BC Athletics Contacts are:
BC Athletics Office – bcathletics@bcathletics.org / 604-333-3550
BC Athletics Chair, Board of Directors – chair@bcathletics.org
BC Athletics President/CEO – brian.mccalder@bcathletics.org / 604-333-3552
BC Athletics Athlete Directors (3)

John Gay – john.gay@bcathletics.org
Rebecca Dutchak – rebecca.dutchak@bcathletics.org
Nathan Riech – nate.riech@bcathletics.org
Presentations, Education, & Training
Please contact BC Athletics to discuss options and resources for presentations on Safe Sport. We can work with the Club(s) and connect you to the appropriate agencies who are trained to deliver/present information and training on Safe Sport.
Contact: BC Athletics: brian.mccalder@bcathletics.org / 604-333-3552
Relative Energy Deficiency in Sport (RED-S)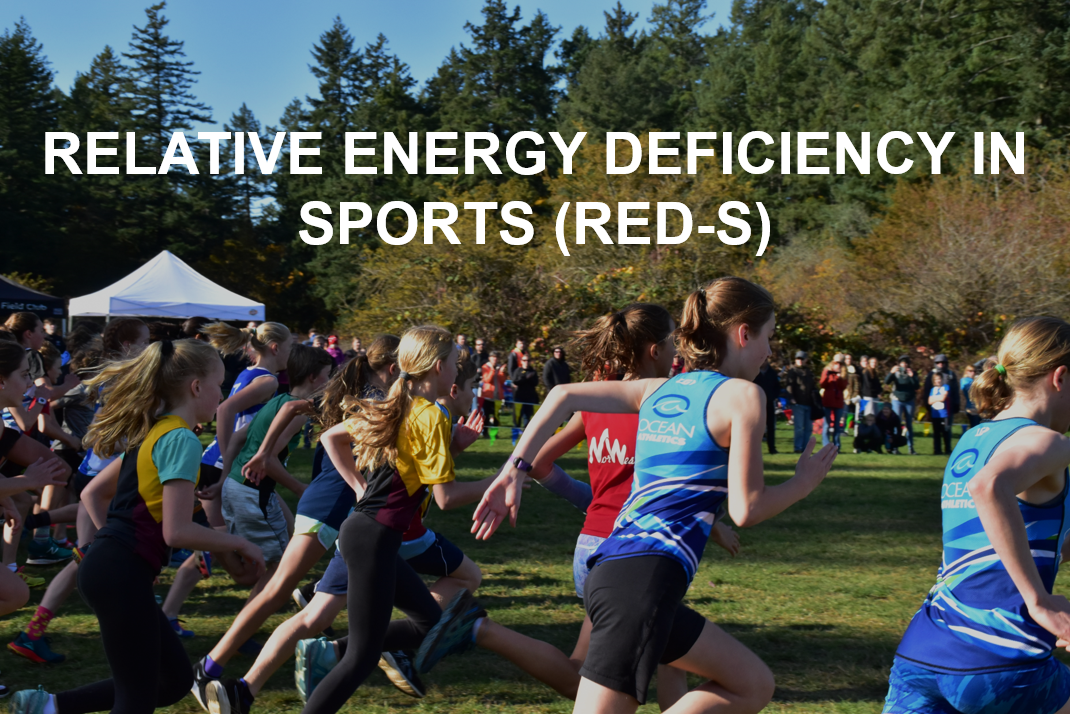 What Is Relative Energy Deficiency in Sport (RED-S)? It is a syndrome that can affect all athletes, of any age and any gender, especially those in "lean" sports such as Track & Field.
Why is RED-S harmful? It impairs health and is associated with higher injury and illness risks. It reduces quality training time and performance.
What Causes Relative Energy Deficiency in Sport (RED-S)? RED-S is caused by low energy availability, which results from an imbalance in the energy the athlete gains from food relative to the energy the athlete expends.
When Can it Occur? Low energy availability can happen in or out of season.
Possible Health Consequences
Decreased bone health
Iron Deficiency
Increased Illness Risk
Increased Injury Risk
Depression
Possilble Performance Oucomes
Decreased Muscular Strength
Decreaseed Endurance
Decreased Concentration
Decreased Coordination
Impaired Judgement
Behavioural Signs & Symtoms:
Dieting that is unnecessary for health or sport performance
Exercising while injured despite recommendations to modify activity
Self criticism concerning body weight, size/shape, and performance
Excessive, compulsive or rigid exercise routine beyond that recommended for training or performance
Physical Signs & Symtoms:
Recurrent injuries (i.e., stress fractures, muscle strains)
Unusually prolonged recovery from minor injuries
Recurrent acute injuries
Persistent fatigue or complaints of being overly tired
Irregular menstruation in females, late first period or stalled puberty
What You Can Do:
EDUCATE: Help prevent incidences of RED-S in athletes by informing them of the risks to performance and health posed by low energy availability. Familiarize yourself with resources in your community.
OBSERVE: Monitor the athlete for the signs listed below. Note any changes in athletes' habits, attitudes or performances in practices or competition.
COMMUNICATE: If you observe signs of RED-S in an athlete, encourage them to seek medical attention from their family physician or a sports-medicine physician. Note that it is not your role to diagnose RED-S in athletes.
SUPPORT: Recovery from RED-S will likely involve long-term behavioural changes on the part of the athlete. It is important that athletes adhere to the recovery program prescribed by their healthcare team. Support the athlete by ensuring they are following the return to sport plan.
---
More Information / Resources
The SportMed Directory of Practitioners
Identifies sport medicine and sport science practitioners who have achieved additional qualifications in sports medicine as outlined by their respective professional colleges or associations and are dedicated.
Find a Sport Medicine Physician
Through the Canadian Association of Sport & Exercise Medicine (CASEM) locate a Sport Medicine Physcian in your local community.
---
RED-S Awareness Pamphlet (Downloadable PDF)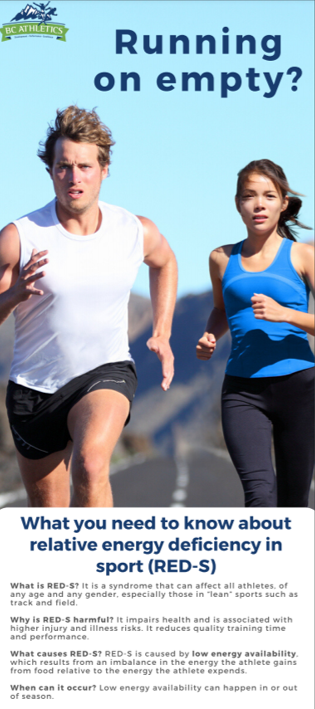 ---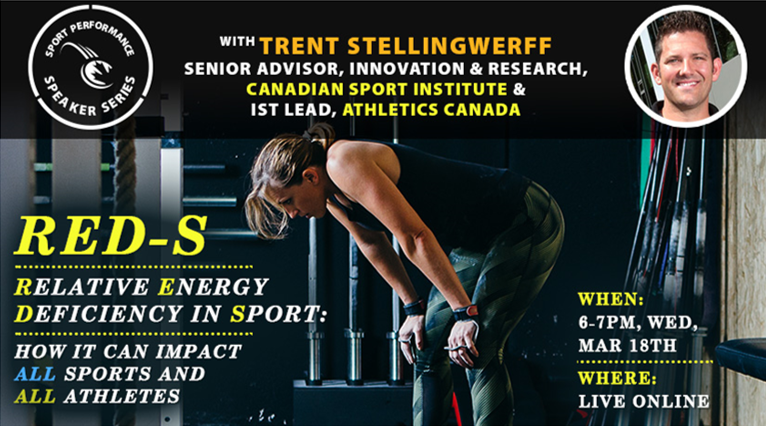 Event: Relative Energy Deficiency In Sport (RED-S): How it can impact all sports and all athletes
Overview:
WHAT IS RED-S?
In 2014, the International Olympic Committee (IOC) convened a group of experts to address and update the topic of the female athlete triad (Triad). A critical review of the evolution of the body of science that has been published since the origin of the Triad in 1972 found that the syndrome is much broader than originally thought. In response to this discovery, the IOC introduced a broader, more comprehensive term known as 'Relative Energy Deficiency in Sport' or RED-S.
---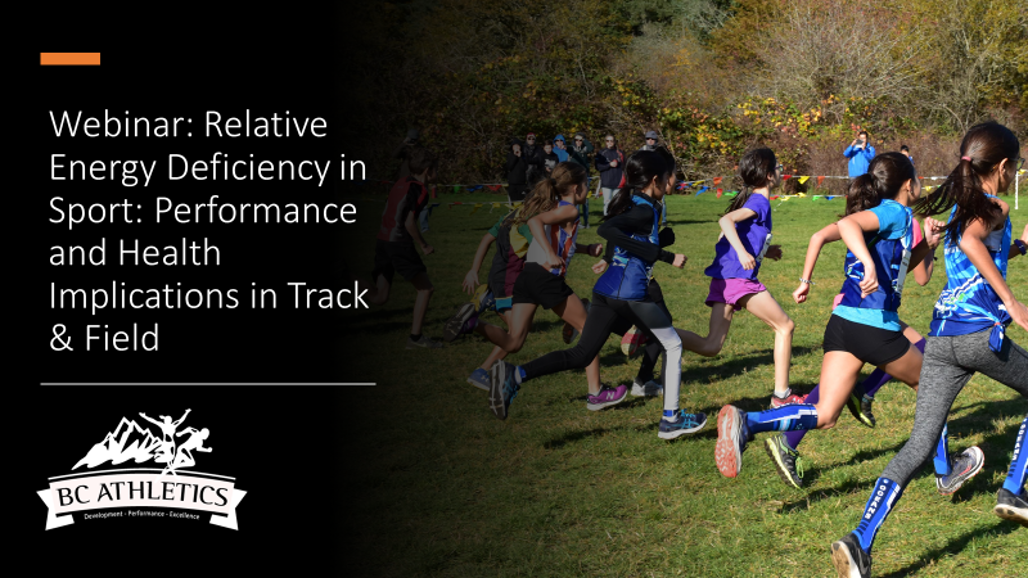 Webinar: Relative Energy Deficiency in Sport: Performance and Health Implications in Track & Field
Overview:
Join Dr. Sara Forsyth and Braeden Charlton as they dive into the topic of Relative Energy Deficiency in Sport (RED-S). During this 60 minute webinar they will answer:
What Is Relative Energy Deficiency in Sport (RED-S)?
Why is RED-S harmful?
What Causes Relative Energy Deficiency in Sport (RED-S)?
When Can it Occur?
Presenters:
Dr. Sara Forsyth
Dr. Sara Forsyth is a local sports medicine physician with strong interests in female athlete health, RED-S, endocrinology, and bone health, as well as endurance performance optimization. Dr. Forsyth attended UBC for both her undergraduate studies and her medical studies, where she completed her residency in family practice and fellowship in sport and exercise medicine under Dr. Jack Taunton. Dr. Forsyth has worked with athletes of all ages and abilities including those at provincial and national levels, as well as those competing on varsity teams.
Braeden Charlton
Braeden is a recent graduate from Simon Fraser University, earning his Bachelor of Science Honour's in Biomedical Physiology. While at Simon Fraser, Braeden competed on the varsity track and cross country teams, specializing in the steeplechase. Braeden also spent time alongside his studies and training coaching junior development athletes with the Vancouver Thunderbirds. After completing his course work, Braeden worked alongside Dr. Sara Forsyth and Dr. David Clarke on a project regarding the relative knowledge of Relative Energy Deficiency in Sport in coaching.