2020 Performance Summit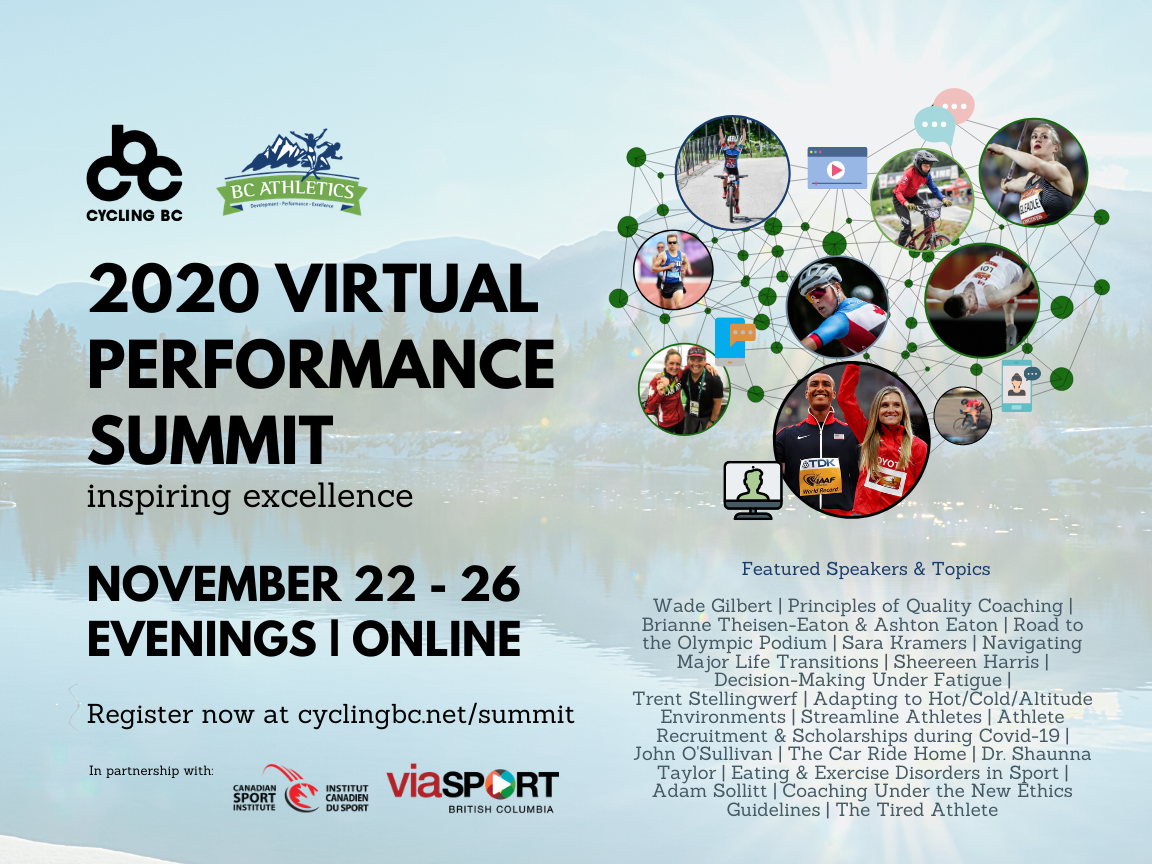 EARLY-BIRD RAFFLE: The first 50 people to register are entered in to win 1 of 8 prizes, including a VO2max test at Fortius Sport & Health, $100 towards an NCCP course of your choice and accessories from Cycling BC and BC Athletics.
Overview:
Join us each evening on November 22nd – 26th, 2020 for a fun and insightful online coach and athlete conference using Telus Business Connect (ZOOM).
Each day features 2 speakers and includes lectures, workshops, and athlete panels designed to answer questions for athletes and coaches working in the "Train-to-Train" and "Train-to-Compete" Long-Term Development Phase.
Participants are invited to attend any and all sessions. However, to help you choose which sessions to attend, we have color-coded the schedule.
"Green" sessions are designed for athletes (aged 15+)

"Blue" sessions are designed for coaches

"Red" sessions are designed for coaches and parents.
***All sessions will be recorded and links to the recordings will be sent to all registrants.
Schedule: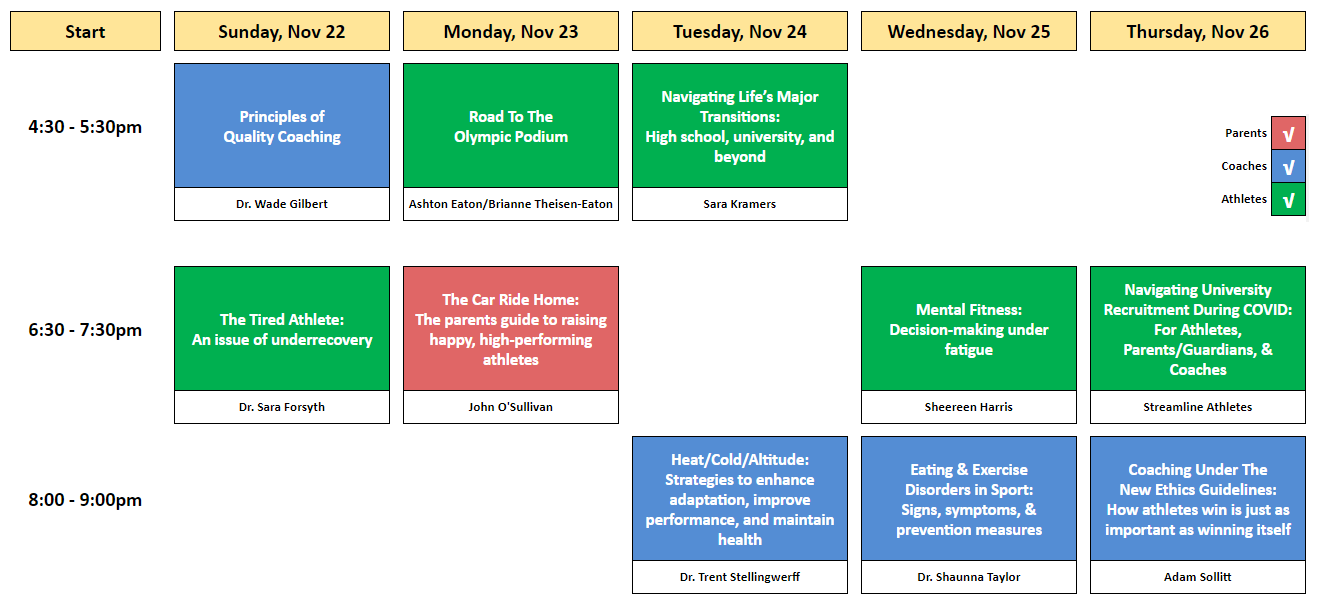 Registration Fee:
BC Athletics Members - $25.00
Non-Members - $50.00
Athletes and parents who plan to share a computer can register once. If you wish, the option to make a small donation is available at the end of the registration process.
***All sessions will be recorded and links to the recordings will be sent to all registrants.
Professional Development Credits:
3 CAC Professional Development Credits
Early-Bird Raffle:
The first 50 people to register will be included in a raffle to win 1 of 8 prizes, provided by Cycling BC, BC Athletics, Fortius Sport & Health!
Guest Speakers:
Brianne Theisen-Eaton & Ashton Eaton
A two-time Olympian (2012 & 2016) and bronze medalist at the 2016 Rio Olympic Games, Theisen-Eaton is the Canadian heptathlon record holder, a record she set at the 2015 Götzis Hypo-Meeting with 6,808 points. In her two appearances at the IAAF World Championships, the Humboldt, Sask., native claimed silver in both contests, adding to her total of seven international medals. For Eaton, he is a 2-time Olympic Champion (2012 & 2016) and the former World record holder in the men's decathlon, accumulating a total of 9,045 points at his last World Championships in 2015 in Beijing, China. He still holds the World Championships record with that total and is the American decathlon record holder. Between the two, Theisen-Eaton and Eaton are the definition of a power couple when it comes to athletics, claiming a total of 15 global medals throughout their careers.
Wade Gilbert
Dr. Wade Gilbert is an internationally renowned coaching consultant and sport scientist and an award-winning professor in the Department of Kinesiology at California State University – Fresno. Gilbert holds degrees in physical education, human kinetics, and education, and has taught and studied coaching and talent development at the University of Ottawa, University of California – Los Angeles (UCLA), and Fresno State. He is author of the highly acclaimed book Coaching Better Every Season and Editor Emeritus of the International Sport Coaching Journal. Gilbert has counseled coaches and sport organizations around the world spanning all competitive levels and in every sport imaginable. Wade currently also serves as the mental performance coach for the Canadian Women's Softball team that will be competing in the Tokyo 2021 Summer Olympics.
Trent Stellingwerff
Trent is an applied sport physiologist with a specialization in the area of performance nutrition. He earned a Bachelor of Science in Human Nutrition and Exercise Physiology at Cornell University and he earned his Ph.D. from the University of Guelph in Exercise and Skeletal Muscle Physiology. In his current role, he focuses on providing his physiology and nutrition expertise to Canada's national rowing, track and field and triathlon teams, as well as leading Canadian Sport Institute's Innovation and Research division. Trent previously worked as the senior leading scientist in Performance Nutrition for Power Bar at the Nestle Research Center in Lausanne, Switzerland. An experienced researcher, Trent has more than 40 peer-reviewed scientific publications and is currently on the editorial board for the International Journal of Sports Physiology and Performance and International Journal of Sports Nutrition & Exercise Metabolism. He has co-authored six book chapters focusing on the role that nutrition can play in supporting elite athlete performance, including a chapter on 'Nutrition for the Endurance Athlete', for the newest version of the 2013 IOC Sports Nutrition Encyclopaedia. Trent has attended many World Championships and Olympic Games as part of Team Canada's Integrated Support Team and consults several Olympic athletes from around the world, including his wife Hilary, who competed for Canada in the 1500m at the 2012 Games.
Shaunna Taylor
Dr. Shaunna Taylor is a Certified Clinical Counsellor (CCC) who serves as the Chair of the Canadian Sport Psychology Association (MPC) and is an Adjunct Professor at the University of British Columbia, School of Kinesiology's Master's Certificate Program (High Performance Coaching & Technical Leadership). Having studied at the University of Ottawa she has over 20 years experience consulting and providing athlete and coach support from grassroots sport to high performance Olympic/Paralympic sport. An advocate for promoting mental performance and mental health as part of holistic development systems her areas of expertise include: mental preparation and health screening, goal setting, conflict resolution, stress management, body image and disordered eating prevention, athlete transition planning. Dr. Shaunna Taylor has experience serving as an integrated support team member to 6 Olympic and 4 Paralympic Games. She brings decades of experience to athletes and coaches looking to develop their mental flexibility. Shaunna currently serves as a mental performance service provider to Ballet Kelowna, athlete and coach services at PacificSport Okanagan, as well as the Canadian Centre for Mental Health in Sport.
Sheereen Harris
Sheereen Harris is a PhD Candidate in the Exercise and Health Psychology Lab at McMaster University (Hamilton, Ontario). Harris's research interests include self-control, mental fatigue, motivation, and effort-based decision-making and her current research investigates how mental fatigue and other feeling states affect one's willingness to engage in exercise behaviours. Harris completed her undergraduate degree in Kinesiology and Health Sciences at York University (Toronto, ON) while competing as a sprinter on York's Varsity Track and Field team. Since 2017, Harris has been a speed coach through McMaster University's Strength and Conditioning team, preparing football student-athletes for regional and national combines. As a former athlete, Harris is passionate about encouraging the overall development of athletes.
Sara Kramers
Bio Coming Soon
Dr. Sara Forsyth
Dr. Sara Forsyth is a local sports medicine physician with strong interests in female athlete health, RED-S, endocrinology, and bone health, as well as endurance performance optimization. Dr. Forsyth attended UBC for both her undergraduate studies and her medical studies, where she completed her residency in family practice and fellowship in sport and exercise medicine under Dr. Jack Taunton. Dr. Forsyth also went on to earn her Master's in Science defending her thesis on the effects of exercise on platelets in a platelet rich plasma preparation. Dr. Forsyth has worked with athletes of all ages and abilities including those at provincial and national levels, as well as those competing on varsity teams. Dr. Forsyth has also been involved with multiple high level teams and is currently working alongside the Women's National Volleyball team and the Vancouver Warriors Lacrosse team. In her personal sport pursuits, Dr. Forsyth has completed multiple Ironman distance triathlons and marathons.
Adam Sollitt
Bio Coming Soon
John O'Sullivan
John O'Sullivan is the Founder of the Changing the Game Project, and author of the international bestsellers Changing the Game: The Parents Guide to Raising Happy, High Performing Athletes, and Giving Youth Sports Back to our Kids and Every Moment Matters: How the World's Best Coaches Inspire Their Athletes and Build Championship Teams He has nearly 3 decades of playing and coaching experience in youth, high school, college and professional soccer, and consults with organizations such as US Soccer, USOPC, Ireland Rugby, Aussie Rules Football and other sports organizations across North America, Australia, Asia and Europe. John speaks to parents and coaches around the world about the issues facing today's children and helps organizations create collaborative environments amongst parents and coaches that help their athletes perform to their potential.
Streamline Athletes
Streamline Athletes is an online sports recruiting platform that aims to bring athletes and opportunities together by streamlining the process for all. Their goal is to empower athletes for a life without limits and bring equality, democratization and opportunities to sport. Natalia Hawthorn & Brett Montrose (co-CEO) will be presenting a session on Navigating University Recruitment During Covid: For athletes, parents/guardians and coaches. The session will also be featuring an athlete panel made up of two track & field athletes John Gay (3X NAIA 3000M SC Champion) and Jaimie Phelan (NCAA DI 1500M Champion), along with XCO racer Jenn Jackson who competes in the UCI circuit for the Norco Factory Team!
***All sessions will be recorded and links to the recordings will be sent to all registrants.