Pathway to Level 2 - Regional Official
Pathway to Level 2—Regional Official
The pathway to Level 2 Official is for:
those officials who are currently Level 1, or
those with previous experience in the world of athletics. For example, athletes, coaches and volunteer parents will enter the official's development program at this pathway. Experience must be within the previous 7 years and significant enough that the prospective official has a solid understanding of the major events that comprise athletics.
The pathway to Level 2 provides the base line officiating knowledge and skills in the major events such that you can participate in officiating teams and make some officiating decisions under supervision of a Level 3 or higher official. A Level 2 official is expected to be able to:
Work as part of an officiating team.
Apply the basic rules in a consistent and fair manner—after an orientation session and under supervision of a Level 3 or higher official.
Follow safety procedures.
Examples of activities a Level 2 official may undertake include the following:
Track—helping to assemble athletes for their race and monitoring the race for any rule infractions.
Field events—setting up and adjusting equipment, measuring results, operating a timing clock and organizing athletes in competition sequence.
The pathway starts with training delivered over the internet that you can complete at their own time, pace and location. The training is followed by participation at track and field meets to gain hands-on experience in the disciplines of track, throwing events, horizontal jumps and vertical jumps. A mentor is assigned to support the experience component and answer questions that may arise during the pathway, including next steps after becoming a Level 2 official. The mentor will also confirm the official has met the requirements of Level 2.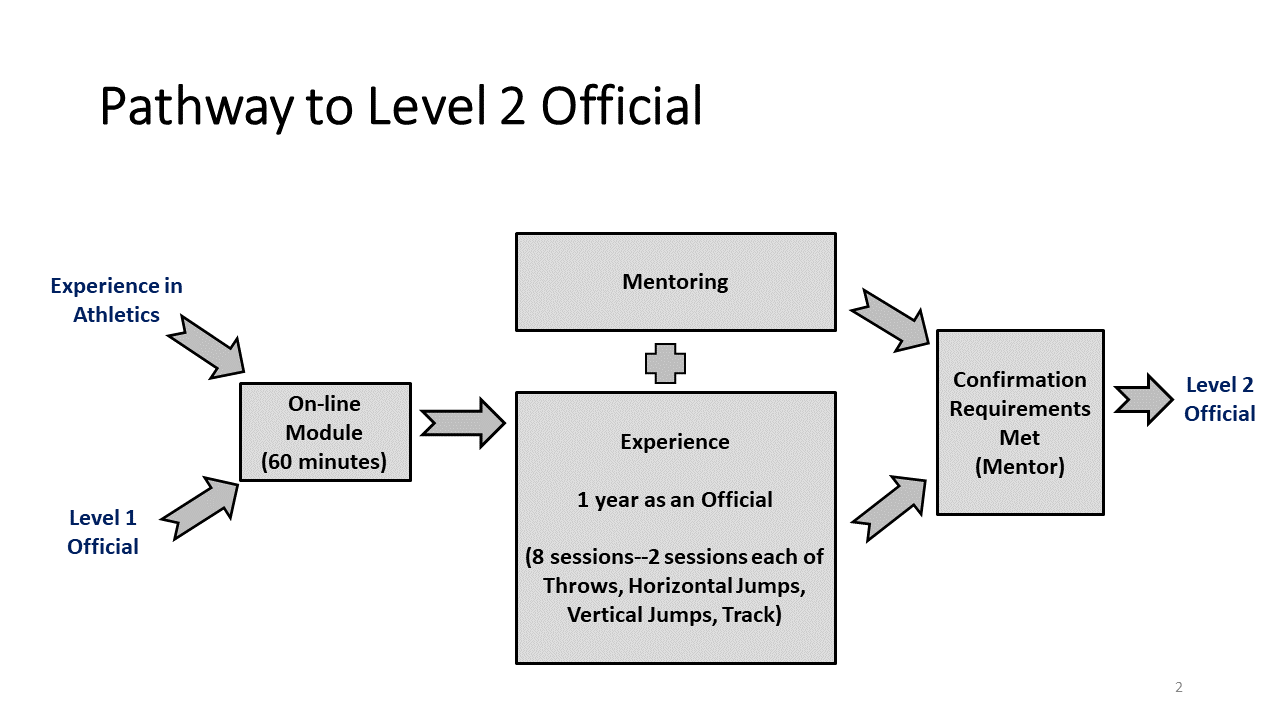 Requirements for Joining the Pathway to Level 2:
Must be a BC Athletics member—including completing a Criminal Record Check and signing all waivers (e.g., COVID).
Fee--$25.
Benefits—in addition to all the benefits of being a member of BC Athletics, a prospective official on the pathway to Level 2 will receive online training and hands on experience in officiating to apply learnings and build experience. A mentoring program will support the prospective official to completion of Level 2. Benefits also include a World Athletics rule book and, upon successful completion, an officiating polo shirt and personal name tag.
The "Fine Print"
The requirement for one year experience as an official is 12 months from the date the prospective official registers for the pathway to Level 2 and pays the $25 fee.
A session under the experience component is 4 hours, hands-on experience working as an official under an experienced official. Meets lasting less than 4 hours can be combined to create one session with a combined length of at least 4 hours. Each session must involve a different team of officials and activity within the discipline. The purpose is to provide a range of experience.
Sessions start after registering for the pathway to level 2. Un-used credits as Level 1 official do not count towards the eight sessions on the pathway to level 2.
Officials must have a unique email address (i.e., not shared with others)!
Questions? Please contact the B.C. Provincial Recruiting Coordinator Marilyn Benz or Debbie Foote