Mateya Haintz Recognized With Aboriginal Youth Excellence in Sport Award
April 5, 2017 10:46am
Mateya Haintz, a Hammer and Discus Thrower from Pitt Meadows who's the BC High School hammer champion and silver medalist in hammer at the Legion Nationals, was recently honored with a 2016 Premier's Award for Aboriginal Youth Excellence in Sport. These awards were given to twelve outstanding Aboriginal youth athletes from British Columbia and were presented by Gordon Hogg, Parliamentary Secretary for Youth Sport, during a formal celebration held during the opening ceremonies of the Gathering Our Voices Youth Conference at the Delta Grand Okanagan Resort and Conference Centre in Kelowna, B.C. BC Athletics caught up with Mateya to talk about what the award means to her, how her winter of training has been going, and what her goals are for the outdoor season.
BC Athletics: First off we would like to congratulate you on being nominated for and receiving a Premier's Award for Aboriginal Youth Excellence in Sport. What an incredible honor! Can you tell us a little bit about the award and what it means to you to have received such an honor?
The award was given to 12 outstanding Aboriginal youth in BC who have shown leadership in not only sport, but also in culture and school. I feel that this award is a way to inspire other Aboriginal youth and to show them that hard work and dedication do pay off and that it is possible for anyone to achieve greatness. It means the world to me to be one of these role models for other Aboriginal youth and to be recognized for my achievements in sport, school, and culture. Therefore, I am incredibly grateful to be one of the 12 recipients to have received such an honor.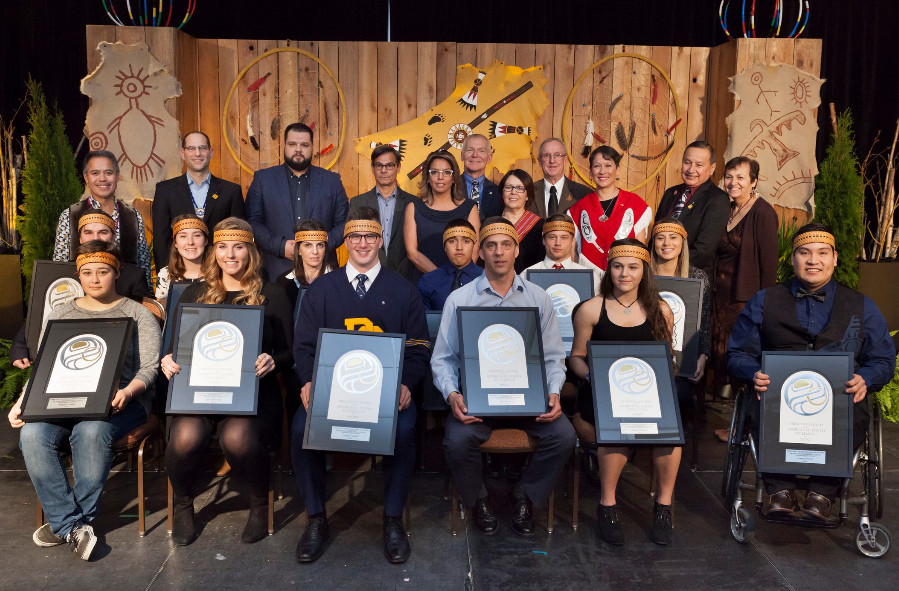 BC Athletics: Can you tell us a little bit about your experience so far in Track & Field. (i.e. what first got you into the sport and what you credit for the success you've had so far?)
When I was younger I always had a love for sports and I had tried almost every sport, but I never really found a love for any until I tried track and field. At first, like any young child, I immediately gravitated to the running events as running is the most commonly known event to a small grade 4 trying it out for the first time. However, I soon figured out that running was not my event, so I then tried the field events. I immediately saw success and fell in love with throwing and began training with my dad, who wasn't too knowledgeable in the sport. Once I hit grade 6, I desperately wanted to try hammer, as I had heard that size did not play as big of a role as it did in the shot-put and discus, as I was very small at the time. We then met a throwing coach named Brad Graham, who since then has been training me to be the best thrower I can be. Most of my success would be credited to him, my two outstanding parents for escorting me to and from practice and for supporting me all the way, and my teammates for keeping my motivation high, my goals clear, and for being the best role models any young athlete could have.
BC Athletics: How has your Winter of training gone? Did you find the extra snow that we had in the lower mainland challenging? Did you have to be creative at all with your training to get it in?
Winter training has definitely been off and on and a little hindered by the snow but, overall it has been very successful. This winter, my coach and I had set some goals for this upcoming track season, one of them being a gain in strength and size. I am glad to say that this has been accomplished and is improving day by day. The snow, however, was a bit of a struggle when it came to outdoor throwing, but in the end we made do with either some salt to melt the ice on the nicer days, or indoor drilling on the worse ones.
BC Athletics: What are you goals for the outdoor season? Are there any big meets are you targeting later in the summer?
This upcoming track season, I plan to defend my BC High School hammer title and also plan to make the Legion Nationals Team BC team once again, as it was an amazing experience last summer. I had also been aiming to make the Canadian team for the Youth Worlds in Kenya, but as there is no team we have been readjusting goals for this season. Finally, I plan on continuing to gain strength and size, as well as creating new personal bests for myself during this upcoming track season.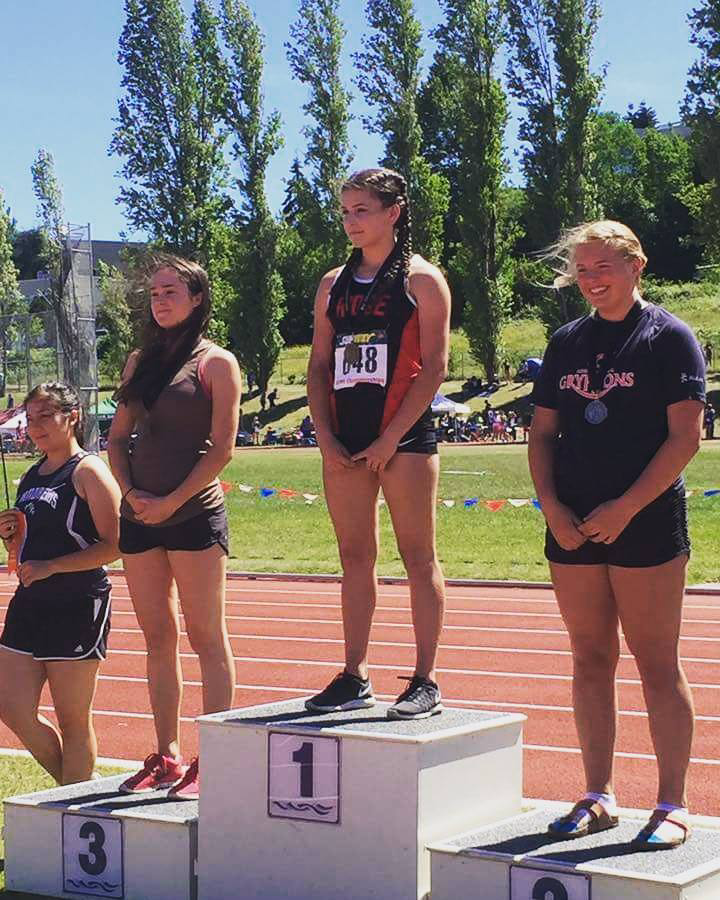 Thank you Mateya for taking the time to speak with us and good luck in your upcoming competitions!
-Chris Winter, Technical Manager, BC Athletics