Registration Deadline Extended! 2020 Performance Summit.
January 21, 2020 16:54pm
Registration Deadline Extended Until Jan 24, 2020
Event: Performance Summit
Date: January 25, 2020
Location: Fortius Sport & Health, Burnaby, BC. Map.
Overview: Join us at Fortius Sport & Health on January 25th, 2020 and prepare for a fantastic season of sport. This event features a day of insightful presentations and engaging workshops designed for Athletes, Coaches & Parents in the Athletics and Cycling community.
Schedule: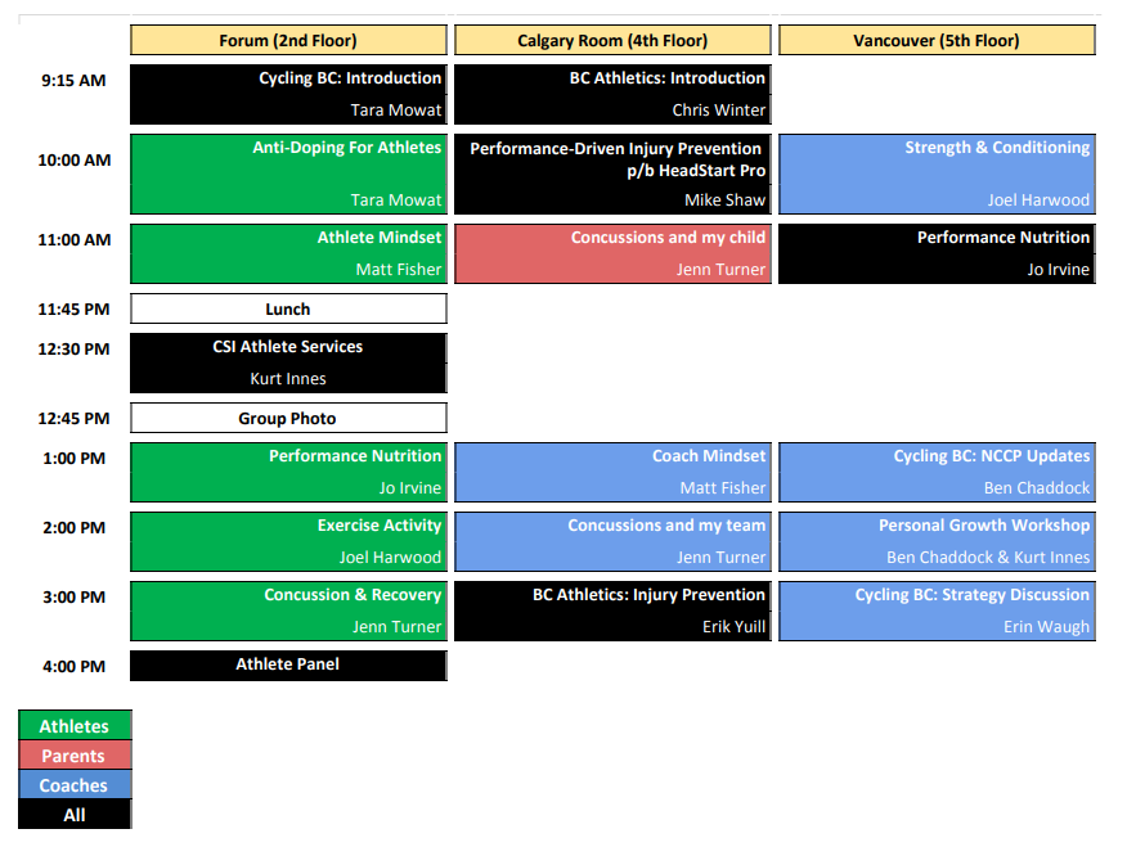 Registration Fee:
BC Athletics High Performance Program Athletes - $25 (Promo Code Required)
BC Athletics High Performance Parents - $25 (morning sessions only)*
BC Athletics Coaches & Members - $60 (Coaching Travel Grants Available)
Non-Members - $120

*Parents of BC Athletics High Performance athletes wishing to have lunch and attend afternoon sessions are asked to pay the full $60 ticket price.
Registration Perks:
Accommodations:
Fortius Lodge is proud to offer a rate of $101 per night (Rooms include two double beds). The Fortius Lodge is situated on the top three floors of the Fortius Sport & Health integrated athlete development centre in Burnaby, BC. Guests have complementary access to their state-of-the-art fitness and performance centre, as well free wifi and free parking. Visit the Fortius website to learn more about the Lodge. Call 604.292.2500 to book and state that you are a BC Athletics members to recieve your discounted rate.
More Info & Registration (Registration Closes Jan 24th, 2020)
Questions can be sent to Chris Winter - Chris.Winter@bcathletics.org