Grassroots (Age 6-8)
SPRING BREAK CAMP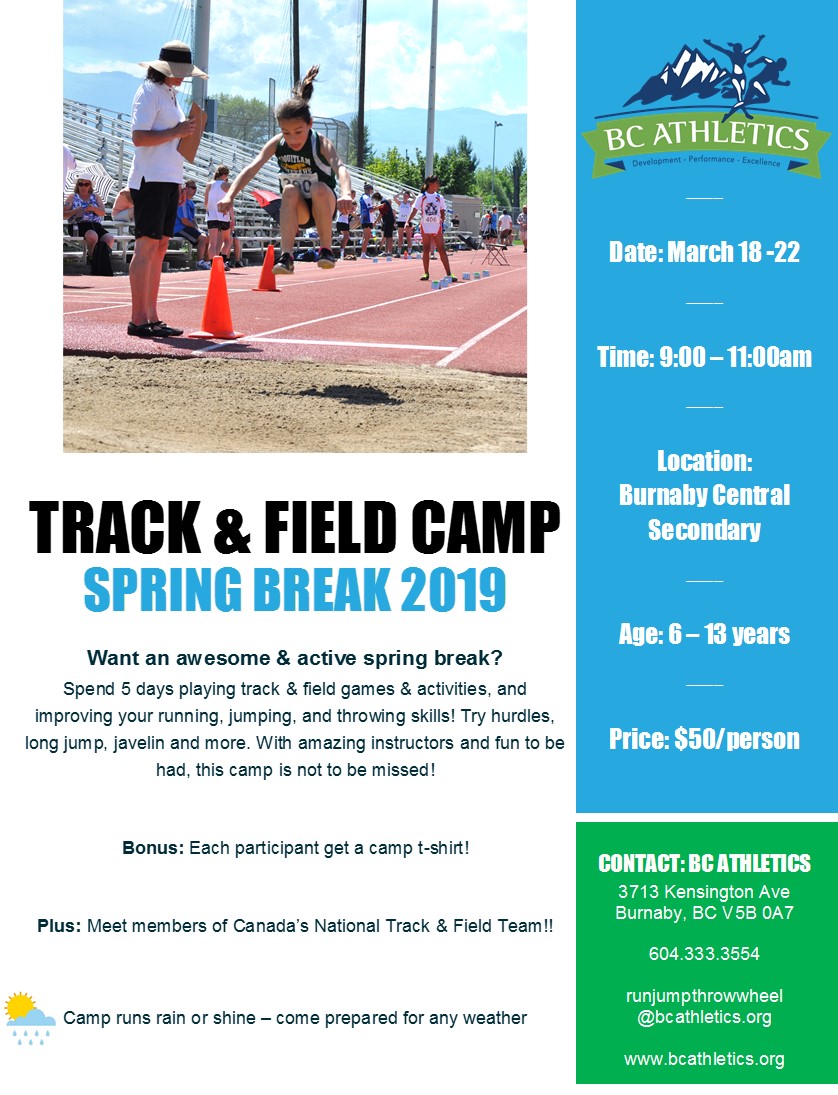 Register today at: www.trackiereg.com/bcathletics/springbreak19
Registration deadline is: Sunday, March 10 at 11:59pm
Run Jump Throw Wheek
Developed by Athletics Canada and presented by BC Athletics,
RJTW is the grassroots development program for our sport.
This program teaches the FUNdamental movements skills of running, jumping, throwing and wheeling (for children in wheelchairs) using
track and field inspired games, activities and skill challenges. It is designed for children ages 6-12, has progressions for older athletes, and can be adapted for special needs.
RunJumpThrowWheel skills form the basis of all land based sport and as such, RJTW provides a strong foundation for success in all sports and physical activities, which allows participants to develop a positive self image and be the best they can be.
Any teacher, coach, recreation leader, or parent is capable of delivering the Run Jump Throw Wheel program!
RJTW is:
Integrated for development at all levels
Broad based and progressive
FUNdamental to all land based sports
Inclusive for all abilities and maturational stages
Adaptive to special needs and disabilities
Gender equitable
RJTW stresses:
Skills of RUNNING, JUMPING, THROWING and WHEELING in age appropriate sequential progressions
Individual improvement and positive reinforcement
FUN and active learning environment
Improvement in physical and emotional well being
Safety and certified instruction


Track Rascal Club Programs - Join One
​Track Rascals is a club program that integrates the RunJumpThrowWheel values into a program for
kids 6 to 8 years old. This gives children who are too young for the Junior Development program to experience track & field in all its glory!
Find a club near you that offers a Track Rascal program below to allow your child to develop skills that will be valuable for life!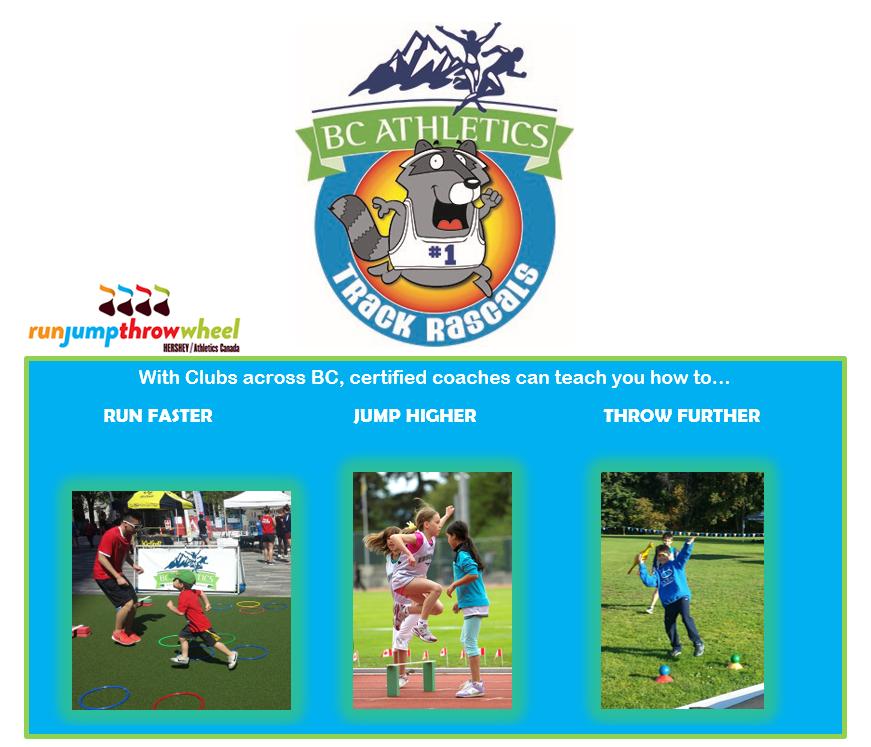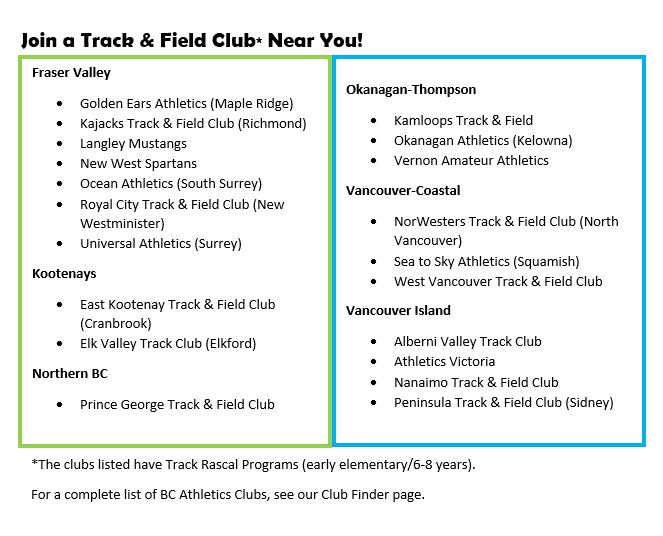 Click here for our Club Finder page.
Track Rascal Club Programs - Start One

---
WHY offer a Track Rascals program in your BC Athletics club?
Introduces children to the sport of track and field
It's fun, non-competitive, and inclusive
Club based RUN JUMP THROW WHEEL program delivery
Increased Club Membership (Track Rascals members are aged 6 - 8)
Quality Long Term Athlete Development (LTAD) programming - develops better overall athletes by teaching physical literacy during optimal windows of opportunity
WHO can coach the Track Rascals?
Older athletes (to earn volunteer hours, work experience, school credits)
Parents who want to get off the sidelines and into the action
Community leaders
Club coaches
HOW do you start?
Sample Scheduling:

| | |
| --- | --- |
| Program Length: | 6-8 weeks |
| Sessions: | 2 per week |
| Session Length: | 45 minutes per session |
Contact BC Athletics to host a Run Jump Throw Wheel training course for your coaches/volunteers
Establish your Track Rascals schedule ⇒
Promote your program - Register some Track Rascals!
Track Rascals Memberships are only $15.00 with BC Athletics + any registration fees charged by clubs
WHAT do you need to run a Track Rascals program?
Space at the track
Trained RJTW Instructors
A desire to have FUN!

Contact BC Athletics at runjumpthrowwheel@bcathletics.org or 604-333-3554 for more information!
School Programs - For Students
Bring

To Your School!
Have an RunJumpThrowWheel Sports Day with our certified instructors!
Our NCCP trained instructors will come to your school or community center and lead your students durinig their regularly scheduled PE classes. Using track & field inspired games and activities, your students will have a great time increasing their physical literacy and fundamental movement skills. Our instructors are also trained to provide adaptations for students with physical or intellectual exceptionalities.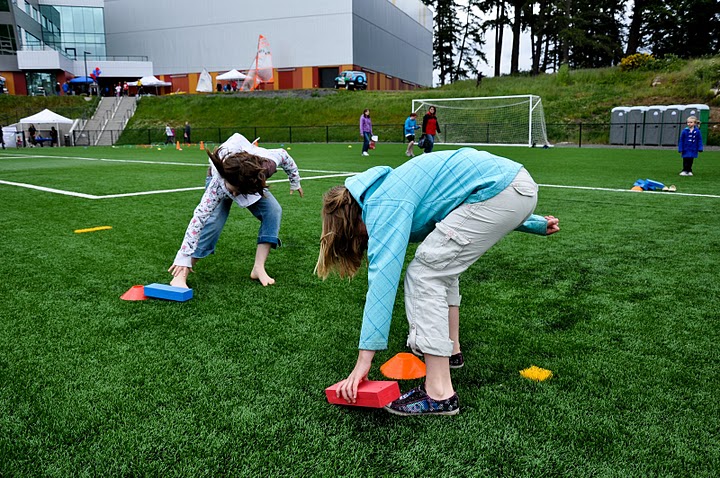 Contact BC Athletics to book a RunJumpThrowWheel event for you school!
runjumpthrowwheel@bcathletics.org
(604) 333 - 3554
School Programs - For Teachers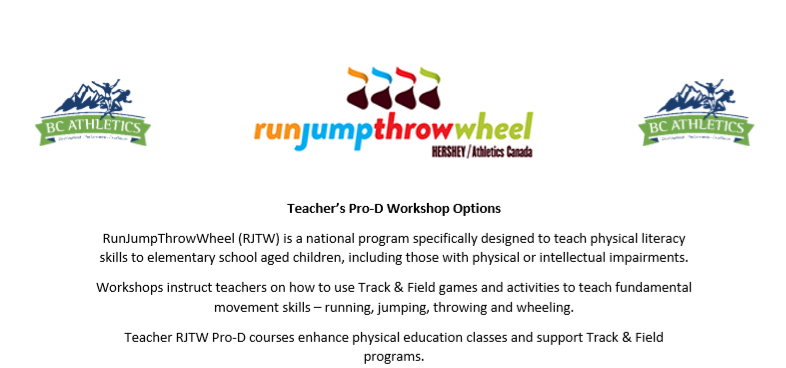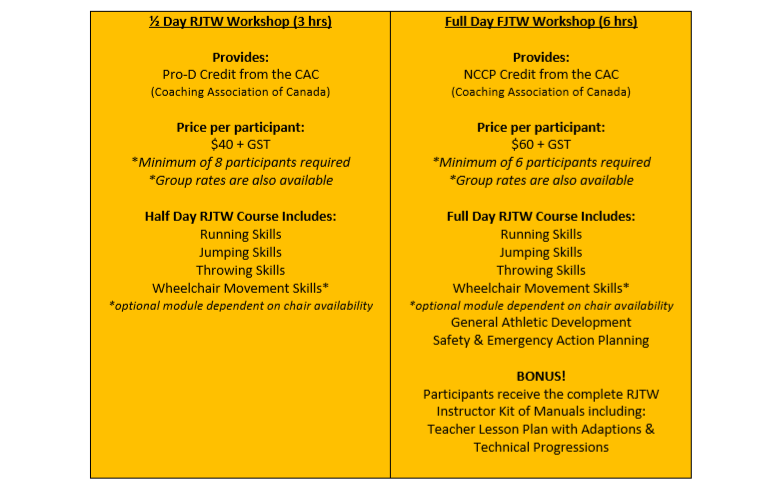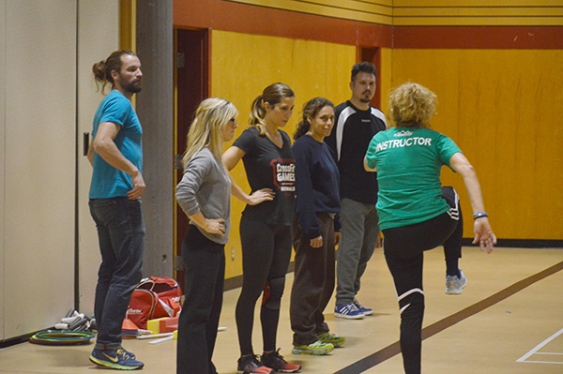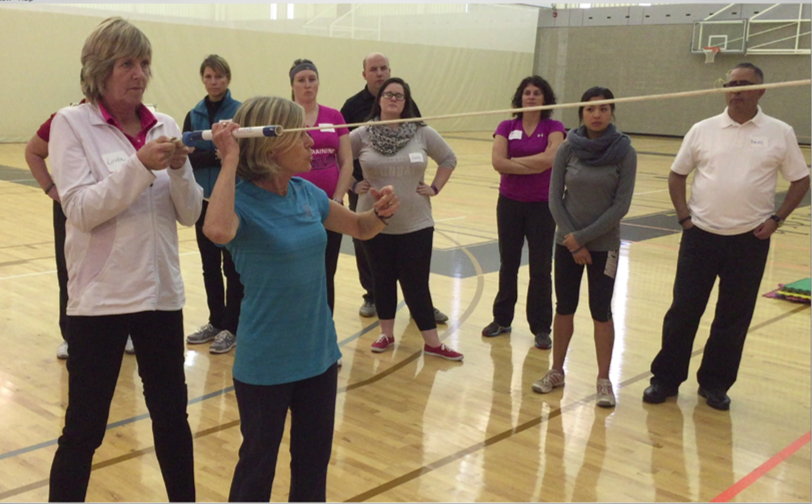 Have questions about RunJumpThrowWheel?
Want to set up a RunJumpThrowWheel workshop at your school or in your district?
Contact BC Athletics to start!
runjumpthrowwheel@bcathletics.org
(604) 333 - 3554
RJTW Program Instructor Training
Interested in becoming a

Run

Jump

Throw

Wheel

Instructor or Coach Developer?
Take a look at our courses options below! We would be happy to arrange a workshop for your group/organization. To request an Instructor Course contact runjumpthrowwheel@bcathletics.org.
*RJTW Coach Developer candidates must already be NCCP Certified RJTW Instructors


Types of courses offered:
Cost per person:
Who?
Length?
NCCP
Certification?
Details
Introductory
Presentation
$40.00

Great for teachers and special interest groups
Ideal for Pro-D

4 hours
​NO
Community Recreation
One-Day Course
$75.00

Community leaders and coaches, parents or anyone interested in learning about Physical Literacy and grassroots sports skills

8 hours
NO
Teachers Only Course
$75.00

BC Elementary and Secondary school teachers ONLY

8 hours
(including 1.5 hrs practical training)
​ YES
NCCP
Two-Day Course
$100.00

Community leaders, coaches, parents, etc.

15 hours
(including 3 hrs practical training)
​ YES

Feedback:
Did you recently complete one of the above instructor courses? Your feedback can greatly impact the future success of the RJTW program! Click HERE to fill out a short five minute survey.

RJTW Equipment

RJTW Equipment Bag
Everything you need to start and run your local RJTW program is here in the RJTW Equipment Bag.

The bag includes: cones, balls, hurdle sticks, agility blocks, and more. Everything comes inside a brand new NIKE duffle bag for ease of transportation and storing.

New equipment supplier FlagHouse = cheaper bags and ability to purchase individual pieces!
Purchase online or call
1-800-265-6900 (option 1)
NOW AVAILABLE:
RJTW Instructor Shirts
$15.00 (+GST) per shirt
Standard adult sizing (S,M,L)
Colours: Red, Green, Yellow, Blue
(limited availability)
To order, contact BC Athletics at:
T: 604.333.3554
E: runjumpthrowwheel@bcathletics.org
Upcoming Events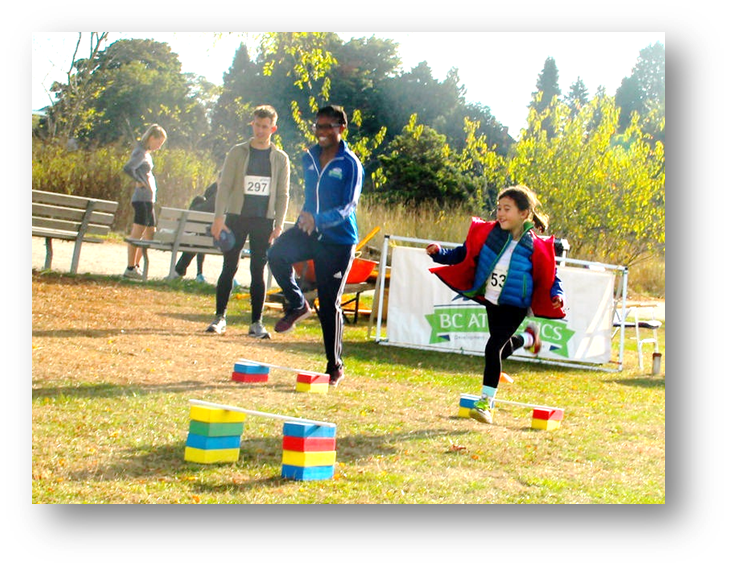 Come and participate in RunJumpThrowWheel at a community event near you!

There is always more fun being added so keep checking back!
EVENT

LOCATION

DATE

TIME

EVENT INFORMATION

Pacific Invitational

McLeod Athletic Park
(Langley)

June 17
11:00AM
Ages 6-8
Jack Brow Memorial
Apple Bowl Stadium
(Kelowna)
June 30
12:00PM

Ages 6-8

Universal Athletics Meet
Bear Creek Park
(Surrey)
July 1
11:00AM

Ages 6-8

Trevor Craven Memorial

Swangard Stadium
(Burnaby)

TBA
TBA

Ages 6-8

Junior Development
Track & Field Championships
Apple Bowl Stadium
(Kelowna)
July 28

12:00PM

Ages 6-8
RJTW SUCCESS STORIES
Chemanius, Duncan BC
​July 11/2018:
Thanks to the Indigenous Sport, Physical Activity and Recreation Council (ISPARC) and our dedicated RunJumpThrowWheel instructors, track & field was brought to a First Nation community in Chemanius. This camp saw over 30 kids between ages of 7-15, and all enjoyed an afternoon of games and physical activity. It was all smiles for both the instructors and the kids as they run, jumped and threw themselves across the gym floor!
---
​Robson Square, Vancouver BC
​​July 1/2018:
Vancouver started Canada Day celebrations early with all of the Provincial Sport Organizations setting up in Robson Square at 10:00 AM. BC Athletics had a large turf area full of hurdling and throwing stations that saw over 100 kids. Bringing sports and athletics to Vancouver is always fun for our RunJumpThrowWheel leaders, as there are abdunance of Vancouver clubs nearby that are looking for new Track Rascals.
---
Richmond Olympic Oval, Richmond BC
​June 8/2018:
The Richmond Olympic Oval hosted many sports on June 8th to celebrate Olympic Day with many elementary schools in the lower mainland. BC Athletics was invited to host a RunJumpThrowWheel station to showcase track and field sports to upwards of 2000 elementary aged kids. There were three options for the children: a hurdling station (a clear favourite), a relay station involving building blocks and sprints, and a throwing station where discs were thrown at targets from various distances. See pictures below!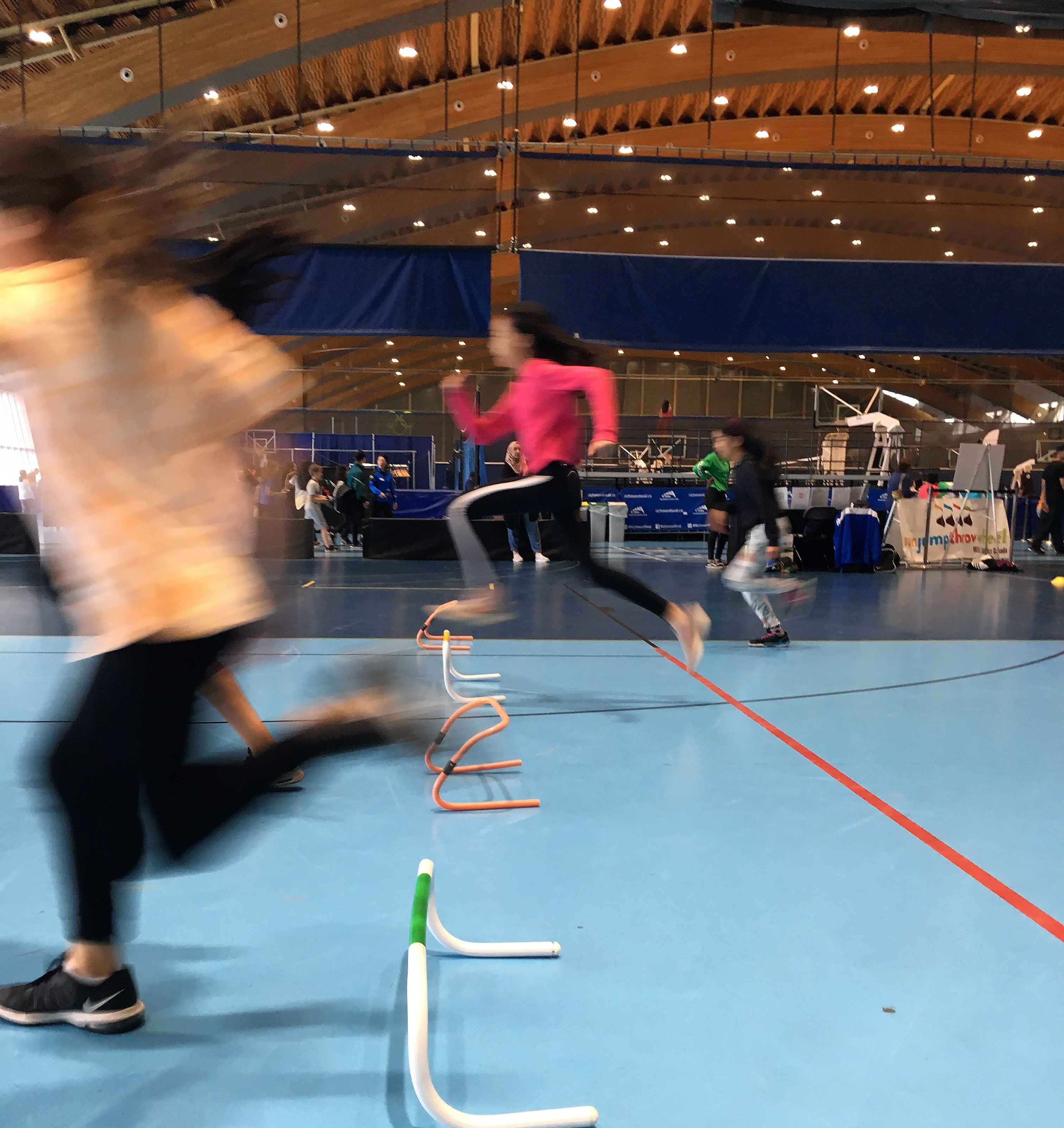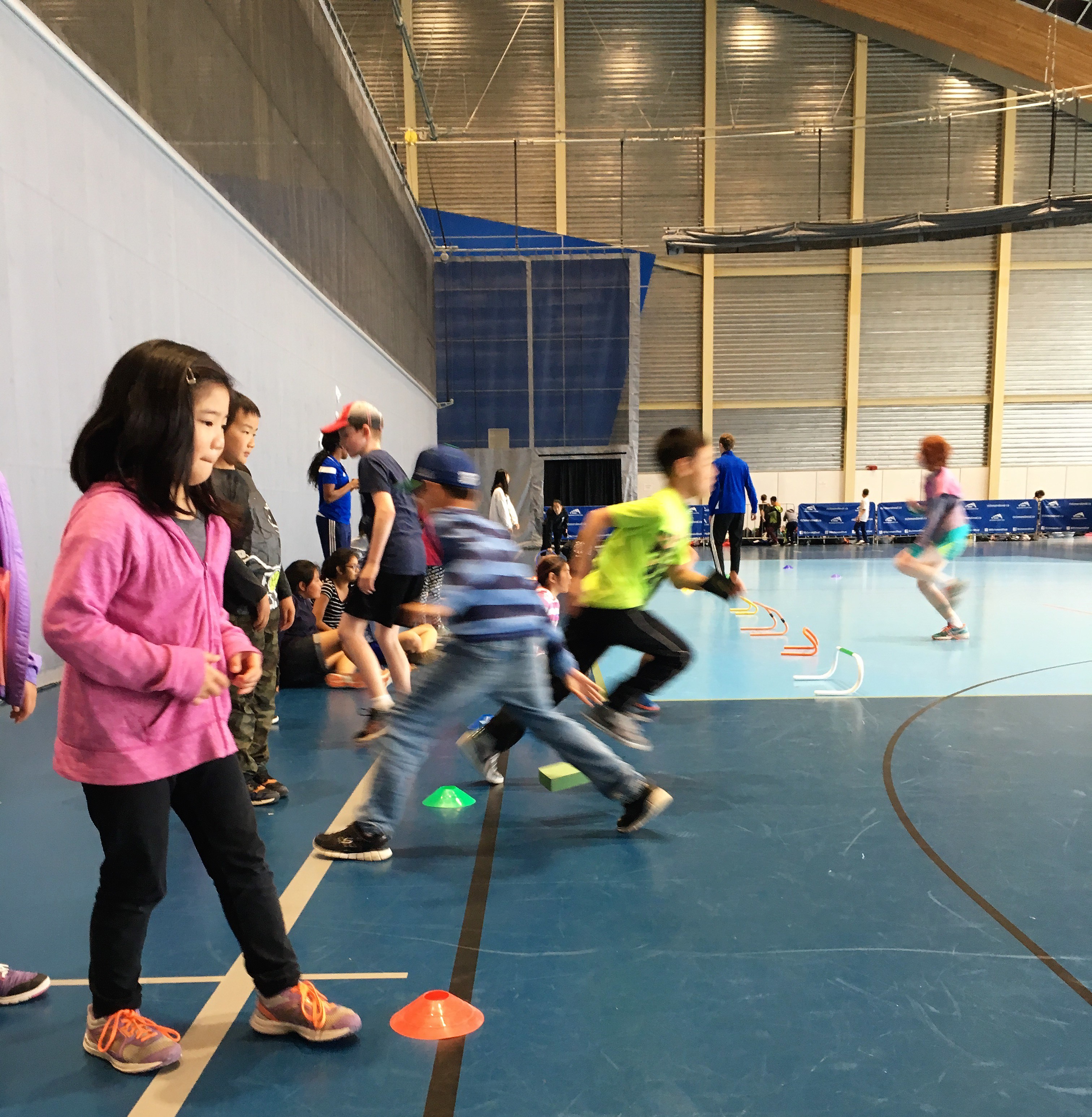 ---
College of New Caledonia, Prince George BC
November 20/2015:
The College of New Caledonia has been a main center for RJT instructor training being centrally located in Prince George to service the Northern BC region where the RJT program instructor training is embedded into KINS 110 class (Introduction to Sport Administration). As a result of the students semester of training, 40 first year Kinesiology students had an opportunity to plan and run a Sports Day for school children. 40, grade 4-6 students from Nusdeh Yoh, the first Aboriginal school of choice in BC, were invited to participate in a Sports Day. This year, the event was tied into RBC Sports Day in Canada where events included Run, Jump, Throw stations, games, bouldering, mini-soccer, gymnastics and floor hockey! Some photos of the RJT station are included below!
Photo credits: Matt Partyka
---
Easter Seals Camp, Squamish BC
August 14/2015:
The RunJumpThrowWheel program made an appearance in Squamish this past Friday at the BC Easter Seals camp, which provides overnight summer camping experiences for children and teens with physical and/or mental disabilities. The program was run on a drop-in basis, with special focus on throwing and wheeling. Thanks to Athletics Canada, the kids were able to try out a specialized racing chair designed for speed on the track. Those adventurous enough to try it were fitted with a helmet and gloves and were taught the correct technique for achieving maximum speed, which involved a downwards punching motion on the wheels and a hard forward lean.
For the majority, this was a first-time encounter with the sport of track and field, and many of the participants surprised themselves with their own abiliities. We look forward to seeing some of these young para-athletes and Special Olympic athletes becoming more involved in the sport!
For more information on the Easter Seals Camps, visit: http://www.eastersealscamps.ca/
---
Granville Park, Vancouver BC
August 13/2015:

Granville Park was the setting for another great day of track & field fun. On a sunny Thursday, children participating in Camp Virgule, a Francophone summer camp, joined two of our RunJumpThrowWheel instructors for a day full of grassroots track and field events. The morning started off with a sprints and hurdles activity, where the participants got to learn and practice hurdling technique. Within a short period of time, the kids were progressing from shin-height "banana hurdles" to waist-height "scissor hurdles". They were also introduced to the correct starting procedure for sprints as they reacted to the "On your mark, get set, go" commands (or in this case, "À vos marques, prêts, partez"). Following the running activities were throws (javelin, shot put and discus) and jumps (high jump and long jump), with ample water and snack breaks interspersed to keep everyone fuelled. The day was wrapped up with an obstacle course relay, complete with a kiddie pool to act as a simulation steeplechase water-pit.
Thank you to Camp Virgule for inviting RJTW to be a part of your Olympics themed week!
To book a RJTW session of your own, contact Meghan Butterworth, RJTW Coordinator, at:
sabrina.nettey@bcathletics.org
---
South Surrey Athletic Park, White Rock BC
July 25/2015:
As part of the Hershey Outdoor Regional Youth Series, a new initiative aimed at increasing accessibility and exposure of the sport of athletics, the first annual West Region Youth Series meet was hosted by BC Athletics and Ocean Athletics, July 25-26, 2015. A Run Jump Throw Wheel program demonstration was schedued to occur prior to the meet, open to children 5-10 years of age to try out track and field.
The demo was hosted at South Surrey Athletic Park, where parents brought their eager and energetic children to come participate in several different grassroots level track & field activities, including turbo javelin, long jump, hurdles, high jump and relays. The kids cycled through the stations in groups, learning the fundamentals of running, jumping, throwing and wheeling. A special thank you to BC Wheelchair Sports Let's Play program for lending out sport chairs and racing chair, allowing the participants to practice their wheeling skills through a wheelchair relay! The morning concluded with a mini sprint race on the track as a finale with prizes to follow!
A big thank you to the learning facilitators, instructors and numerous volunteers who put their time and effort into making this event so much fun!
For more information on how to get involved at your local club click 'Club Track Rascals Program' on the sidebar for a list of clubs across the province with programs.
An album of photos from the event can be found on our BC Athletics Facebook page!
Photos taken by Ralph Alvaro
---
Sheraton Vancouver Wall Centre, Vancouver BC
June 14/2015:

As part of the 2nd annual International Physical Literacy Conference last Sunday, a RunJumpThrowWheel demonstration was held...for adults! The idea of the demo was to give the conference delegates a taste of what the RJTW program provides: being active and having fun, through teaching fundamental movement skills and developing physical literacy using track and field inspired games, activities and skill challenges. A handful of RJTW instructors and volunteers the participants through four different stations where the young-at-heart were able to try their hand at events such as hurdles, high jump, and javelin. Instructors also incorporated wheeling and seated throws adaptations to the activities at running and throwing stations. In addition, thanks to BC Wheelchair Sports and Athletics Canada a designated wheel station provided an opportunity to try out the racing chairs and educate around para-athletics within track and field. The activities were a hit and showcased the safe, fun and fair environment that the RunJumpThrowWheel program embodies. Difficulty levels were easily adjusted to account for the individual fitness and ability levels of each participant, which created fun yet challenging activities for all. A big thank you to all the facilitators, instructors and everyone who made the RJTW event possible!

If you are interested in how the RJTW program can benefit your school, community recreation program, sport group, club etc. please visit

http://runjumpthrowwheel.ca/ for information on how you can get involved! Both program delivery and instructor training options are offered, designed to fit your individual needs!
---
Fortius Athlete Development Centre, Burnaby BC
November 28/2014:
The fifth annual RBC Sports Day in Canada took place during the week of November 24-28 with over 800,000 participants and 2,000 registered sporting events accross Canada! As a grant recipient of the RBC Learn to Play Project, the Run Jump Throw program was delivered at three different locations across BC. In partnership with School District No. 8 (Kootenay Lake), Slocan's W.E. Graham Community School After-School Sports program was able to host a Run Jump Throw "Try It" session. Similarily, in Vancouver Run Jump Throw and Golf BC's Playground 2 Fairway program were open for kids to try for free at Little Mountain Neighborhood House in Vancouver. Lastly, right at home at Fortius Sport & Health Centre in Burnaby, Run Jump Throw was a part of the "Come And Try Open House" alongside many other PSO's youth sport programs including Golf, Tennis, Judo, Canoe/Kayak, Special Olympics, Gymnastics + many more!
The RBC Learn to Play Project, in partnership with ParticipACTION, Canadian Sport for Life and Active Healthy Kids Canada, is a wide-ranging initiative to help children develop the confidence and skills they need to enable them to become active for life. For more information on the RBC Learn to Play Grant Project visit rbc.com/learntoplay
BC Athletics is proud to be a RBC Learn to Play Project 2014 Grant Recipient! Run Jump Throw Program development is planned for 2015 in the Kootenays region, specifcally targeted at the communities of Nelson, Slocan and Creston within track & field clubs, recreation centres and schools.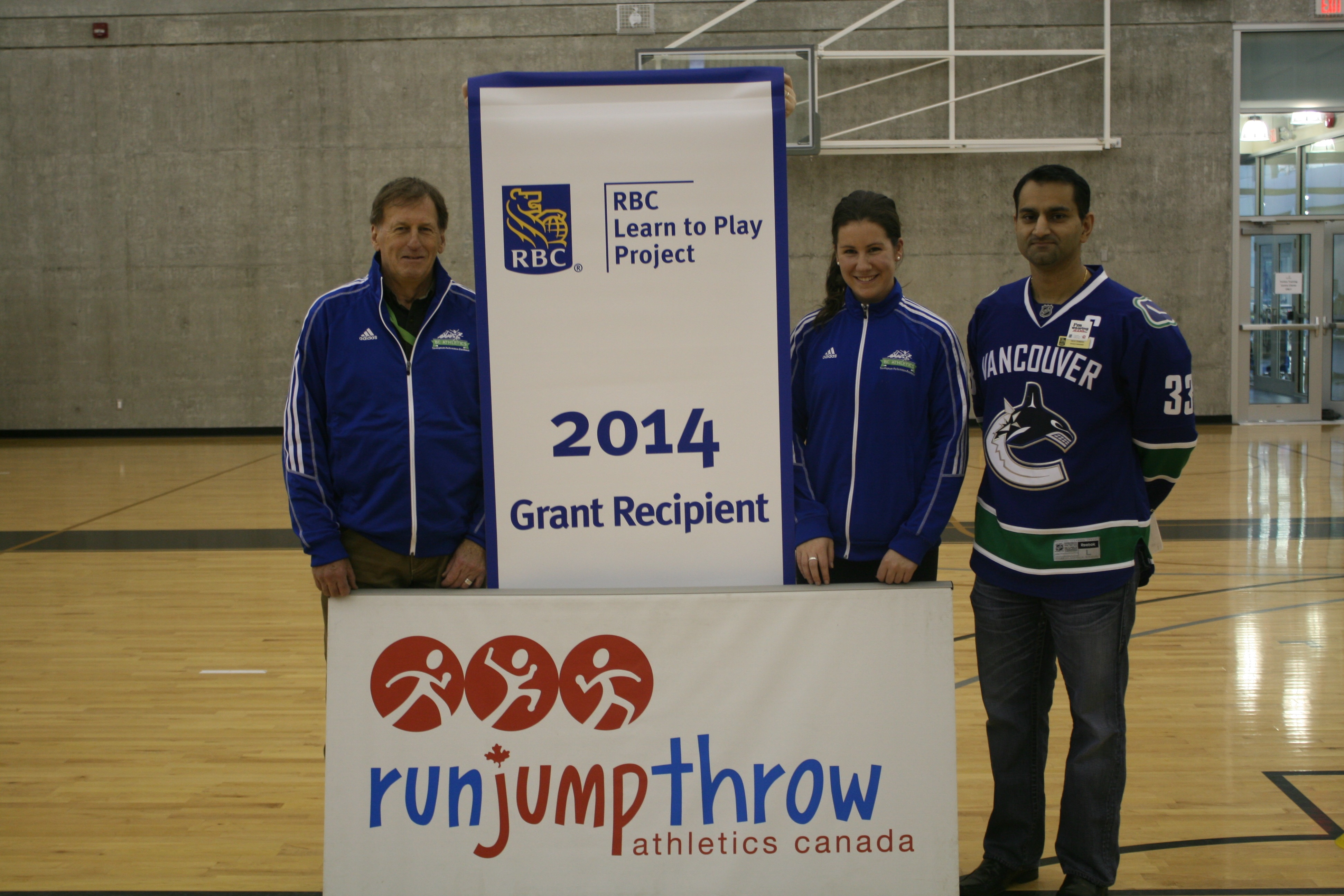 ---
Fortius Athlete Development Centre, Burnaby BC
August 11/201414:
Arriving last week to Fortius Athlete Development Centre in Burnaby, BC 12 young athletes came together from coast to coast to participate in the Courage Canada National Youth Blind Hockey Camp running from August 7-12. The camp has provided athletes who are blind or partially sighted daily hockey training as well as several introductory sport sessions including Beep Baseball, 5-a-side Soccer, Run Jump Throw and strength and conditioning training.
In preparation for the big hockey match versus the Vancouver Eclipse team that evening the Courage Canada athletes took to the turf to try out the Run Jump Throw program with a focus on running and throwing activities. After learning the technical elements of a run practicing their ABC'S and were all educated on how going "back to the basics" with some of the Run Jump Throw activities can further develop their overall athletic ability and performance in many different sports – not just track and field! The throwing activities were a particular highlight for this group starting with the popular 'throw-on-a-rope' where everyone got a feel for the technique behind a javelin throw. From there the group practiced their overhand throws starting with a beanbag toss progessing to small and larger balls and finally to oversize hula hoops. With various objects soaring down the field the group learned how to generate power in their throws with proper body position and movement. To conclude the session, teammates challenged each other to a race starting belly down on the track with a short running dash to cross the finish line.
A big thank you to the inspiring and talented ladies and gentlemen from Victoria, BC to Bay Roberts Newfoundland who participated! Also to BC Blind Sports, Mike Lonergan who led the session and Courage Canada for facilitating this amazing opportunity!
For more information on Courage Canada programming visit http://www.couragecanada.ca/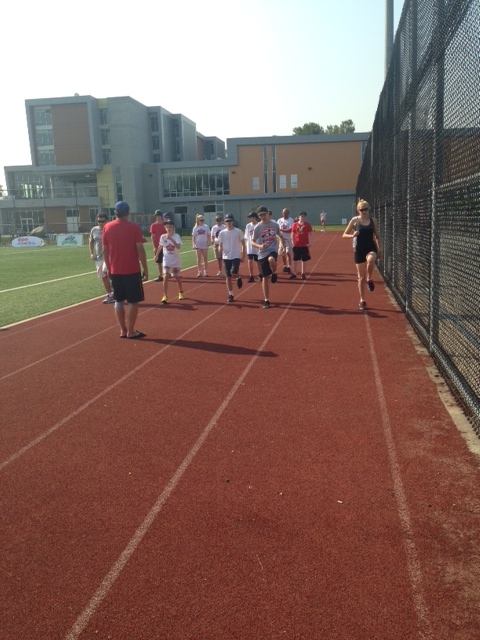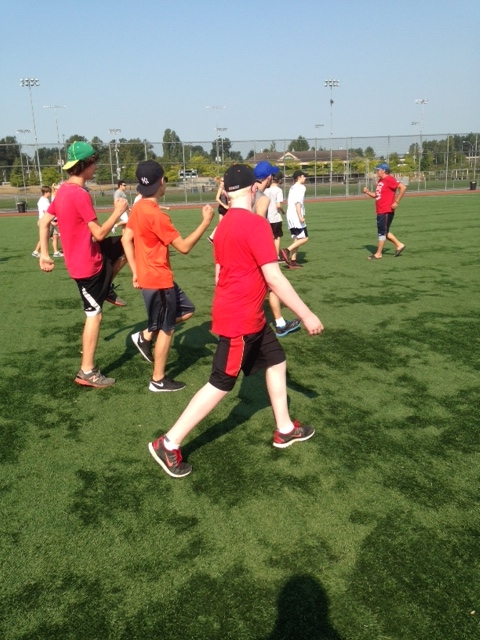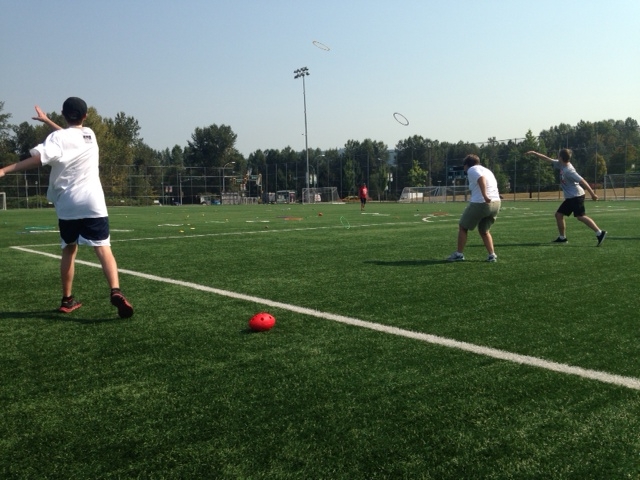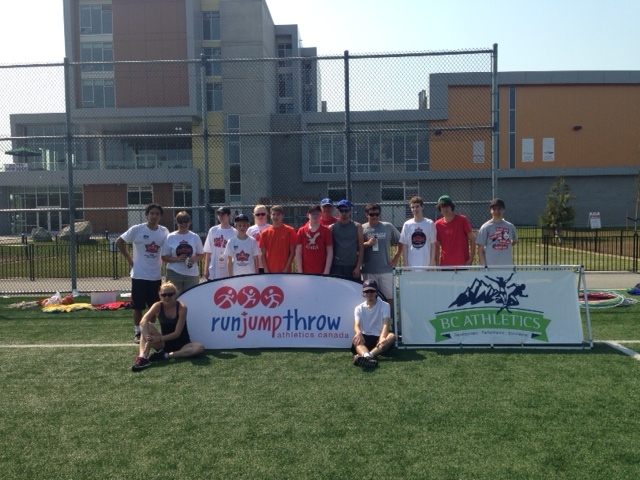 ---
Okanagan Lake Park, Penticton BC
May 27/14:
Last week, May 22-24 on the sunny shores of Okanagan Lake in Penticton, BC the Okanagan International Children's Festival returned with an incredible line-up of entertainment for children of all ages to participate in!
Run Jump Throw was onsite to bring a physical activity component to the festival which was a huge success to the near 2000 children that attended the festival. The relay race that incorporated a running, jumping and throwing challenge kept most coming back for rematches and even challenging the instructors to a race! Watch the short VIDEO clip to see some participants in action!
We look forward to hopefully attending the event in the future and would like to thank the event organizers for the opportunity to be included again this year. Also a huge thank you to the volunteers that helped throughout the week to make the event an even bigger success!
For more information about the Okanagan International Children's Festival, visit http://www.okchildrensfest.com/
---
Revelstoke Secondary School, Revelstoke BC
April 7/14:
This past Monday in Revelstoke, BC a group of dedicated teachers and local coaches participated in the Teacher In-Service Run Jump Throw course to receive their instructor training. This marks the first Run Jump Throw instructor training course held in the community to date. Revelstoke is no stranger to track and field talent as many high school athletes have pursued athletic scholarships within Canada and the US. Organizer Kendra von Bremen recognized the need for quality physical literacy teachings delivered at the grassroots level, as key to the development of future active youth and the continued success of athletics within Revelstoke.
Special thanks to School District #19 and PacificSport Interior for your support and continued partnership in making Run Jump Throw events such as these a possibility.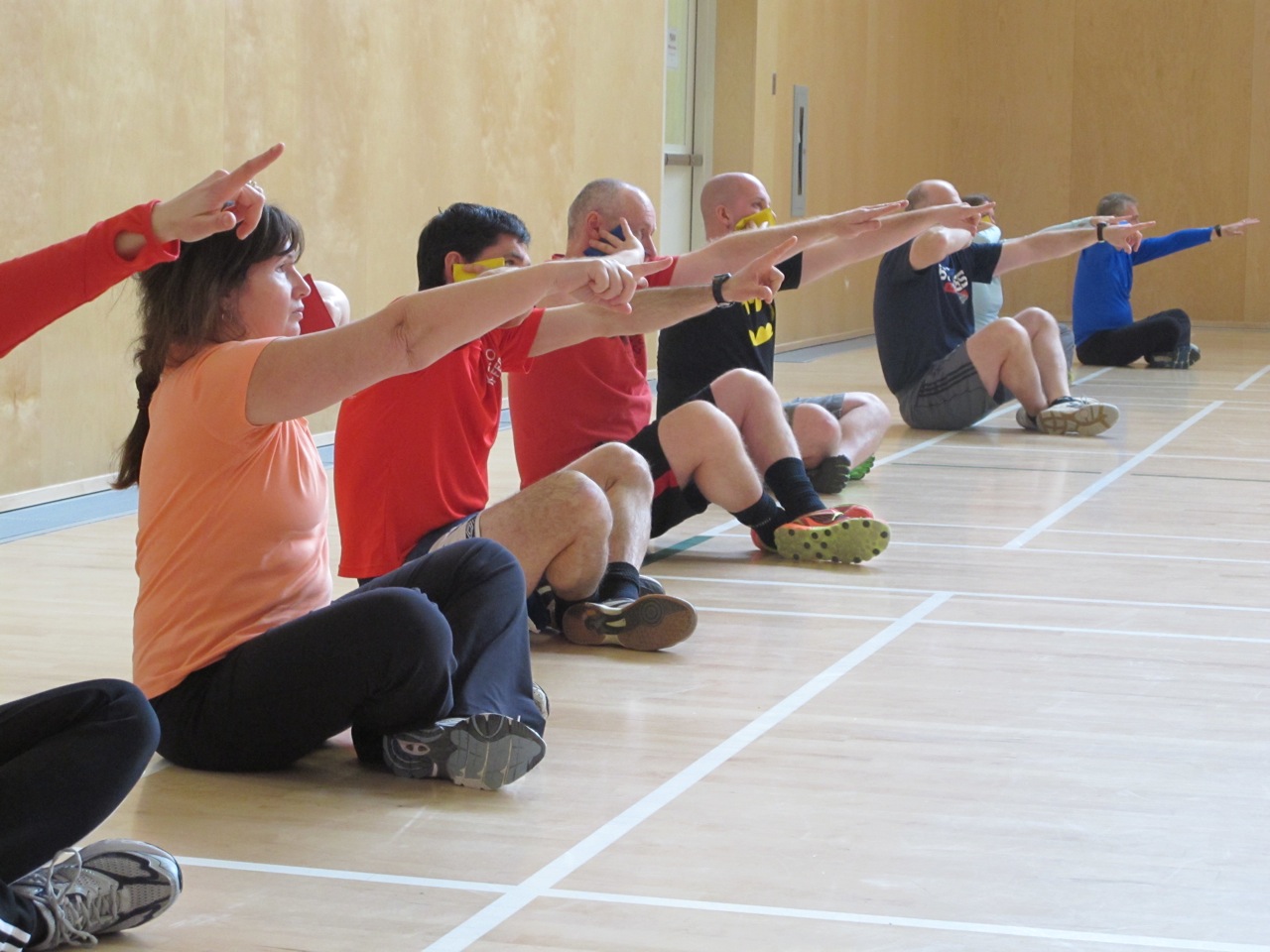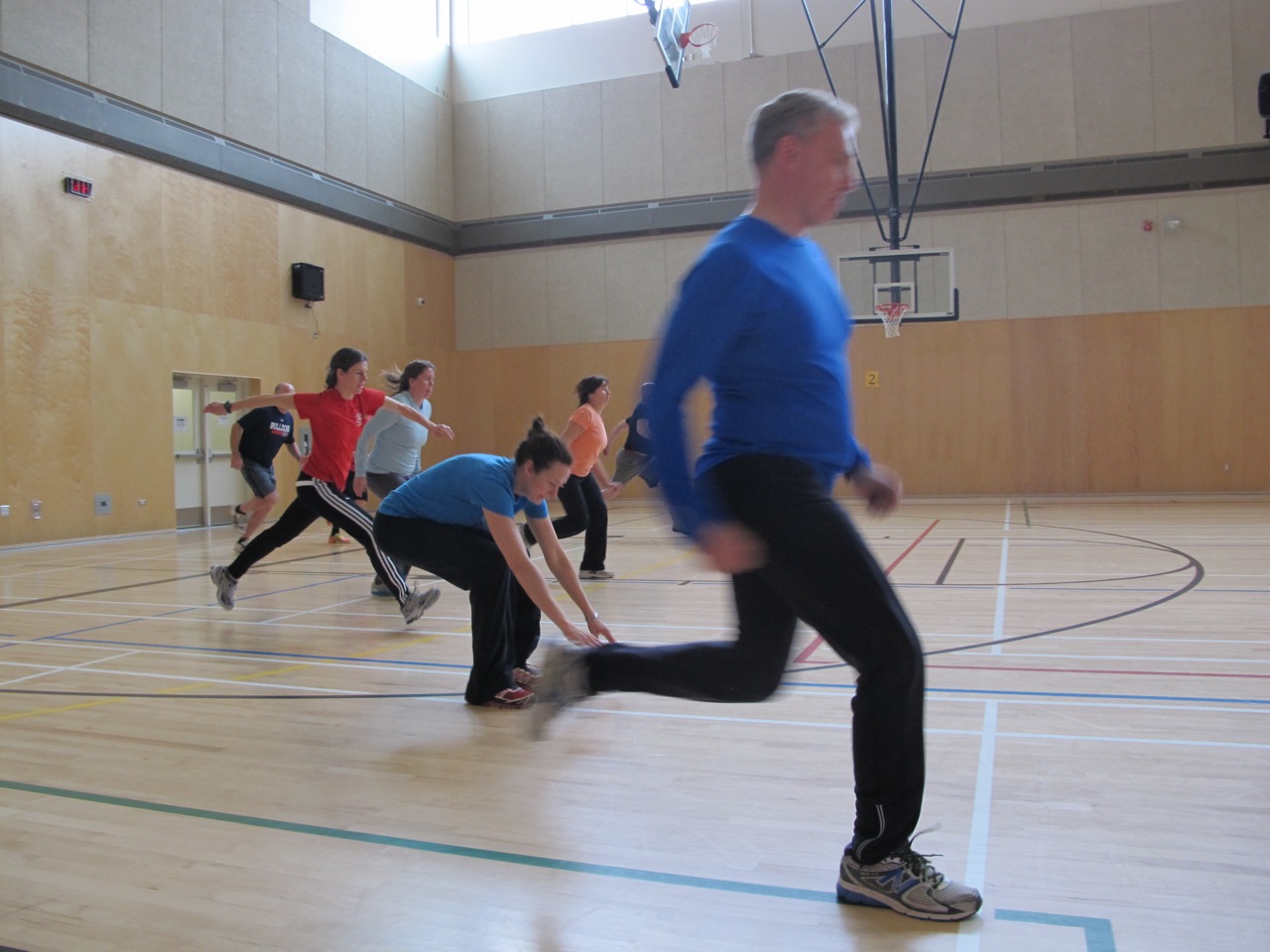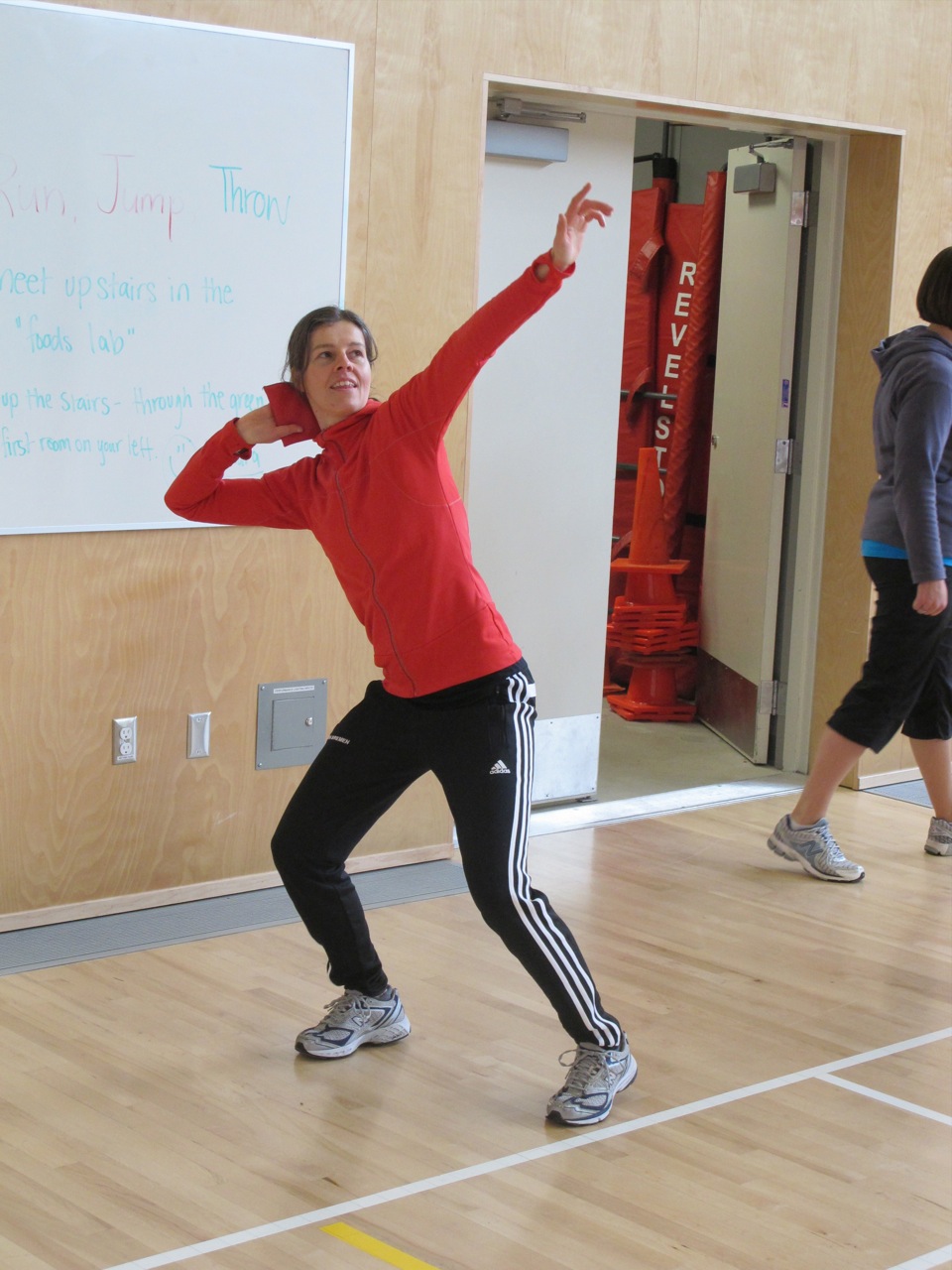 Junior Development (Age 9-13)
Hershey Track & Field Games (Age 9-14)
Athlete Development (Age 14+)
Masters (Age 35+)
General & News
---
---
Ian Hume Award Recipient - M60 Reidar Zapf-Gilje B.C. - Multi-Events
Reider Zapf-Gilje from Vancouver is the repeat winner of the Ian Hume Award. In 2016, Reidar won gold medals in the four combined events in which he competed, often by several hundred points ahead of any competition. These included wins in the M60 Decathlon and Throws Pentathlon in the Americas Masters Games, the Pentathlon at the Norwegian Masters Chamionships and the Pentathlon at the Canadian Masters Outdoor Championships in Toronto.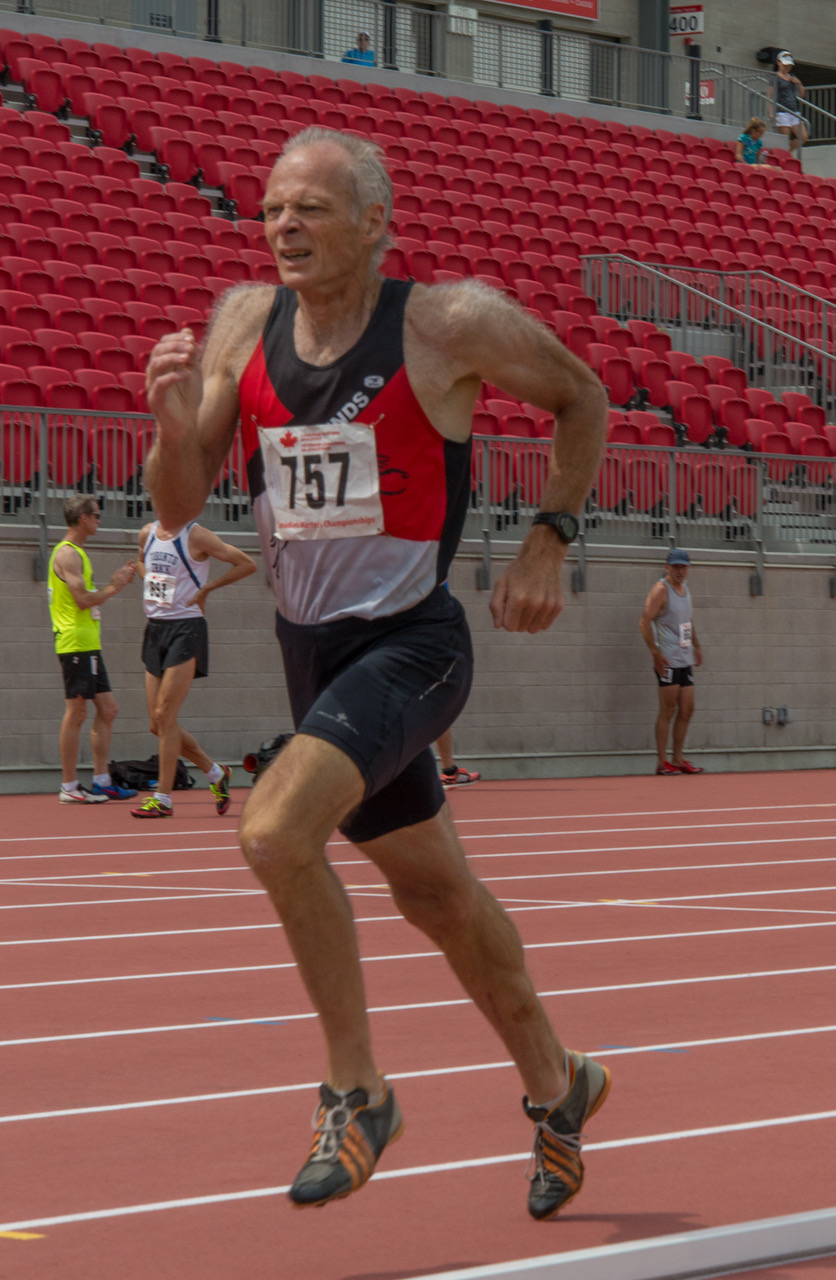 ---
Olga Kotelko Award Recipient - W60 Margaret Rhebergen B.C.
This award is named after the late Olga Kotelko, who set more age group World records than any other athlete, in all age groups from 80 to 95 years of age, and has been an inspiration to many people Worldwide, and a great ambassador for Masters Track & Field
Margaret Rhebergen from British Columbia is the winner of the Olga Kotelko Award. Margaret set nine British Columbia masters records in 2016, including five in field events. She set Indoor W60 records in the Triple Jump, Long Jump, High Jump, as well as outdoor records in the Triple Jump and Long Jump. Her five best results for the year are Age-Graded at 96.3%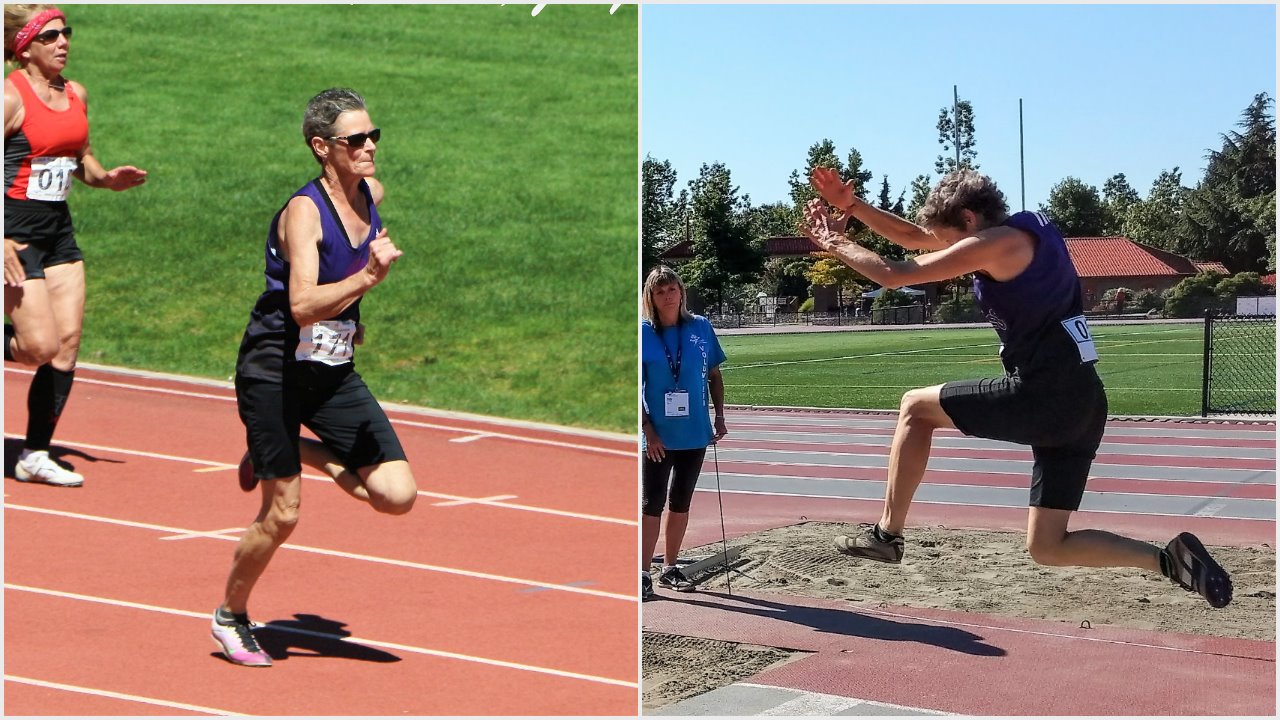 ---
---
---
---
2017 BC Masters Outdoor Track & Field Championships to be held June 16-18, 2017 in Langley, BC. More info: http://www.langleymustangs.com/
---
BC Masters Indoor Championships To be Held March 31 - April 2, 2017 in Kamloops, BC. More info: http://kamtrack.ca/
---
CMA OUTDOOR CHAMPIONSHIPS - HOSTING OPPORTUNITY
The Canadian Masters Athletics Association has put out a call for bids to host the 2018 CMA Outdoor Championships. BC Athletics, in consultation with the Master's Committee, is suggesting a Championship date of August 10-12, 2018. Any interested clubs are to contact the Technical Manager, Chris Winter (chris.winter@bcathletics.org) for more information. Letter of Intent due to BC Athletics March 10th, 2017.
CMA Outdoor Bid Requirements: Here
---
Americas Masters Games Results
Track & Field:
/admin/js/elfinder/php/../files/Masters/16-08-30%20AMGs%20Results%20TF%20Aug%2027%2028%2029%2030.pdf
10K RaceWalk:
https://www.sportstats.ca/display-results.xhtml?raceid=40678
10K Road Race:
https://www.sportstats.ca/display-results.xhtml?raceid=40482
Half Marathon:
https://www.sportstats.ca/display-results.xhtml?raceid=40483
---
Ultra Throw Club and Ocean Athletics Track & Field Club to Host "2016 Masters Throws Fest"
On Sunday, August 7th, 2016, Ultra Throw and Ocean Athletics will be collaborating to put on the 2016 Masters Throws Fest. Masters athletes will have the chance to compete in the weight pentathlon and super weight events.
For registration, visit: www.TrackieReg.com/2016MastersWtPent
As the entry deadline has passed, registration will now cost $40 for Wt Pent and $10 for Super Weight
For the schedule of events, please see the attached PDF: 2016 Masters Throws Fest
---
Canadian Masters Athletics Announces the 2015 Athletes of the Year
Based on nominations received from members of the CMA and votes cast by the CMA Board, the 2015 Athletes of the Year have been named in four categories of athletics, each of which has been named after a masters athlete who was prominent in the appropriate discipline, and is either still active or was active in the past, as identified below.
The following are the recipients of the 2015 Canadian Masters Athletes of the Year Awards:
Individual Track Events – "Earl Fee Award"
W85 Lenore Montgomery BC
This award is named after Earl Fee, the great masters middle distance track athlete who, at age 87, is still active and still holds many Canadian and World records, and continues to inspire others.
Lenore Montgomery from North Vancouver is the winner of the Earl Fee Award. In 2015, Lenore set W85 Canadian records in the 400m, 800m, 1500m and 5000m track races. Of these, the 800m, at 4:33.86, and the 5000m, at 32:36.20, were also World records, and were age-graded at 96% and 98%.
Combined Events – "Ian Hume Award"
M60 Reidar Zapf-Gilje BC
This award is named after Ian Hume who, beginning with the first World Masters Championships in Toronto in 1975 and for a period of 25 years, won 29 World Championship medals and set 40 World records in 9 events, including the Pentathlon and the Decathlon.
Reidar Zapf-Gilje from Vancouver is the winner of the Ian Hume Award. In the Norwegian Multi-Event Championships in June, Reidar won the Gold Medal in the M60 Pentathlon, setting a new Canadian record of 3,575 points, 372 points above the previous record. Also during the year, he won Gold Medals in the M60 age group in the BC 55+ Games in the Pentathlon, with 3,369 points, and in the Throws Pentathlon, with 3,295 points.
---
2016 CANADIAN MASTERS INDOOR T&F CHAMPIONSHIPS
Six BC Masters athletes travelled to Toronto this past weekend to compete in the Canadian Masters Indoor
Track and Field Championships at York University. It was only a small group of BC athletes but they did
extremely well. The meet attracted over 200 athletes, mostly from Ontario. The Greyhounds Masters T&F
Club women's team won 19 Gold medals and despite having only a 3-member team, won the Women's
Team Title with 149 points. The University of Toronto TC finished second among the 31 women teams,
with 127 points.

Christa Bortignon and Deborah Lee won all of their events. Christa, who is 79, won 6 Gold medals and if
she duplicates her performances next year, her 60m, long jump and triple jump results will be new world
records in the W80 age group. Deborah won 7 Gold medals and set a new Canadian record in the W65
50m hurdles. Six of her 7 results were new meet records. Rachel Fouladi won 6 Gold and 2 Silver medals
and set a new Canadian record in the W45 50m hurdles.

Three BC men competed in this meet. David Dickey, another Greyhounds Masters member, won 4 Silver
and 2 Bronze medals. Adding David's points, the 4-member Greyhounds Masters Club finished 3rd overall
among the 54 clubs that competed. Mark Pinkard, a Kajaks member, won 3 Gold and 1 Bronze medals in
the M55 age group. Competing unattached, Dmitry Babenko won the M40 1500m Race Walk with a time
which was less than 1 second of his Canadian record.
---
2016 BC MASTERS INDOOR T&F CHAMPIONSHIPS
KAMLOOPS – February 12-14
The 2016 BC Masters Indoor Championships were held from February 12-14, at the Tournament Capital Centre in Kamloops. With the mild winter and good winter road conditions, including the Coquihala Highway, it was hoped that more Masters athletes would attend the Championships. Although the field
was small, the athletes that competed did extremely well, setting many records and establishing personal bests. As usual the Kamloops Track and Field club and the local officials and volunteers did an excellent job of putting on a great meet. A few BC Athletics officials travelled from out-of-town to help out.
The star of the meet has to be W85 Lenore Montgomery who set 4 World Records. Lenore broke the listed world record in the 400m (2:11.47), 800m (4:52.80) and 3000m (19:59.56). She set a new standard in the 1500m (9:31.42) race. However, apparently there is another W85 woman who recently ran the
1500m and 3000m races faster than Lenore.
Outstanding race walker Dmitry Babenko broke 2 of his own Canadian records in the M40 1500m (6:15.75) and 3000m (13:06.63) Race Walks. Cheryl Closkey broke the Canadian W65 Weight throw record (10.93m) and Gabriella Moro broke the Canadian W65 Shot put record (8.66m). Miriam Cavani broke the Canadian W55 High jump record (1.35m). The relay team of Tom Ukonmaanaho, Sewa Birring, Harold Morioka and Mark Stewart broke the Canadian M70 4x200m relay record (2:09.98). The relay team of Jorge Woods, Steve Briggeman, David Dickey and Cal Warren set a new Canadian standard
in the M55 4x400m relay (4:48.55).
Deborah Lee had an incredible meet with 6 individual BC records plus 2 relay records. Her individual records were in the W65 60m, 200m, 60m Hurdles, High jump, Long jump and Triple jump. Mark Stewart broke his own M70 BC records in the 800m, 1500m and 3000m. Mark was also on the M70 relay team that broke the Canadian record in the 4x200m. Margaret Rhebergen broke three BC jumps
records in the W60 High jump, Long jump and Triple jump. Margaret added two more BC records in the 60m and 60m Hurdles and was also on a record-breaking relay team. Speedster Cindy O'Brien Hugh broke 2 sprint records in the W55 60m and 200m. She was also on a record-breaking relay team. Jim Dyer broke 2 Race walk records in the M70 1500m and 3000m race walks. Renate Cheetham had 2 BC records in the W75 1500m and 3000m runs and she was on a relay team that set a BC record. Tom Ukonmaanaho broke 2 BC records in the M70 200m and High jump and he was also on the M70 4x200m relay team that broke the Canadian record.
Also establishing new BC records were: Karl Jones (M45 60m), Valerie Scott (W60 400m and both W55 4x200m and W60 4x400m relays), Lynette Baldock (W65 3000m and W60 4x400m relay), Lynn Thompson (M75 triple jump), John Hawkins (M65 high jump), Dave McDonald (M60 weight throw), Harnek Toor (M65 weight throw) and John Storms (M55 1500m race walk).
Winning no individual gold medal but winning the inspirational award from many, was Sewa Birring. Sewa is a double cancer surviver who is overcoming the odds. Sewa bravely started the 400m but was unable to complete the race. The next day he ran the 200m twice, first in the individual 200m race and then again in the relay, helping his M70 4x200m relay team break the Canadian record.
The meet was extremely well run and very enjoyable for the athletes. The Masters athletes wish to thank the Kamloops T&F Club and all of the officials and volunteers for their time and effort
---
2015 55+ BC Games - North Vancouver, August 26-29
The 28th annual 55+ BC Games (formerly called the BC Seniors Games) were hosted by North Vancouver from August 26-29. The 2015 Games included 25 sports which were held mostly in venues in the City and Municipality of North Vancouver. However Ice Curling was held in Vancouver and Dragon Boat and Athletics were held in Burnaby. Track and Field was hosted by the Norwesters Track and Field Club and held at Swangard Stadium. About 220 athletes over the age of 55 registered to compete in track and field.
The weather was excellent for the first two days but it rained on Friday morning, forcing the cancellation of the long hurdles and the women's pentathlon which included the hurdles. The rain also made it difficult for the high jumpers and throwers. With the forecast for heavy rains and high winds for Saturday morning, the meet organizers decided to cancel the 10K Road Run and 10K Road Power Walk which were to be held at the Seymour Demonstration Forest in North Vancouver.
Overall the meet was very well run. The track events were right on time as were the jumping events. The throwing events with their large number of participants got slightly behind schedule but there were no major problems. The large number of very competent BC Athletics officials and the many volunteers kept everything running smoothly.
The athletes established many records: 45 Games records (plus 1 tied), 23 BC Masters records (but there are 4 better records pending), 10 Canadian records (there are 2 better records pending) and 1 WORLD RECORD.
Lenore Montgomery broke the World Record in the W85 5000m (32:36.20). Lenore would have even broken the world record by another 47 seconds but she was on the opposite side of the track when the gun sounded for the start of the 5000m race. Lenore had to rush over to the starting line and when she started, the clock was already at 47 seconds. Lenore also broke the listed World Record in the 800m (4:33.86), but there is a better time pending by a woman who ran this race in the WMA Championships in Lyon, France. Lenore added 2 more Canadian records in the 400m (2:11.85) and 1500m (9:06.76)
Maurice Tarrant broke the Canadian record in the M85 5000m (30:12.55) and added 2 more Games records in the 800m and 1500m. Had Maurice gone to Lyon, his times would have been good enough to win 2 Silver medals and a Bronze medal. Myrtle Acton broke the Canadian record twice in the W80 Hammer throw, once in the Throws pentathlon (22.46m) and once in the individual event. Other Canadian records were broken by Norm Lesage M85 100m (but he has a better pending CR of 18.00), William Falconer M95 100m, Doug Monds M85 Pole vault, and Marilyn Benz W65 Javelin (Marilyn has a better CR throw pending).
Herb Phillips broke 3 BC M75 records in the 800m, 1500m and 5000m, but none of these were Canadian records only because he is following in the footsteps of the great Ed Whitlock. Herb's time in the 5000m (20:51.35) would have won the GOLD medal at last month's WMA Championships in Lyon, France. Norm Lesage added a second BC record in the M85 200m while Elaine Whidden bettered 2 listed BC records in the W60 100m and 200m (30.46) with
times that would have placed her just outside the medals in Lyon (she does have slightly better times pending). John Hawkins broke the BC M65 record in the Pole vault (Gerard Dumas has a better height pending) and tied the High jump record (1.50m). Other BC records were broken by Sandra Bissessur W65 400m, Lynn Thompson M75 Sprint hurdles, Deborah Lee W65 Triple jump, Reidar Zapf-Gilje M60 Triple jump, Rainer Sillantaus M85 Shot put and Scot Henney M90 Javelin.
The Zone 3 relay team of Urith Hayley, Cindy O'Brien Hugh, Marie Johnson and Elaine Whidden broke the W55+ BC 4x100m relay record (1:01.43).
Breaking at least 2 Games records were Cindy O'Brien Hugh W55 200m and 400m, Mark Stewart M70 400m and 800m, Susan Gordon W55 800m and 1500m, and Rose Hare W65 Discus and Throws pentathlon. Reidar added a 2nd Games record in the M60 Sprint hurdles while Rainer added a 2nd Games record in the M85 Javelin.
The athletes would like to thank Dawn Copping (meet director), the officials and many volunteers for their hard work and for making these Games a huge success.
Next year the 55+ BC Games will be hosted by Coquitlam from September 20-24.
Harold Morioka
Zone 3 coordinator
---
BC Athletes Excel at World Masters Track & Field Championships
Lyon, France - Of the almost 150 Canadians who participated in the World Masters Athletics Championships for athletes from the age of 35-95, 15 were from British Columbia. There were over 8000 athletes from 114 countries registered for this meet which took place in Lyon, France, from August 4-16, 2015.
Christa Bortignon W78 won the most medals for Canada. Competing in the W75 age group, Christa won 2 gold medals in the 80m hurdles and 200m hurdles. She also won 2 silver medals in the 100m and 200m, and 2 bronze medals in the long jump and triple jump.
Nardene Hammond W43 won a bronze medal while competing on the Canadian W35 10K Road Walk relay team. Nardene's best individual result was 7th in the 20K Road Walk. Nardene also set two BC records in the W40 10kK and 20K Road Walks.
Other BC athletes who were in the top 10 were: Gerard Dumas tied the BC Masters M80 record in the pole vault while finishing 5th, Tom Dickson finished 7th in the M60 100m and Nancy Craig who turns 50 later this year, finished 6th in the W45 pole vault.
---

Four Masters women from the Greyhounds Masters Track and Field Club set a new Canadian standard in the W60 4x100m relay (all members of the relay team must be over the age of 60). Competing on April 26th, at the University of Oregon's famed Hayward Field in Eugene, Oregon, the team of Deborah Lee (W64), Christa Bortignon (W78), Urith Hayley (W64) and Elaine Whidden (W60), ran the 400 metre relay in a time of 1:03.74. This breaks the Canadian Masters W60 record of 1:04.60 which was set by Team Canada at the 2011 World Masters Athletics Championships, in Sacramento, California. Having four women from the same club break a National record which was set by four women representing Canada, is a huge accomplishment.
CANADIAN MASTERS INDOOR T&F CHAMPIONSHIPS
Toronto, ON – March 14-15, 2015

Ten BC Masters athletes competed in the Canadian Masters Indoor Track and Field Championships this past weekend in Toronto. Christa Bortignon and Deborah Lee won gold in all 7 of their events. Hardev Sandhu won 6 medals including gold in the 60M and Weight throw.

Christa broke 2 Canadian Indoor records in the W75 50M and 50M hurdles. Deborah established 4 BC Indoor records in the W60 50M, 50M Hurdles, High jump and Triple jump. Deborah just missed another BC record by only 1/100th of a second in the 60M Hurdles. Al Percival broke the Canadian Indoor record in the M60 50M sprint. Natasha Bacchus set a new BC Indoor record in the W35 50M and broke her own pending BC record in the 60M, which she established a month earlier in the BC Masters Indoor Championships in Kamloops. Juliette Christie broke 2 of her own pending BC Indoor records in the W50 1500M and 3000M. Hardev set a new BC Indoor record in the M65 50M while Mark Pinckard
broke his own BC Indoor record in the M50 800M.
2015 BC Masters Indoor Track & Field Championships
The second annual BC Masters Indoor Track and Field Championship was held on February 13-15, at
the Tournament Capital Centre in Kamloops. This meet was held in conjunction with the Van Ryswyk
Indoor Invitational Meet. The number of Masters athletes competing was a little higher than last year,
and hopefully this championship meet will continue to grow in the future.
The Masters athletes that competed did extremely well. They set/broke 40 BC Indoor records and 9
Canadian Indoor records. Another BC record was tied.
Norm Lesage broke two Canadian records in the M85 60m (but he has a pending record from a week
earlier at the Harry Jerome meet) and 200m. Don Currie also broke two Canadian records in the M80
1500m and 3000m Race walks. Margaret Rhebergen broke her own Canadian W55 high jump record
and Harry Thompson set a new Canadian standard in the M90 1500m Race walk.
The M70 relay team of: Surinder Shah, Mark Stewart, Bill McNamara and Tom Ukonmaanaho, broke
the Canadian record in the 4x400m relay and set a new Canadian standard in the 4x200m relay. The
relay team of: Lynette Baldock, Gabriella Moro, Winni MacKay-Smith and Christa Bortignon, set a new
Canadian record in the W65 4x200m relay.
Four athletes broke/set three individual BC Masters Indoor records. Norm added the M85 400m record
to his 60m and 200m records. Mark Stewart set three new M70 standards in the 800m, 1500m and
3000m. Arthur Gee set three new standards in the M70 triple jump, 1500m Race walk and 3000m Race
walk. Rachel Fouladi broke the BC W45 triple jump record and set new standards in the 1500m and
3000m Race walks.
Five athletes added two new BC Indoor records to their names. Lynette Baldock broke her own W65
800m and 1500m records. Margaret Rhebergen broke her own W55 60m record as well as the high
jump. Juliette Christie set two new BC standards in the W50 1500m and 3000m runs. Harry Thompson
added the M90 triple jump to his Race walk record. Tom Ukonmaanaho broke the BC M70 200m
record and tied the high jump record.
Adding one new BC record to their names were: Natasha Bacchus W35 60m, Sam Walker M40 400m,
Surinder Shah M70 long jump, Deborah Lee W60 long jump, Heinz Peter M65 high jump, Gabriella
Moro W65 shot put, Jody Cranston M45 weight throw, Harnek Toor M65 weight throw and Lori
Graham W55 1500m Race walk.
Two relay teams set new BC records. The W45 4x400m relay team of: Cindy O'Brien Hugh, Kathy
Friesen, Winni MacKay-Smith and Nicola Everton, and the M45 4x400m relay team of: Mark Phillips,
Gordon Flett, Harjinder Kang and Steve Briggeman.
The schedule was slightly altered from last year so that the meet could be completed by noon on
Sunday. With the support of many fans, Dylan Armstrong was finally presented with the Olympic
bronze medal that he was denied at the Beijing Olympics, six and a half years ago. Armstrong finished
fourth in the shot put competition (by only a centimetre) but was moved up to third when the athlete
from Belarus was disqualified for doping.
The Masters athletes give huge thanks to the meet organizers, officials and volunteers for their hard
work and dedication over the three days.
The Kamloops Track and Field Club invites all Masters athletes to the third annual BC Masters Indoor
Championships which will be in the Tournament Capital Centre again in February, 2016.
2014 BC Senior Games
Report on the 2014 BC Senior Games Langley, Sept 10-13
2013 BC Seniors Games
Report on 2013 BC Seniors Games Kamloops, Aug 21-24
2013 BC Masters Track & Field Championships Results
Results of 2013 BC Masters Track & Field Championships Langley, Jun 14-16
WORLD MASTERS INDOOR TRACK & FIELD CHAMPIONSHIPS
The 6th WMA Indoor track and field championships were held in Budapest, Hungary, from March 25-
30, 2014. Over 3900 athletes over the age of 35, from more than 70 countries, were entered in the
championships. The SYMA facility was excellent with two tracks, and more, under the same roof.
Hungary did an excellent job of hosting the "queen of sports" as they call athletics in their country.
Olga Kotelko, who turned 95 only 23 days prior to the first day of competition, was one of the stars of
the WMA Indoor Championships. Olga competed in the W95-99 age group and was one of the fifty
Canadian Masters athletes entered, eleven were from BC.
Olga won 10 Gold medals and established 9 new World records. She set new world indoor W95
standards in the 60m, 200m, High jump, Long jump and Triple jump. She also broke the world indoor
records in the W95 Shot put and Weight throw. At this Indoor championships, there were also a few
Outdoor Road races and three Outdoor throwing events. Olga broke the Outdoor world records in the
W95 Hammer throw and Javelin. The only event that Olga did not establish a new world record was
in the outdoor Discus throw.
Other BC athletes winning medals were: Christa Bortignon (Gold in the W75 60m hurdles), Tom
Dickson (Silver in the M60 60m sprint) and Marek Glowacki (Silver in the M70 Shot put). Tom tied
the Canadian Indoor record in the M60 60 m (7.80 seconds during the semi-finals) and broke the
Canadian Indoor M60 200m record (25.98 seconds). Marek broke his own Canadian M70 Shot put
record (13.74m).
Normally the WMA Indoor Championships are held every two years but for the next two years the
WMA will have Outdoor Championships. The next WMA Indoor Championships will be in three
years (2017) in Daegu, South Korea.
BC MASTERS INDOOR CHAMPIONSHIPS
Kamloops, February 14-16, 2014
The first-ever BC Masters Indoor track and field championships were held on February 14-16. The meet was
hosted by Kamloops in their Tournament Capital Centre on the campus of Thompson Rivers University.
Unfortunately the turnout was very low, probably partly because of the dangerous weather conditions on the
Coquihalla Highway. Despite the small turnout, there were a few outstanding results. As usual, the Kamloops
Track and Field Club and their volunteers, hosted an excellent meet.
No world records were broken this year but look out next year because Olga Kotelko turns 95 on March 2nd.
Actually she will undoubtedly break/set a few world records next month at the WMA Indoor Championships in
Budapest, Hungary.
The small group of Masters athletes broke 7 Canadian records and tied another. Breaking Canadian records
were Dmitry Babenko in the M40 1500M Racewalk (6:27.23) and 3000M Racewalk (13:45.23). Donald Currie
broke the identical Canadian records in the M80 group. He turned 80 on February 13, only one day before the
start of the meet. Also setting a Canadian record was 91-year-old Harry Thompson in the M90 3000M and
Cheryl Closkey broke the W65 Weight throw record (10.46m).
The relay team of Hardev Sandhu, Fred Pawluk, Harold Morioka and Sewa Birring broke the M65 4x400m
Canadian record (4:46.66).
Margaret Rhebergen tied her own Canadian record in the W55 High jump (1.30m). Actually Margaret might
have broken her Canadian record because the bar was set higher than 1.30m. When the bar was measured after
her record breaking jump, the bar read 1.32m. However the official ruled that since the recorder had listed the
height as 1.30m, that this was the official height and that measuring after the height was only to confirm that the
height of the bar was at least this height.
There were 28 new BC Indoor records and two more were tied. In addition to the records above, the following
BC records were broken.
Breaking two BC records were: Fred Pawluk M65 800m and 1500m, Bakhshish Dhillon M75 Shot put and
Weight throw, Nardene Hammond W40 1500M Racewalk and 3000M Racewalk, Lori Graham W55 1500M
Racewalk and 3000M Racewalk and Denise Clements W50 Shot put and Weight throw (But Carolyn Boomer
gets the new BC W50 Shot put record with a better record-breaking put than Denise).
Also breaking BC records were: Tom Ukonmaanaho M65 200m, Sam Walker M40 400m, Verena Stroda W40
Shot put, Kathy Brand W70 Weight throw, Dan Krause and Hardev Sandhu in the M65 Weight throw (but Dan
gets the new BC record with a better record-breaking put), Harold Morioka in the M70 High jump and Sean
Steele in the M50 Weight throw. Along with their Canadian records, Margaret Rhebergen added a BC record in
the W55 60m Hurdles, Cheryl Closkey added a BC record in the W65 Shot put and Donald Currie added a BC
record in the M80 800m.
The relay team of Andy Bienefeld, Eric Torin, Sam Walker and Luke Wang set a new BC record in the M35
4x200m relay.
Nancy Cochrane was attempting to better her BC W60 High jump record which she set only two weeks earlier.
Unfortunately she partially tore her achilles tendon and a calf muscle during an early jump.
Diane Matus tied the BC record in the W65 60m sprint.
Who is a Master?
Your entry to an Athletics event could be simply to have fun, have a healthy workout, pick up an attractive t-shirt, support a charity or, as a serious competitor, attempt a personal best performance.
The only requirement for being a masters member in any BC Athletics sanctioned event is to be 35 years of age or older.
Age group results-age graded results
2015 Masters Age Graded Tables
Competition results can be calculated on an overall performance basis where athletes compare their performance to how other competitors in their age group performed. Some events now provide age graded results. These results are generated from tables developed by reviewing the performances of a large number of athletes over a long period of time, in each of the age categories, as well as the world records by age groupings. The tables then indicate an ultimate performance that could be expected from any age. There are separate tables for males and females.
Age graded results can be used in several ways. Using these tables, each athlete's performance can be calculated as a percentage of these extremely high standards for both male and female at each age. New results are then processed based on percentage achievement. Hence the playing field is leveled by compensating for age and sex. These age graded results can be very different from the overall results. It's possible that a 45-year old woman would displace a 28-year old male overall winner as the age graded winner. This, of course, is competitive and many (in fact most) participants don't enter events solely for competition. There are other effective ways of using performance percentages.
For example: if your performance in a 5K race was @ 78.3%, you could apply this percentage to the table for 10K at your age and calculate your expected finish time at 10K for the same effort. This would enable you to establish your mile pace to ensure that you don't go out too fast in the 10K event.
As you age you can use age graded results to compare your fitness and conditioning from one year to any other year. It's also useful in tracking your progress over any number of dissimilar events.
Reasons to join BCA - Masters
Receive the annual publication of the Events Calendar
Liability and Sport Injury/Accident Insurance
$3.00 deduction from entry fees at BC Athletics sanctioned events
Discounts on merchandise from selected sports stores
Registered member of BC Athletics
Branch member of Athletics Canada
Supporting BC Athletics through an annual membership fee of $50 + GST (for Masters athletes) helps to fund the governing body of our sport and helps to ensure that:
BC Athletics sanctioned events meet standards for safety, officiating and organization
workshops and seminars are provided to enhance the overall well-being of athletics as a sport
there is co-ordination of the many volunteer efforts provided by the athletics community
there is direct contact for Athletics information by telephone or the internet
As a member you are welcome to attend the Masters Committee Annual General Meeting or stand for election to the Masters Committee Board itself.
For coaching, for group workouts, for increased social activities and for team events such as the Whistler 50 Relay, there are a number of BC Athletics affiliated clubs that welcome all levels and all ages of Masters Athletes.
Masters Achievements Awards
These awards are in the form of pins in bronze, silver and gold which represent increasingly higher standards of performance. These pins are available for purchase by masters who have achieved the required standards. The standards are adapted from those that the Canadian Masters Athletics Association used to have for their crests, and cover a wide range of events.
The standards may be viewed by clicking on one of the following links:
To apply for a pin
Please print the Masters achievement award application form and mail (with the $9.04 fee) to BC Athletics, Fortius Athlete Development Centre, Suite 2001-B Oslo Landing, 3713 Kensington Ave, Burnaby, BC V5B 0A7.
Master of the Year Award Criteria
For 2017, the age grading will be based on five year tables. In other words, for a 5 year age group, the entry for the lowest age in the group will be used to calculate the age graded result for all 5 ages in the group. This means that the best performances within an age group will get the best age graded result. This change was made in order to reward direct competition within an age group and to provide more opportunities for athletes entering a new age group.
Age grading calculator may be found at www.howardgrubb.co.uk/athletics/wmalookup06.html
Track Master of the Year Award Criteria (male and female)
The awards will be based on the Five Best Age Graded performances for the year (may be the same event or different events)
For example, an athlete could have results for: 100m, 200m, 400m and 800m or five results for 100m.
Road Running Master of the Year Award Criteria (male and female)
The awards will be based on the Five Best Age Graded performances for the year (may be the same event or different events)
Cross Country Master of the Year Award Criteria (male and female)
The awards will be based on the best age graded performance in the BC Championships and the Canadian Championships. Normally, the winners must also have participated in at least one other cross country race during the year.
Field Master of the Year Award Criteria (male and female)
The awards will be based on the quality of performances based on a percentage of the Canadian 5 year age group records. Consideration will be given to records set. A minimum of five performances will be required.
Sport BC Master of the Year Award Criteria (only one award)
Normally, the nominee is a winner of one of the above awards. Top 3 age graded performances plus international ranking will be considered.
Master Events 2017
Date
Event & Location
Contact
Website(s)
Feb 2
2019
Harry Jerome Indoor Meet
Richmond, BC Canada
Track & Field
Kim Young

kim.young@shaw.ca
harryjerome.com/news-from…
Feb 8-9
2019
Gary Reed Indoor Invitational
Kamloops, BC Canada
Track & Field
Brian Beck

ktfcregistrar@gmail.com
kamtrack.ca/
Mar 29-31
2019
2019 Van Ryswyk Indoor Invitational / 2019 Masters Indoor Track & Field Championships
Kamloops, BC Canada
Track & Field
Apr 12-13
2019
2019 VOC Elementary School Meet
Burnaby, BC Canada
Track & Field
Tatjana Mece

voc.tatjana@gmail.com
vancouverolympicclub.ca/
Apr 28
2019
2019 Ultra Throws Festival #1
Langley, BC Canada
Track & Field
Dave McDonald

ultrathrow@gmail.com
ultrathrow.com/
May 3-4
2019
Dylan Armstrong Throws Competition
Kamloops, BC Canada
Track & Field
Kamloops Track and Field Club
250-579-5346
ktfcregistrar@gmail.com
kamtrack.ca/
May 11
2019
14th Annual Eagles Classic Track & Field Meet
Maple Ridge, BC Canada
Track & Field
Derrick Stevenson

goldenearsathletics@gmail…
golden-ears.org/
May 11-12
2019
Dogwood Invitational
Victoria, BC Canada
Track & Field
May 18-19
2019
2019 Junior Olympics
Surrey, BC Canada
Track & Field
David Moore

david@dsmoore.ca
southfrasertrackclub.ca/
May 25-26
2019
Elwood Wylie Meet
Nanaimo, BC Canada
Track & Field
Jun 8-9
2019
2019 Jesse Bent Memorial Meet
Coquitlam, BC Canada
Track & Field
Jun 8-9
2019
Garriock Meet
Duncan, BC Canad
Track & Field
Cowichan Valley Athletic Club


Jun 13
2019
Pacific Distance Carnival & Canadian 10,000m Championships
Burnaby, BC Canada
Track & Field
Chris Winter
604-333-3555
chris.winter@bcathletics.…
Jun 22-23
2019
2019 Comox Solstice Meet
Comox, BC Canada
Track & Field
Jun 22-23
2019
Trevor Craven Memorial Meet
Burnaby, BC Canada
Track & Field
Dawn Copping

dcopping@telus.net
Jun 25
2019
Ocean Athletics Summer Series Meet #1
Surrey, BC Canada
Track & Field
Maureen De St. Croix

mdestcroix@sotique.com
oceanathletics.org/
Jun 28-30
2019
2019 Jack Brow Inviational
Kelowna, BC Canada
Track & Field
Karen Hatch

manager@okac.ca
Jun 29-30
2019
2019 Universal Track & Field Meet
Surrey, BC Canada
Track & Field
Sue Kydd

suekydd50@gmail.com
universalathletics.ca/
Jul 9
2019
Ocean Athletics Summer Series Meet #2
Surrey, BC Canada
Track & Field
Maureen De St. Croix

mdestcroix@sotique.com
oceanathletics.org/
Jul 23
2019
Ocean Athletics Summer Series Meet #3
Surrey, BC Canada
Track & Field
Maureen De St. Croix

mdestcroix@sotique.com
oceanathletics.org/
Aug 24
2019
Cory Holly Classic 2019 - Vernon Throws Challenge
Vernon, BC Canada
Track & Field
Cory Holly

chc@coryholly.com
coryholly.com
Sep 10-14
2019
55+ BC Senior Games
Kelowna, BC Canada
Track & Field
TBA
TBA
TBA
55plusgames.ca/about/
Sep 28
2019
Bondarchuk Cup Throws Meet
Kamloops, BC Canada
Track & Field
Kamloops Track and Field Club
250-579-5346
ktfcregistrar@gmail.com
kamtrack.ca/
Para-Athletics
General Info
Special Olympics
General Info
BC Athletics in partnership with Special Olympics BC provides program opportunities for athletes with intellectual disabilities. These athletes are able to compete in regional, national and international Special Olympic events under the IPC.
Recommended Guidelines for Events and Technical Standards