Anthony Thomson and the Journey From Athlete To Official
April 23, 2021 20:41pm
BC Athletics is truly a volunteer driven organization. Coaches commit to endless hours at the track or on the field, helping athletes develop and reach their full potential. Parents become members of their clubs Board of Directors, ensuring that programs exist often long after their own children have left the sport.
In honour of Volunteers Week, BC Athletics wants to celebrate and recognize some of our most committed volunteers: our Officials. Officials are the backbone of our competition system, making sure events run smoothly and results are accurate. This month I had the opportunity to chat with Anthony Thomson, a Level 4 (National) Official and member of the BC Athletics Officials Committee, about his experiences as an Official and the new training opportunities that exist for potential new Officials.
The common perception of Officials is that they are often parents or retirees but you are only 27. How did you get into officiating?
I was a runner in high school. I wasn't very good at track, but I really enjoyed it and I liked being around it and the team atmosphere. About 7 years ago my dad had the opportunity to visit Europe to visit my sister. Since he had already committed to officiate at some local meets in Victoria he sent me in his place. So I got my start in officiating taking over for him at those events.
Wow, and now you're a Level 4 Official! What is your area of specialization and how did you choose it?
I work as a Starter's Assistant. We're running around in the background making sure all the athletes are at the start line at the right time and that everything goes according to schedule. So when you turn on your TV to see the Olympic 100m Final, you aren't sitting and waiting for 5 minutes while an athlete is just wandering in from wherever and putting on their spikes. At the local levels there's a lot of contact and interaction with the athletes which is what I really enjoy: you're checking them in, assigning them to lanes, and checking their spikes, bibs, and uniforms. I really enjoy meeting athletes and seeing them progress. You see someone starting out as a JD athlete and five years later they're competing at the BC High School Championships to be the best in the province! You build a relationship, and get a sense of contributing to this awesome community.
Every official is going to have a thing they like to do. I was a long distance runner so that's why I gravitated towards the track side of things but I know in the field events the officials also get to build great relationships with the athletes.
How has your experience been over the past 7 years, getting to where you are now?
When I started there were a lot of athletes who were older than I was, and it's always a bit weird when the athletes you're officiating and giving instructions too are older than you are. I started out mostly doing local meets in my hometown of Victoria. Then when my dad was invited to meets in the Lower Mainland I would go along and work the meets too. There's lots of opportunities to volunteer at meets, most are not going to turn away Officials. I got great experience and opportunities to build relationships with clubs outside of my region. It was fairly quick for me to move through the pipeline because in my dad I had someone there saying, "This is what you need to do to get to the next level".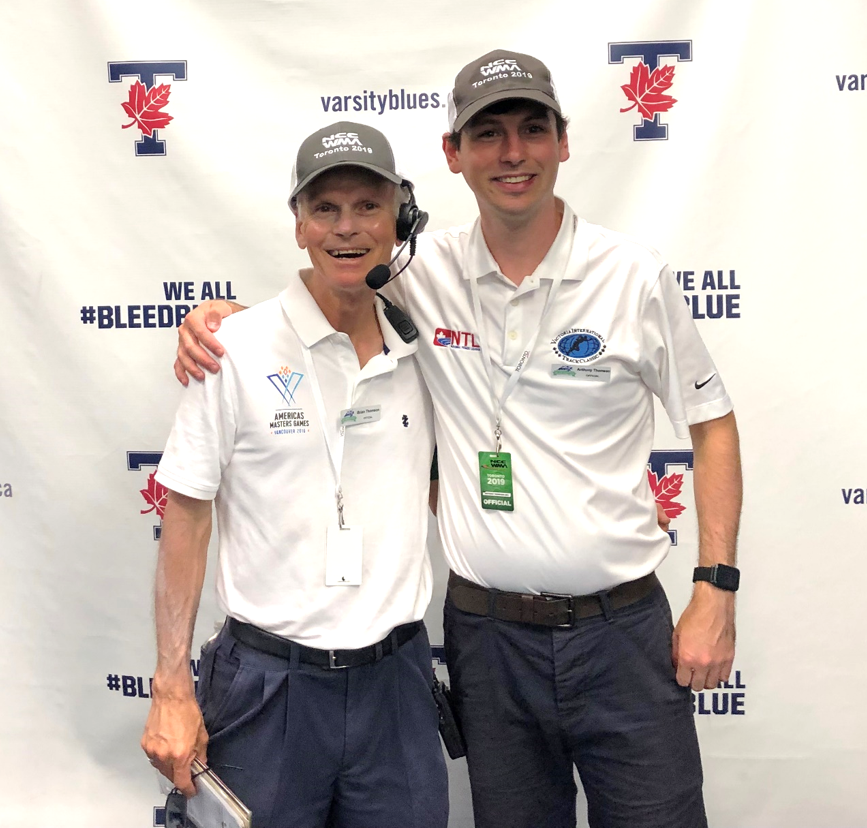 As you move to the higher levels your evaluations occur outside of your home province, so I've also had the opportunity to travel outside BC to officiate. In 2018 I went to Brandon, Manitoba for the Legion National Championships as well as to the North American, Central American and Caribbean (NACAC) Championships in Toronto. It was a completely different world! There were so many events, multiple tracks, and so many athletes. Plus there were athletes who didn't speak English but rather Spanish or French, which was a huge difference for me compared to officiating in BC. It was a great experience to try to handle situations and direct athletes while not being able to communicate with them. Also, as a starter's assistant at local meets you primarily work at the start line while at National level meets you often work in a call room. Those high level meets are a lot of work for officials and you feel like you're in the midst of a hurricane with so much happening, but it's also so much fun.
Speaking of fun, what have been your greatest experiences as an Official? Also, what have been some struggles?
The most positive experiences I've had officiating have been officiating para-events. They are incredible athletes and they are also some of the most positive and inspiring people to work with. I'm always blown away, and it's great to see that we have incredible individuals demonstrating that the sport is for everyone. I love that we're promoting it more and am looking forward to seeing more para-events at the high school level.
On the struggle side, it's recognizing that as an Official you will occasionally make decisions that someone disagrees with and that, when that happens, you're dealing with people at a point when you are both stressed. I find that's very rare though, and at the end of the day I have so many more positive experiences.
What are your aspirations as an Official? Are you aiming to become a Level 5 (International) Official and attend more of those international meets?
I will try to become a Level 5 but it's not my immediate priority. I actually want to diversify myself a bit, become a Level 3 (Provincial) Official in a couple other disciplines and learn more about what they do. I've been doing one thing for a while and I want to get different experiences. Also it takes a lot of work and time to become a Level 5 Official. You have to officiate at National Championship Level meets and there's only a handful of those hosted each year. And if they're not occurring in BC, that means you'll need the flexibility to travel and attend them.
How has COVID impacted officiating?
COVID is a health crisis which has caused us to bring in more stringent hygienic measures to protect athletes and officials. Ironically, it's also resulted in event more meets occurring throughout the province. As well, the current PHO orders also restrict Official activities, allowing us to only volunteer with two clubs. As an Official it's tough because you can't work every meet that you want to. We also recognize how difficult this is for athletes. They've missed one season already, they're going into their second season of COVID, and the current restrictions only allow them to compete within their club. However, it's also a great opportunity to get new officials involved because everyone is realizing that if we want to host meets and provide athletes with opportunities to compete, then we need to develop more officials within each clubs.
Speaking of recruiting new Officials, there's been a lot of talk about a new online training program for Officials. Can you tell me more about it?
We're in this huge period of change for officiating, which is great! When I started, the first step in the development pathway was attending classroom training for Level 1, and then another class in person for Level 2. We have great facilitators who would do incredible jobs teaching and conveying the information but it was a huge time and logistical commitment. Now we've moved all the classroom training online for Level 1 (Local) & Level 2 (Regional) and made each module about 1 hour, to make it more accessible and allow you to do it at your home at your own pace. The new training also takes into consideration your level of experience with track & field. If you're completely new to the sport you start at Level 1. However, if you do have some knowledge – perhaps from being an athlete, parent, coach, or PE teacher – you can jump straight to the pathway for Level 2! Once you've completed the online training you'll be set up with opportunities to volunteer at meets to get exposure and practical experience with all of the event disciplines (i.e. track, throws, horizontal jumps, and vertical jumps). This is a volunteer profession where we're always looking for more people, so we want to make it easier for people who want to get involved to become officials and help keep the sport going.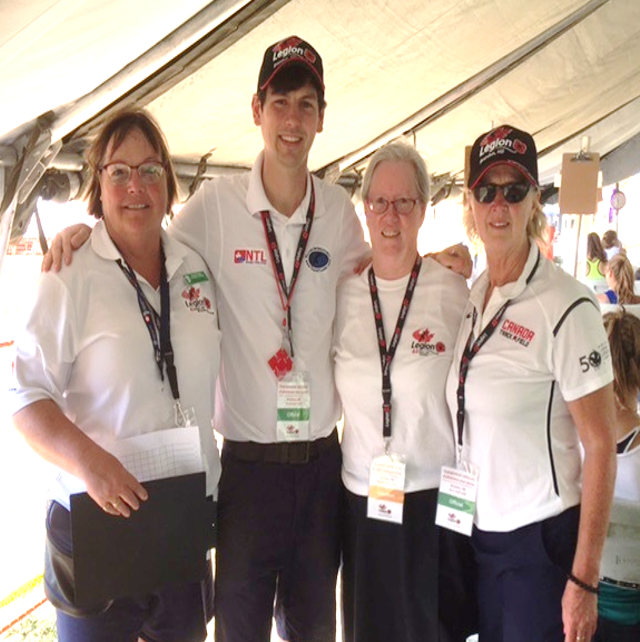 The National Officials Committee is also working towards creating online and in person training for Levels 3, 4, and 5, with the aim of reinforcing training at each level while also explaining the additional responsibilities associated with each level. It will provide great experience for all of the existing officials to develop their skills more and make it easier to progress through the pipeline.
Another thing we're rolling out is a new mentoring program for all officials in BC. Each Official will get a mentor, someone to help give them experience, prep them before they go to meets and debrief with them afterwards. For instance, if you're at a local meet you'll probably end up covering multiple roles and they can help you prepare for that. If you go to a National Championships you'll have to be thinking about how you'll communicate with athletes who don't speak English and they can help you prepare for that. Every meet has different challenges and opportunities and having the mentor will give Officials that person you talk to about preparing for those challenges, debriefing afterwards about what went well, where you can improve, and what experiences you need to continue developing.
My experience going through Officiating has been super positive and a huge part of that is because I had someone there to give me direction and advise me on what to do to get to the next level. That experience was super positive for me and we're trying to expand that so that everyone gets an experience like that.
Who would you encourage to get involved with Officiating?
Anyone who likes track & field, whether you're a parent, grandparent, a current or former athlete! As I've said, I loved running and although I wasn't overly competitive I liked the atmosphere, being around the track, and the community of Officials, Coaches, and Athletes in BC is incredible. Officiating provided me an opportunity to stay active in a community I found very rewarding and to give back to a sport I really enjoy.
Also, if you're a younger person, it looks great on a resume! Companies are always looking for volunteer experience. One of the things I've gotten great experience from through officiating is leading a team. As a younger person, there often aren't that many opportunities to get leadership experience in the workplace but as an official I've led teams at National Championships. Plus it's a sport where you get to be outside. So to anyone who likes being around the track, I would say to come out and get involved as an Official!
Thank you Anthony!
Resources:
Are you interested in becoming an official? Visit the BC Athletics website to learn more about the Officials Career Pathway and get started on your training! www.bcathletics.org/Officials/Sub/career-path/554/
Have you completed your Level 1 or 2 Online Training? Contact Marilyn Benz (Officials Committee) for next steps: m.benz@shaw.ca
Did you attend a Level 1 or 2 in person workshop in the past but need to complete your certification? Contact Debbie Foote (Officials Committee) for next step: debbieandabresia@hotmail.com
Author: Sabrina Nettey - Introductory Programs Coordinator – RunJumpThrowWheel & Junior Development, BC Athletics