Staying Healthy and Active For Life!
July 31, 2020 10:10am
The Importance of Physical Activity for Adults
There is a consensus that it is important for us to be physically active, with physical health benefits such as improved bone and muscle strength, and reduced risk of chronic diseases constantly noted. Last month, we discussed how Canadian youth, particularly girls, were not getting enough exercise. It should not be surprising then that adults are also failing to get enough physical activity.
According to ParticipACTION's Pulse Report, even though 74% of Canadian adults enjoy being physically active and 86% believe that it is worth the effort, only 1 in 5 are actually active enough to reap the benefits of a healthy, physically active lifestyle. This is a concern as a study from Queen's University found that physical inactivity is one of the top health concern for today's society, with the treatments for diseases caused by physical inactivity costing the Canadian economy nearly $7 billion dollars each year.
It is clear that a greater emphasis must be placed on creating physical activity opportunities for adults. One BC Athletics member club that has been intentional in offering sport programming for adults is the Greyhounds Masters Track and Field Club. BC Athletics recently caught up with the president of the Greyhounds, Urith Hayley, to talk about how the club has grown over the past 20 years.
BC Athletics: How did you become involved with the Greyhounds Track and Field Club?
Hayley: I didn't play a lot of organized sport growing up. I got involved with tennis in high school, and started soccer when I was 27, and played until I was 55 years old. At that point, I was looking around for something else to do, and I read an article in the local paper about the Greyhounds taking part in the World Masters Athletics Championships in Puerto Rico. I just decided to go to their first practice when they got back, and that's how I got involved in track and field and with the Greyhounds.
BC Athletics: What is the size of the club, as well as the demographic?
Hayley: When I joined, there were only 12 people in the club. Today we have 94 members and 1/3 of our club is women. The club was initially for those 55+, but when a few younger members joined, we decided to change our constitution, expanding into a masters (35+) and seniors (55+) club. Now, 25% of our members are aged 35-54 and our oldest member today is 90 years old.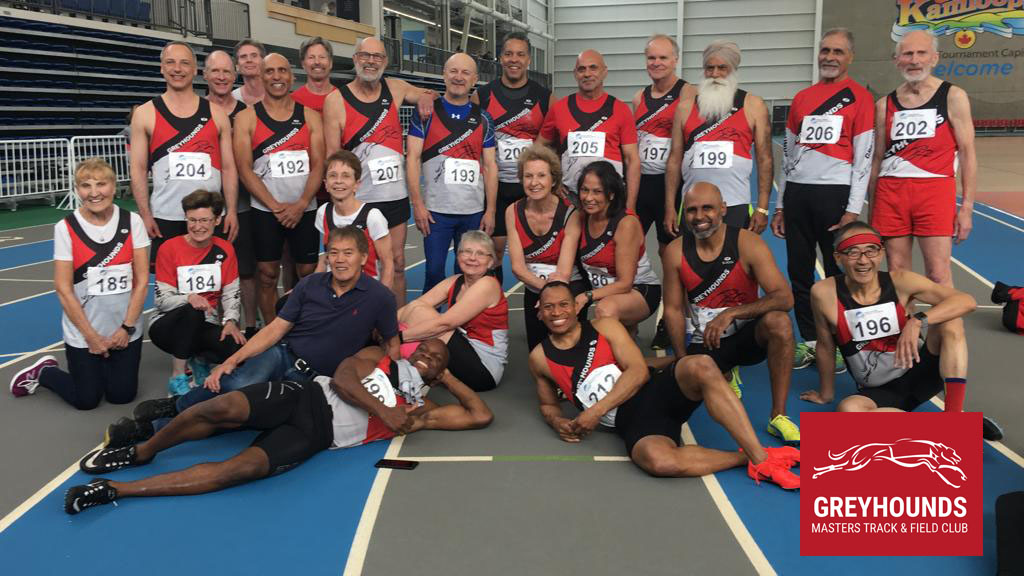 BC Athletics: In your opinion, what makes the Greyhounds so attractive for people to join?
Hayley: Everyone is very friendly and welcoming, and we accept anyone who wants to join. We have people who call thinking that they have to tryout or that they have to get into shape before joining, and we say, "Don't worry about that, just come out and join and we'll get you into shape!" Also, there isn't a feeling of difference between the elite and non-elite. Everyone is treated the same, everyone works or runs to their ability, and everyone tries to get a little better every year. If in doing that we break records, then all the better!
BC Athletics: Could you talk about the impact that Canadian track legend Harold Morioka has had on the club and the members? How has Head Coach Sam Walker continued to build upon that legacy?
Hayley: Harold was involved in the creation of the club. He viewed it as a personal achievement to grow the club, and he constantly looked for ways to establish achievements for the club. He was always respectful, always encouraging, and always got the best out of everybody. Before you knew it, we were setting not just BC records or Canadian records, but World records as well. He has set a high standard, but at the same time, he paid attention to every single individual in the club.
An example is my own story. I was thinking about doing track & field just for exercise. But one day Harold told me that he thought that if I put in the work and training, I could break the BC 200 meter record for my age group. I put in the work and it was difficult, but at the 2016 American Masters Games in Vancouver, I won my race and broke the record! That goes to show how much he can get out of a person, even though they don't think they're a track star.
Sam has a very similar temperament and is very encouraging. He has taken it as a personal commitment, and has dedicated a lot of his time and effort to coach the club. He has continued to push a lot of people achieve their best and has certainly continued in Harold's footsteps. We're very lucky to have Sam.
BC Athletics: How have the Greyhounds been adjusting to COVID-19 and Return to Sport?
Hayley: As a club, we were shut down from mid-March until July 7th. Sam still kept sending out the workouts, and people were training on their own as much as they could but everyone was happy to get back to training together. We've been able to adjust to the smaller group sizes quite easily because we've always had small training groups based on event disciplines.
One difficulty is that as a club we were looking forward to the 2020 World Masters Championships in Toronto which was cancelled, and it looks like the 2021 World Masters in Edmonton might be cancelled too, so we're looking forward to 2022. In the meantime, what's been exciting for us is that we received a grant to buy photo-finishing equipment so that we could host our own meets. It's been really encouraging to use it during practices and see where we're at. Lenore ran a time that, had it been a meet, would have broken an 800m record for a 90 year old!
BC Athletics: What advice would you give to other clubs looking to start or grow their Masters programs?
Hayley: Clubs wanting to start a Masters program need to be intentional about promoting it. The biggest issue that I've heard with members of other clubs is that they have nobody to run with. Clubs will sometimes put Masters with young kids but their energy levels and speed can make it very discouraging. In our club, you can always find someone your own age to run with, as we have people of all ages and they can push you to train harder, to run faster.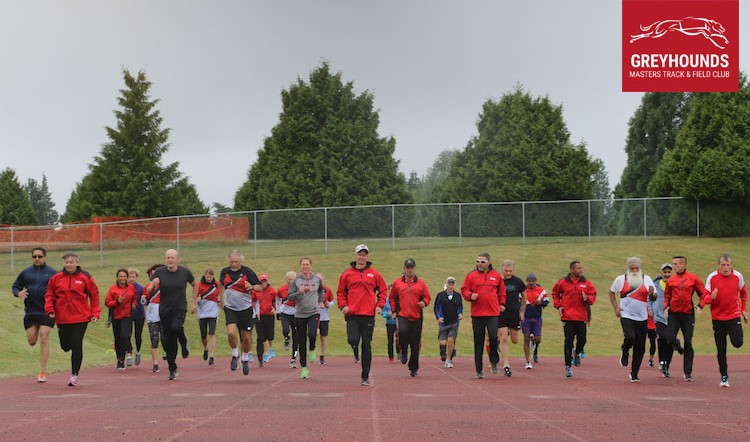 What Can You Do?
The Greyhounds Masters Track and Field Club are a great example of adults who are making the effort to be physically active on a weekly basis, and encouraging others to do the same.
Here are some steps that your club can take to get Masters athletes involved and active:
1. Take Initiative and Set Specific Goals
Having a vision and setting specific goals of what a Masters program in your club would look like can help your club to be organized when it comes to athletes of all ages. Think about the best practice schedule and activities for working adults or retirees. Having a strong vision along with a desire to create these programs for Masters athletes can go a long way.
2. Promote, Promote, Promote
Once you have a plan make sure people can know about it. This step includes posting masters specific information on your club website, social media, and other channels of communication.
Word-of-mouth communication can help reach people who may not be as active online. Post flyers at local community centres and parks. You can also reach out to the local news media about the programs you're offering. Being featured in local newspapers can help you become more widely known in the community.
Taking the time and effort to become more physically active in our daily routines is becoming increasingly important, especially during this season of COVID-19. Even though it may be difficult to start new initiatives and programs during this time, it is important to make sure that adults of all ages have the space to be involved. Stay healthy and stay active!
Special thanks to Urith Hayley from the Greyhounds for taking the time to speak to us.
Author: Frank Liao – 2020 Coaches, Officials, and Introductory Programs Assistant, BC Athletics
Sources: